Past Event: "Love It or Hate It": Public Art and Controversy
When:
Thursday, November 30, 2017, 6:30pm
This event has passed.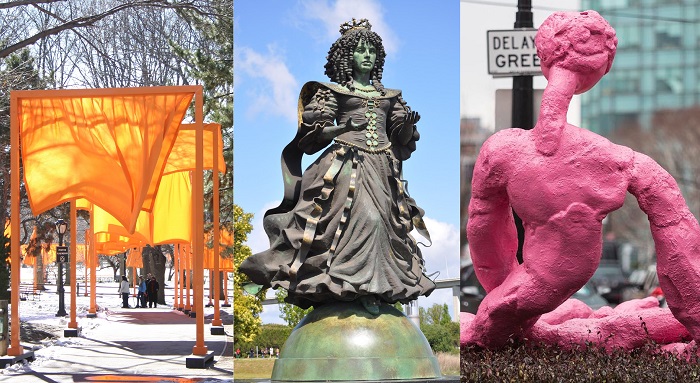 On buildings and sidewalks, in parks and on subways, public art is subject to far more intense popular scrutiny than art in galleries or museums. Join leading scholars and artists to examine how art in public spaces can serve as a flash point for larger social debates, featuring:

Audrey Flack, painter and sculptor 
Kendal Henry, Director, Percent for Art 
Ohad Meromi, an Israeli-born sculptor who lives and works in New York
Harriet Senie, Director of Art Museum Studies, City College of New York
Michele Bogart (moderator), Professor of Art History, Stony Brook University

This is the opening program for our exhibition Art in the Open: Fifty Years of Public Art in New York. To view all of the programs in the series, click here.

About the Speakers:
Audrey Flack is a painter and sculptor and pioneer of Photorealism. Her work is in the collections of museums around the world, including the Metropolitan Museum of Art, MoMA, and the Guggenheim. For the past 25 years, she has been creating monumental statues of female deities. Controversy arose in 1998 over the city's plan to install her sculpture of Queen Catherine of Braganza, whose family may have benefited from the slave trade, the piece was never installed (this recent article in The New York Times revisits the controversy).  

Kendal Henry is an artist and curator who lives in New York City and has specialized in the field of public art for the past twenty five years. He now serves as the Director of Percent for Art. Managed by New York City's Department of Cultural Affairs, Percent for Art commissions a diverse mix of artists to create hundreds of multi-media site-specific works throughout the city.

Ohad Meromi is from Kibbutz Mizra, Israel, and lives and works in New York. He received his MFA from Columbia University School of the Arts and has exhibited at venues including The Israel Museum, Sculpture Center, and MoMA PS1. His iconic, bright pink piece, "Sunbather," currently installed on a traffic median at the intersection of 43rd Avenue, elicited debate in Long Island City in 2015 (read more about the sculpture in this article in Hyperallergic). 
Harriet Senie is director of the Masters program in Art History and Art Museum Studies at City College of New York. Her book, The 'Tilted Arc' Controversy: Dangerous Precedent?, on Richard Serra's "Tilted Arc" sculpture, has been a touchstone for debates over the role of public art.

Michele Bogart (moderator) has taught American visual culture studies at Stony Brook University since 1982. Her areas of expertise are urban design and commercial culture and she has authored several books including the prizewinning The Politics of Urban Beauty: New York and Its Art Commission. Her forthcoming book is called Sculpture and Gotham: Art and Urban Renewal in New York City.