Art in the Open
Fifty Years of Public Art in New York
November 10, 2017 - September 23, 2018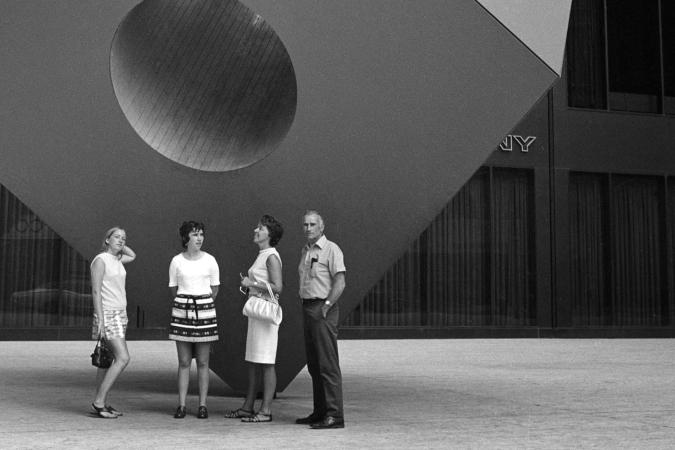 Back to Past Exhibitions
Look back at fifty years of public art in the city.
Until the 1960s, most public art in New York City was limited to war memorials, civic-minded murals, or relief sculpture embodying universal values like "Fraternity" or "Wisdom." But the late 1960s brought a new era that embraced the individual artist's voice and vision in the public realm. In the years since, hundreds of innovative art works, both permanent and temporary, have been installed in the public spaces of New York, making this the most robust and vibrant environment for public art in the world.
Presented to mark the 40th anniversary of the pioneering Public Art Fund, Art in the Open highlights works that have transformed both the public spaces of the city as well as public expectation of the role and potential of art that exists outside of the traditional confines of museums and galleries. The exhibition features renderings, models, photographs, and video footage tracing the creation of public artworks by such artists as Red Grooms, Christo and Jeanne-Claude, and Kara Walker.
Isamu Noguchi, Red Cube, 140 Broadway, c. 1970, photo by Edmund Vincent Gillon, Museum of the City of New York, 2013.3.2.1667
Behind the Scenes with Bill Brand's "Masstransiscope"
Artist Bill Brand's "Masstransiscope" might only be viewable from the train between the Dekalb subway stop and the Manhattan Bridge, but the model he made to test out his major public art installation can be seen in the exhibition.
Sponsors
Art in the Open: Fifty Years of Public Art in New York is made possible with lead support by Bloomberg Philanthropies, the Anna-Maria and Stephen Kellen Foundation, Charina Endowment Fund/Ronay and Richard L. Menschel, and the Leonard & Judy Lauder Fund; with additional support by Agnes Gund, Con Edison, The Kraus Family Foundation, The Marc Haas Foundation, Silverweed Foundation, Sydney and Stanley S. Shuman, The Keith Haring Foundation, David Dechman and Michel Mercure, Eve Klein and Robert Owens, Tishman Speyer, The Joelson Foundation, the Honorable Daniel R. Garodnick, New York City Council, District 4, Howard and Patricia Silverstein, Susan K. Freedman, Linda R. Safran, and Robert and Judith Rubin. 
Special thanks to Dun-Rite Specialized Carriers, Ken Allen Studios, and Paula Cooper Gallery.