Past Event: Last Call: Prohibition in NYC at 100
When:
Thursday, January 24, 7:00pm – 9:00pm
Price:
SOLD OUT: $20 General Admission | $15 for Museum Members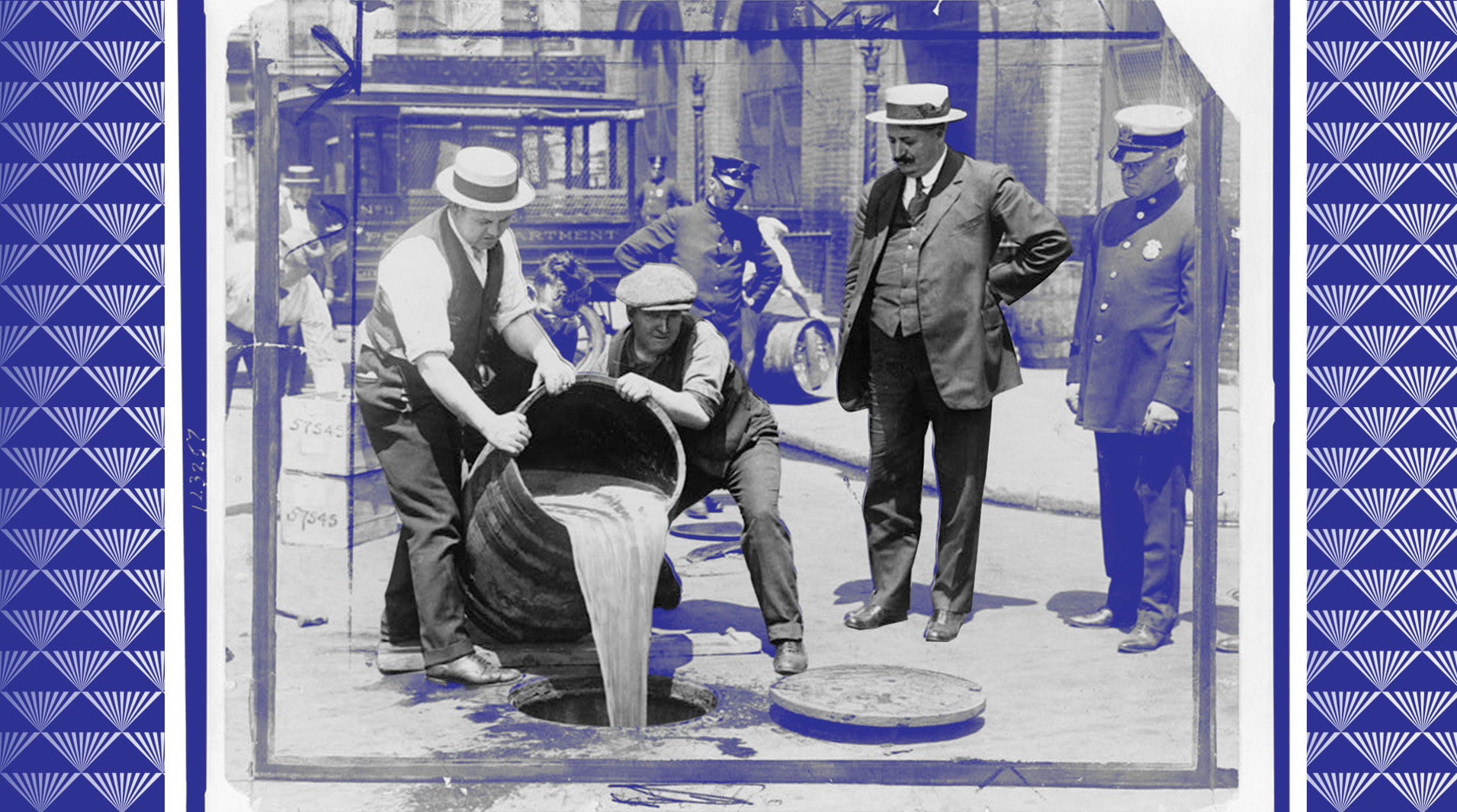 Please note that this program is now sold out. There will be a wait list starting at 6:30 pm on the night of the program at the Museum. Any additional tickets will be released at 7:05 pm in the order the names were received. You must be physically present when your name is called or your place will be forfeited. We do not guarantee that any seats will become available.
Raise a glass to Prohibition in New York City in a conversation and small batch rum tasting inspired by the lasting legacy of this now legendary period.
One hundred years ago this January, Prohibition was passed into law with the now infamous 18th Amendment that barred the "manufacture, sale, or transportation of intoxicating liquors for beverage purposes." To mark the centennial of this failed social experiment, cocktail historian Dave Wondrich, Drinks Correspondent for The Daily Beast, sits down with food and culture editor Ariel Lauren Wilson to revisit this unprecedented effort to restrict one of America's favorite pastimes, drinking. They will be joined by Bridget Firtle, founder and head distiller of Brooklyn's own Prohibition-inspired Owney's Rum, and Karl Franz Williams, owner of 67 Orange Street, a speakeasy-inspired cocktail bar in Harlem. 

After the program, sample a Prohibition-era cocktail made with Owney's Rum, which pays homage to the style commonly enjoyed in New York City speakeasies during the period, and enjoy live jazz from the James Ohn Trio.

About the Speakers: 
Bridget Firtle left a Wall Street career to found the rum distillery The Noble Experiment NYC in East Williamsburg in 2012. The Noble Experiment NYC produces Owney's Distiller's Reserve, an unaged white rum, and Owney's Rum, a new premium blended white rum made from Owney's Distiller's Reserve and two year-old cask-aged Dominican rum. 

Dave Wondrich is widely recognized as an authority on the history of the cocktail. He serves as Drinks Correspondent for The Daily Beast is also the author of five books including the James Beard Award-winning Imbibe!: From Absinthe Cocktail to Whiskey Smash, a Salute in Stories and Drinks to "Professor" Jerry Thomas, Pioneer of the American Bar (2007). 

Karl Franz Williams is the owner and bartender at Solomon & Kuff's Rum Hall and 67 Orange Street in Harlem. In 2015, he also resurrected The Anchor, a historic bar in New Haven, Connecticut. Prior to that, Williams spent a decade working in the marketing and brand management departments of Procter & Gamble and Pepsi Cola. 

Ariel Lauren Wilson (moderator) is the editor-in-chief of Edible Manhattan, a quarterly publication that tells the story of how the city eats. She grew up on a farm in western North Carolina and is a 2018 Stone Barns fellow.
This talk is part of our Core Conversations series, which features the city's most original thinkers as they engage with topics related to our ongoing New York at Its Core exhibition. To view all the programs in the series, click here. 
 
$20 General Admission | $15 for Museum members
21+ event. Includes Museum admission.
Members: To receive your discount, click on the "Buy Tickets" button above, then sign in to your account on the ticketing page.
Groups of 10 or more get discounts; contact us at programs@mcny.org or 917.492.3395.
Accessibility: Assistive listening devices are available and our auditorium wheelchair lift can accommodate manual and motorized wheelchairs (max. capacity 500 lbs). Please contact the Museum at 917.492.3333 or info@mcny.org with any questions.