Past Event: Capturing "The Deuce": Times Square in the 1970s & '80s
When:
Tuesday, January 29, 2019, 6:30pm
This event has passed.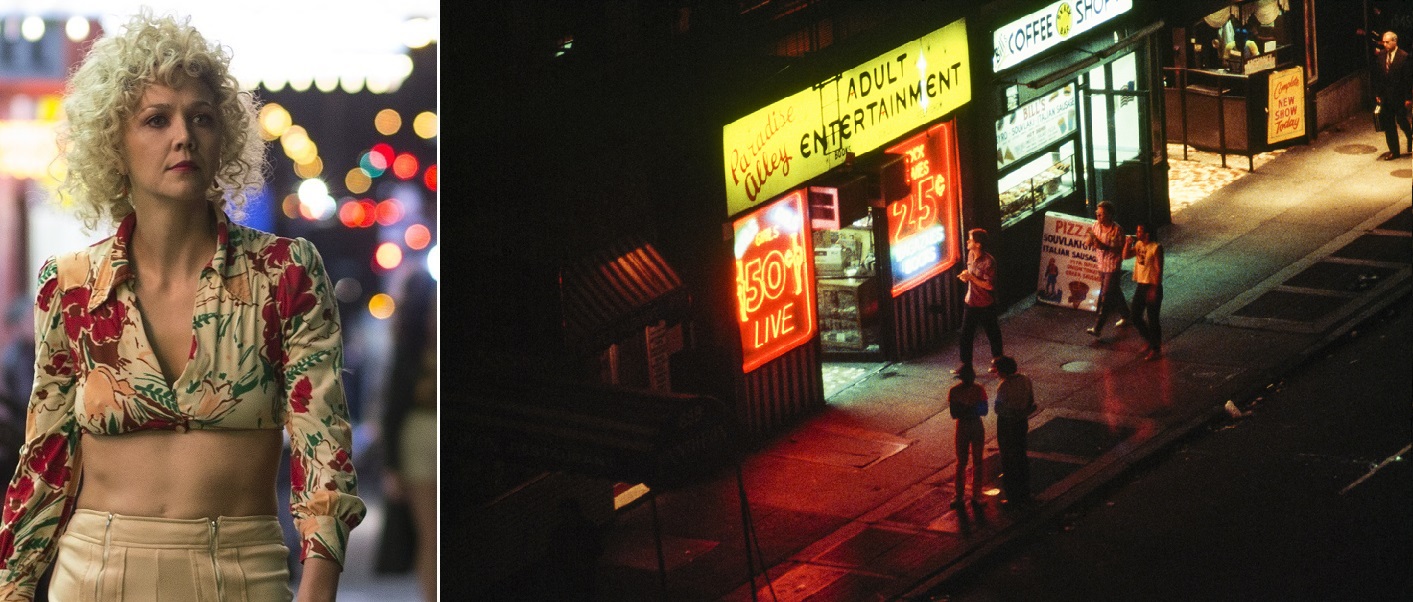 Please note that this program is now sold out. There will be a wait list starting at 6:00 pm on the night of the program at the Museum. Any additional tickets will be released at 6:35 pm in the order the names were received. You must be physically present when your name is called or your place will be forfeited. We do not guarantee that any seats will become available.
Although virtually undetectable today, Times Square in the 1970s and '80s was the center of the New York sex industry, synonymous with prostitution and pornography. Most recently, the hit HBO series The Deuce, starring James Franco and Maggie Gyllenhaal, has resurrected the neighborhood's dark corners and bright lights as it recounts the pioneering moments of the city's burgeoning sex business. Looking back, artist Jane Dickson was there. Beginning in 1978, Dickson lived, worked, and raised a family on 43rd Street and Eighth Avenue, documenting her chosen "neighborhood" and its denizens in her drawings, paintings, and photography. Join Dickson and Scott Dougan, production designer for The Deuce, for a conversation about what it means to capture the essence of a particularly infamous time and place in the city – and why we find these visions of New York's gritty and not-so-distant past so alluring today. Moderated by Vinson Cunningham of The New Yorker.

Reception and book signing to follow.

This talk is part of our Core Conversations series, which features the city's most original thinkers as they engage with topics related to our New York at Its Core exhibition. To view all the programs in the series, click here. 

About the Speakers:
Jane Dickson is a painter and photographer who documented Times Square from 1978 on. Today, Dickson's work is represented in more than 30 museum collections including the Whitney Museum of American Art and the Metropolitan Museum of Art. Her newest book, Jane Dickson in Times Square, was published in October 2018 by Anthology Editions.

Scott Dougan is currently production designer for HBO's The Deuce. He began his career as a theatrical set designer and, most recently, served as art director for films including Collateral Beauty (2016), Allegiant (2016), and Bridge of Spies (2015), as well as production designer for American Animals (2018) and Monsters and Men (2018).

Vinson Cunningham (moderator) joined The New Yorker as a staff writer in 2016. His writing on books, art, and culture has appeared in The New York Times Magazine, The New York Times Book Review, Vulture, and McSweeney's, where he wrote a column called "Field Notes from Gentrified Places." He previously served as a staff assistant in the Obama Administration.

About The Deuce:
Created by George Pelecanos and David Simon (The Wire, Treme) and starring James Franco and Maggie Gyllenhaal, The Deuce is a semi-fictional drama series that recounts the launch of the sex trade industry in the heart of New York City's Times Square. Now in its second season, the series traces the shifting porn business from organized crime-backed parlors to a legitimate, culturally accepted enterprise.
Special Thanks
Special thanks to Anthology Editions.