Past Event: Big Fun: Indigenous Art & Performance as Resistance
When:
Tuesday, January 28, 2020, 6:30pm
This event has passed.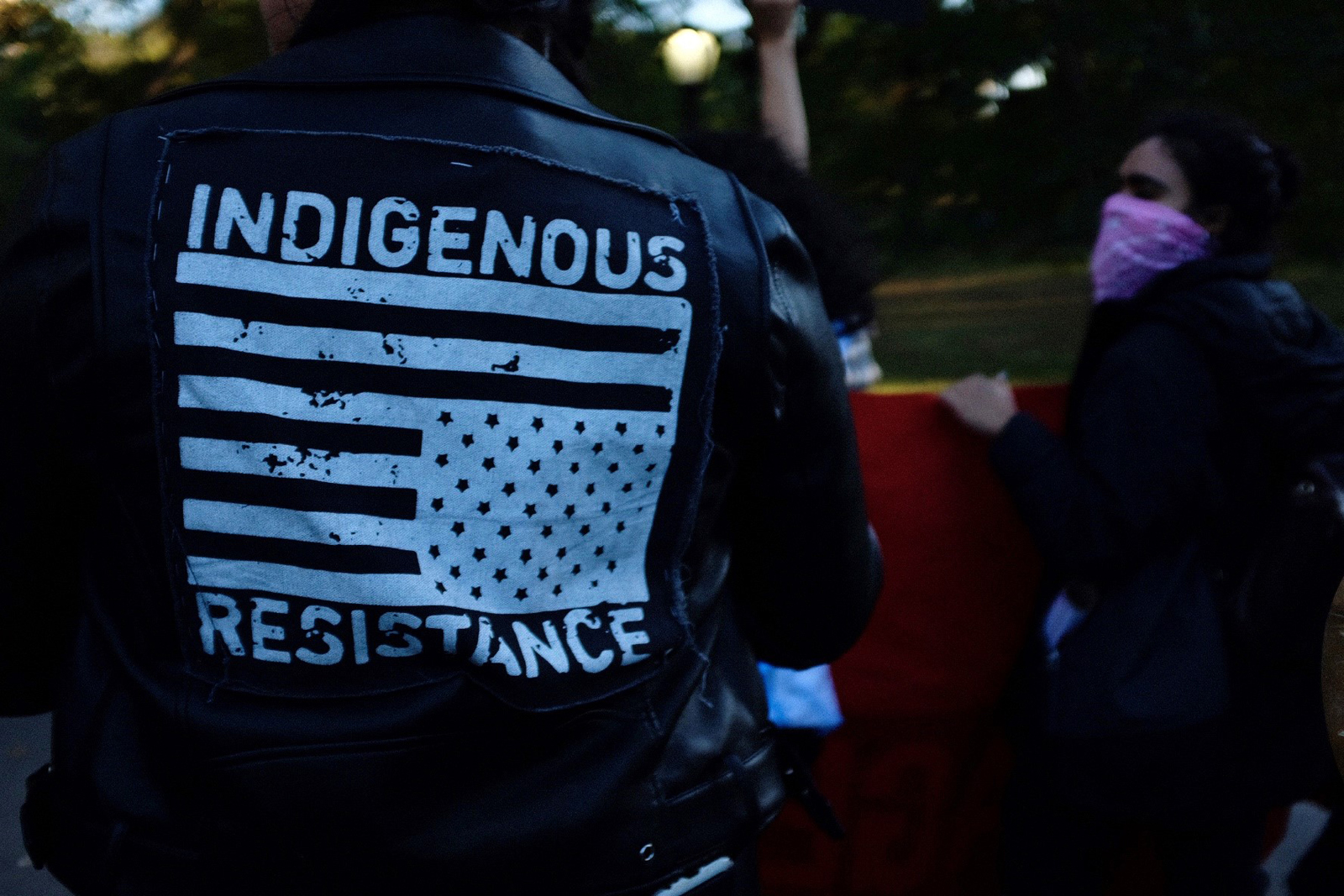 Join us for an evening of poetry, music, and art celebrating radical urban Indigenous resistance, resilience, and activism. Big Fun takes its name and shape from the title of a poem by Diane Burns (Anishinaabe/Chemehuevi), published in her 1981 chapbook, Riding the One-Eyed Ford (Contact II Publications). Connecting back and looking forward through the lens of Burns' life and work as a poet and performer on what is now called The Lower East Side, this interdisciplinary evening will feature a series of performances by members of the Indigenous Kinship Collective as well as by other Indigenous folx who currently occupy and make their lives and work on the homelands of the Lenape, Lenapehoking.

Performers and participants include:Tatiana Benally, Rosa Bordallo, Jolene Chee (Cheef Culture), Korina Emmerich (EMME), Lou Cornum, Irene Villaseñor, Regan de Loggans, Stina Hamlin, Laura Ortman, Roxy Romero, and Irene Villaseñor.
We are thrilled to announce that we will be joined by a very special guest, Diane Burns' daughter, Britta Ninshonz Burns Ruona.
Curated by poet Nicole Wallace, this event accompanies our exhibition, Urban Indian: Native New York Now.
About the Performers and Participants:
Tatiana Benally is an interdisciplinary artist from Diné Bikeyah (Navajo Nation). Benally primarily uses the mediums of choreography, beatmaking, and DJ-ing, but has past work in animation and essay film. Their work focuses of feeling native ennui within capitalism, and the joys of being among native communities.  Please reach out for collaboration if you are ndn and into sound or film.
Rosa Bordallo is a singer-songwriter and a Chamoru bron and raised in her native island of Guam in Micronesia. She came to New York in 2002 to study film and quickly immersed herself in the city's vibrant live music scene. She co-write and recorded three albums with the post-punk band, cholo, and released three solo Eps under the alias Manett. Her first full-length album REEF WALKER is out now on Time Castle.
Jolene Chee is Diné from Tł'ízí Łání clan, born for the Tódích'íi'nii clan. Her maternal grandfather is chíshí clan and paternal grandfather is Tsénjíkíní clan. She grew up in the canyons of Piñon, Arizona on Diné Bikéyah (Navajo Reservation) and is currently based in Lenapehoking (Brooklyn, NYC). Connecting, creating energy and holding space with Indigenous relatives on stolen land is important to her. She is a fashion designer/stylist who advocates for environmental sustainability and against cultural appropriation. 
Lou Cornum is a two spirit Diné dyke born in Arizona. They are currently a PhD candidate in English at the CUNY Graduate Center and a member of the editorial collectives for LIES, The New Inquiry, and Pinko, a magazine of gay communism. 

Korina Emmerich has built her brand on the backbone of Expression, Art, and Culture, leading the charge to embrace art and design as one and weaving it into her brand story.  Her colorful work is known to reflect her Indigenous heritage stemming from The Coast Salish Territory, Puyallup tribe. With a strong focus in social justice and responsibility, Emmerich has developed her brand in Brooklyn and cultivated a loyal following and successful path as a truly unique contemporary fashion designer and artist.
Stina Hamlin, Director of Post Production at East Coast Digital, is an award-winning VR creator and television producer. Being of Cherokee and Choctaw descent, her focus is on projects that amplify Indigenous voices. Currently she is working on XR project Blood Memory: The Experience, and Red House Series, a multi-platform project. @stinahamlin.

Regan de Loggans (Mississippi Choctaw/ Ki'Che Maya) is a two-spirit multidisciplinary activist, art historian, curator, and educator based in Brooklyn on Lenape land. Their work relates to decolonizing, indigenizing, and queering institutions and curatorial practices. Regan works with a number of museums and universities throughout the occupied United States, teaching Native social history and decolonial theory. They were awarded the 2019 R.I.S.E. Poetry fellowship for their published works in chahta anumpa, and are also one of the founding members of the Indigenous Kinship Collective. They have staged actions at The Whitney Biennial, American Museum of Natural History, and on the MTA Subway in response to continued settler colonialism and institutionalized racism and violence. Pronouns: they/themme. Instagram: @PhaggotPlanet

From the rosined-out beast of White Mountain Apache musician Laura Ortman's tough stained violin emerges deranged crumpled wings twirling in starlight and oil slickness and shininess; bearing heavy use of amplification and effects, she also incorporates over-rosining to add smoke, dust, wind and slow-motion grittiness in her scored / improvised compositions for amplified violin, Apache violin, whistles, tree branches, slides, guitar picks, bells and tuning fork. 

Britta Ruona, the daughter of Diane Burns, is a native New Yorker and of Anishinabe and Chemehuevi tribes. Growing up in NYC's Lower East Side, Ruona has been in the poetry and art community since she could walk. She grew up in art community safe havens such as A Gathering of the Tribes and The Nuyorican Poets Cafe. Now, she is a professional make-up artist who has worked on numerous celebrity clients and participated in New York Fashion Week.
Irene Villaseñor (Ifugao, Aeta, and Purépecha) received the Catalog for Giving's Urban Hero Award, the Astraea Lesbian Foundation for Justice's Women We Love, Women We Honor Award, and was part of the team at American Documentary | P.O.V. that received a MacArthur Award for Creative and Effective Institutions. She currently serves on advisory boards for the Chinese American Planning Council and the Metropolitan Museum of Art. 
Nicole Wallace is the author of WAASAMOWIN (October 2019) and was a 2019 Poets House Emerging Poets Fellow. She is the Managing Director of The Poetry Project and a member of the Indigenous Kinship Collective. Recent work can be read in print in Survivance: Indigenous Poesis Vol. IV Zine and online at A Gathering of The Tribes, LitHub, and A Perfect Vacuum. Originally from Gakaabikaang, located in what is currently called Minnesota, she is of settler/European ancestry and a descendent of the Fond du Lac Band of Lake Superior Chippewa (Ojibwe).
About Diane Burns:
Diane Burns (1957 – 2006) was born in Kansas to a Chemehuevi father and Anishinaabe mother. She grew up in California, Wisconsin, and North Dakota. Burns attended Barnard University and was a member of the Lower East Side poetry community in the 1980s. She published only one volume of poems during her life, Riding the One-Eyed Ford (1981).
Watch Burns read her poem "Alphabet City Serenade" (1987).
Supporters
The Museum gratefully acknowledges The Andrew W. Mellon Foundation's support for exhibition co-curator Dr. Rebecca Jacobs's fellowship. Urban Indian: Native New York Now is her capstone project.

Additional support provided by Valerie and John W. Rowe, Julie Hayes, Heidi and Jeffrey Jacobs, and the Friends of Urban Indian.
Special Thanks
Thanks to the American Indian Community House, Amerinda, Howl! Arts, the Indigenous Kinship Collective, the National Museum of the American Indian, and The Poetry Project.