Past Event: Back to School with Frederick Wiseman
When:
Sunday, February 11, 2018, 1:00pm
This event has passed.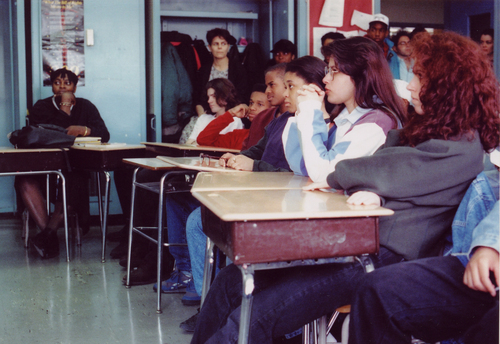 High School II (Frederick Wiseman, 221 min, 1994), screened in 16 mm, examines life in an alternative public high school, Central Park East Secondary School in East Harlem, neighbor to the Museum of City of New York. Though the title suggests that this film is a sequel to Frederick Wiseman's 1969 documentary High School, it's actually not. The focus of this film is on the interactions between the students, faculty, staff, and parents. As Caryn James noted in The New York Times in 1994, the film is "a study in social mobility." The screening will be preceded by an introductory discussion featuring:

Deborah Meier, founder of the small school movement
Nancy Mann and Marian Mogulescu, educators at the school when High School II was filmed
Jason Warwin and Zawadi Powell, students at the school when High School II was filmed
Kaliris Salas-Ramirez and K.A Dilday, current members of the school Parents Association
Jessica Green (moderator), Cinema Director at the Maysles Documentary Center

Timeline:
1:00 pm – Introductory discussion 
1:25 pm – Screening of High School II begins
3:30 pm – Intermission
3:40 pm – Screening of High School II resumes
5:45 pm – Film concludes and program ends

Includes Museum admission and beer courtesy of Harlem Blue.

This program is not offered for CTLE credit. To find out more about professional learning opportunities at the Museum, click here. 

This event is part of the second season of our nonfiction film series, Smile, It's Your Close Up: New York's Documentaries, co-programmed with Jessica Green and Edo Choi of the Maysles Documentary Center, which zooms in on key moments, individuals, and communities to pose the question: "What makes New York New York?" To view all of the programs in the series, click here.