Moonlight & Movies: Modern Times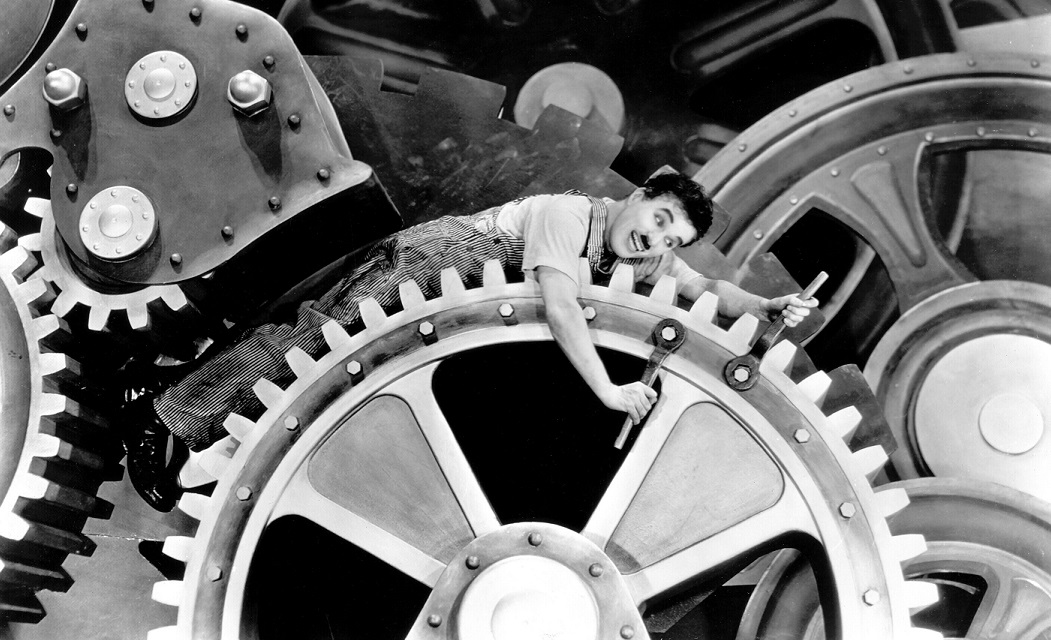 Charlie Chaplin's 1936 masterpiece Modern Times marks his final outing as the Little Tramp, this time starring as an inept factory worker caught in the cogs and gears of modern industrialization. From factory floor to hospital to prison, Chaplin delivers a sly and unforgettable commentary on the brutality of work and class struggle. This outdoor screening will be introduced by historian Dr. Joshua Freeman, author of Behemoth: A History of the Factory and the Making of the Modern World, a global history of the rise of the factory and its effects on culture and society. Before the film, join us for happy hour outside on the Museum's Terrace with live music from singer/songwriter Zoe Allyn.  

Movie ticket includes a drink voucher. Additional drinks and snacks available for purchase. 

Timeline: 
6:30 pm - Happy hour begins (movie ticket includes a drink voucher) 
7:00 pm - Doors open to film screening
7:30 pm - Introductory remarks begin
7:50 pm - Film screening begins (89 min) 
9:30 pm - Film screening concludes

About the Speaker:
Dr. Joshua Freeman has written extensively about the history of labor, modern America, and New York City. His books include Behemoth: A History of the Factory and the Making of the Modern World (Norton, 2017); Working-Class New York: Life and Labor since World War II (New Press, 2000); and American Empire: The Rise of a Global Power, the Democratic Revolution at Home (Viking, 2012). He is the co-editor of Audacious Democracy: Labor, Intellectuals, and the Social Renewal of America. Freeman has appeared in several television documentaries, including the American Experience episode, "Blackout," and Ric Burns' New York. He has consulted for unions and for the New York City Central Labor Council on strategy and internal education.

About the Performer:
Zoe Allyn is a Pop/R&B vocalist and singer/songwriter who made her debut in 2015. Allyn is the winner of the 2016 and 2017 GrammyU songwriting competition and has performed at multiple acclaimed New York City venues, including The Bitter End. Find her on Facebook and SoundCloud @ZoeAllyn.

To view all of our Moonlight & Movies outdoor film screenings, click here. 

This program also accompanies our exhibition City of Workers, City of Struggle: How Labor Movements Changed New York (on view through January 5, 2020). To view all of the programs in the series, click here.

In the case of rain, the screening will be moved indoors and take place at the same time. 

View a trailer of the film here: 
Courtesy of Charlie Chaplin Official YouTube Channel

$15 General Admission
Movie ticket includes a drink voucher.
Groups of 10 or more get discounts; contact us at programs@mcny.org or 917.492.3395.
Accessibility: Assistive listening devices are available and our auditorium wheelchair lift can accommodate manual and motorized wheelchairs (max. capacity 500 lbs). Please contact the Museum at 917.492.3333 or info@mcny.org with any questions.
Supporters
Moonlight & Movies is made possible in part by Sophia and Peter J. Volandes.

City of Workers, City of Struggle and its associated programs are made possible by The Puffin Foundation, Ltd.