Moonlight & Movies | The Automat
When:
Wednesday, November 9, 2022, 7:00pm
This event has passed.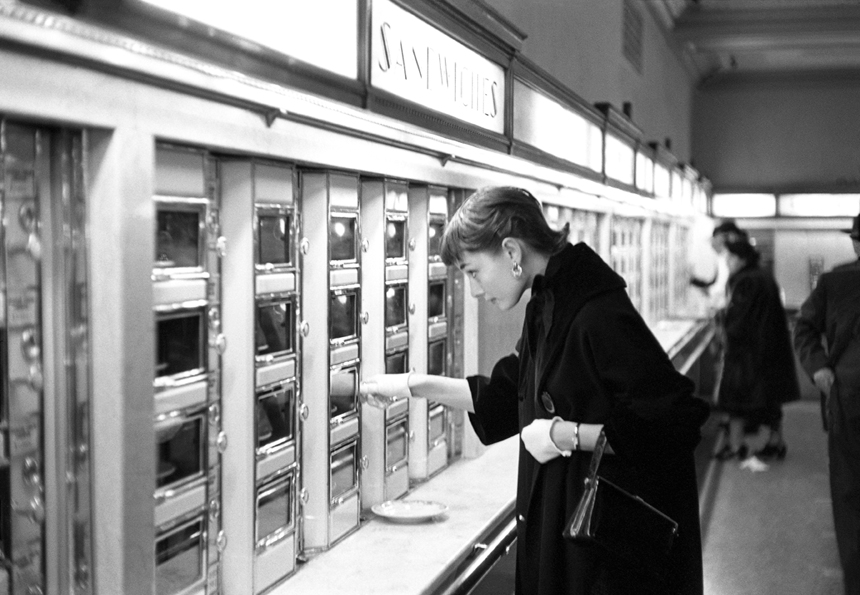 Join us for a screening of The Automat (Lisa Hurwitz, 2021), the award-winning documentary that recounts the lost history of the iconic restaurant chain Horn & Hardart, which served affordable quality food to millions of New Yorkers and Philadelphians for more than a century. Horn & Hardart's technology captured the public's imagination like nothing else in 1900's — the customer put nickels into slots and little windows opened to reveal the customer's pick, be it a slice of pie, macaroni and cheese, or a Salisbury steak. The gleaming glass and stainless-steel windows looked "sanitary" and like nothing else in existence. Featuring appearances by Mel Brooks and Ruth Bader Ginsburg, The Automat illustrates how the company both served the public with great food and at the same time treated its employees with fairness and integrity. 
The film's director, Lisa Hurwitz, will introduce the screening.
This edition of Moonlight & Movies accompanies our exhibition, Food in New York: Bigger Than the Plate. While the Museum as a whole is closed on Wednesdays, Food in New York will be open for viewing exclusively for ticket holders from 6:00 to 7:00 pm.
Event Timeline:
6:00 pm - Doors to Museum open: Food in New York exhibition open for viewing (first floor); open seating in Ronay Menschel Hall (Ground floor screening room); drinks & popcorn available for purchase
7:00 pm - Introduction by director Lisa Hurwitz
7:15 pm - Screening of The Automat (79 mins)
8:34 pm - Film ends, Museum closes.
About Lisa Hurwitz: 
A native of Los Angeles, Lisa received a liberal arts degree from The Evergreen State College in Olympia, Washington during which time she volunteered as a 35 mm projectionist at the Olympia Film Society and became staff of the theater. Lisa went on to work at arts organizations in Washington and later moved to New York City, where she worked as a publicist. Her first feature film, The Automat, premiered at The 2021 Telluride Film Festival. The film grossed nearly $250k in U.S. box office alone and to date is the most successful theatrically self-distributed documentary in the U.S. since before the pandemic. Her next project, a narrative romantic comedy film set in Italy, is currently in development.
Event Logistics (subject to changed based on NYC regulations):
Please contact programs@mcny.org with any questions or ticketing issues.

All sales are final; refunds not permitted. Exchanges and credit for future programs only. Programs and dates may be subject to change. 
Supporters
Moonlight & Movies is made possible in part by Sophia and Peter J. Volandes.