City as Canvas: Graffiti Art in NYC Student Workshop (Grades 4-12)
When:
Thursday, March 18, 2021, 11:00am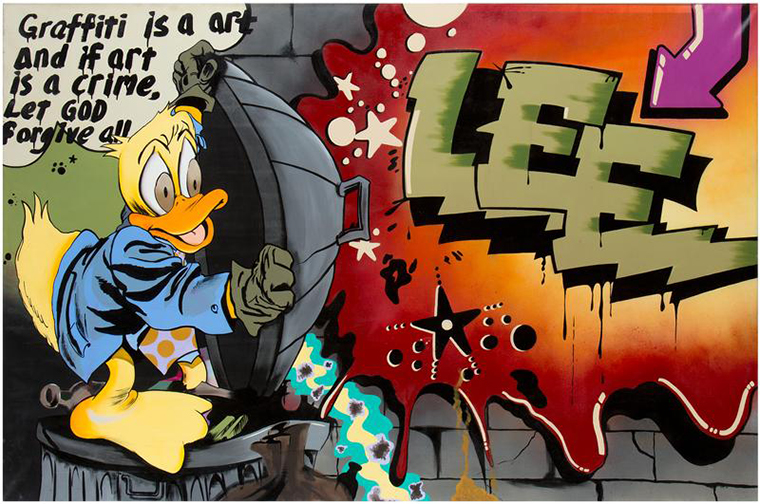 Looking for a fun and free virtual museum experience for your students this spring? 
Sign up your class for this interactive student workshop to explore highlights from the Museum of the City of New York's Martin Wong graffiti art collection and see original works created by famed New York artists and writers, including Daze, Keith Haring, Lady Pink, and Lee Quiñones. 
Participants in this multidisciplinary workshop will learn about graffiti as a dynamic and homegrown artistic movement that was shaped by and seen throughout New York City. Students can participate throughout the session by drafting their own designs as they interpret works from the artists' personal sketchbooks, photographs, and works on canvas. 
This multidisciplinary workshop is available to classes in all subject areas: 
For Elementary School classes: Writing on the walls--whether transmitting messages or documenting the author's presence—dates back to antiquity. This is an opportunity to see this global artistic tradition in the context of New York's history and the importance of community for the creative process. 
For English Language Arts classes (elementary, middle, and high school): Students explore how artists have used stylized writing and images together, and will practice their language and interpretive skills through articulating their observations and perspectives using the chatbox (comments are only shared with the Museum Educators).  
Visual Arts classes (elementary, middle, and high school): Students will view and interpret works of art, learn about the lives and artistic processes of New York artists, and draw inspiration from the collection to begin creating their own designs. 
This session is offered at additional dates and times. View them all here. 
Free. Advance registration required. Capacity for each event is limited. This session is full. Please check the other available dates and times or email schoolprograms@mcny.org. 
Registration Details: Individuals or classes are invited to register. Teachers interested in registering a class of up to 35 students can do so (multiple classes from the same school can register if there is a different teacher in charge of the registration for each class). 
How it Works:  Students will join other students in these live and interactive sessions led over Zoom by Museum Educators in a setting that balances active engagement and privacy.  Participants will see and discuss visuals from the Museum's exhibitions and collections and connect the past to our present. 
Security and Interaction: Sessions will be presented as webinars; students are able to submit questions, comments, and observations to the moderators and complete polls and other activities, but will not use cameras or mics and will not be visible on screen.  
Free.  Advance registration required.  
More Spring 2021 Workshops:  To learn about future upcoming free student workshops scheduled this school year between January – June, join our mailing list  - be sure to check the box "Teacher & Student Programs"! 
Supporters
Education programs in conjunction with City as Canvas were made possible by a grant from the Keith Haring Foundation Inc.  
The Frederick A.O. Schwarz Education Center is endowed by grants from The Thompson Family Foundation Fund, the F.A.O. Schwarz Family Foundation, the William Randolph Hearst Endowment, and other generous donors. 
For more information about the Frederick A.O. Schwarz Education Center, and additional funder credits, please click here.