New York City Blues
Tuesday, July 16, 2019 by
The color blue is everywhere in the summer. There is the bright, hopeful blue of a clear sky, the shimmering grayish blue of the East River, and the sticky bottom layer of a firecracker popsicle, blue sugar water dripping everywhere. Blues are definitely on the brain at the Museum thanks to our latest installation, Blue Man Group: Ready…Go!. That trio of bald and blue humans that have been appearing at the Astor Place Theatre since 1991 has got me looking for blues all over the city.
I don't have to look very far. The official flag of New York City consists of vertical stripes of blue, white and orange, with the seal of the city printed in blue on the central white stripe. The flag was first made official in 1915. Below is an invitation to the ceremony commemorating the occasion.
The blue in the flag also been used to link sports teams—almost all professional New York City teams include the color in logos and branding.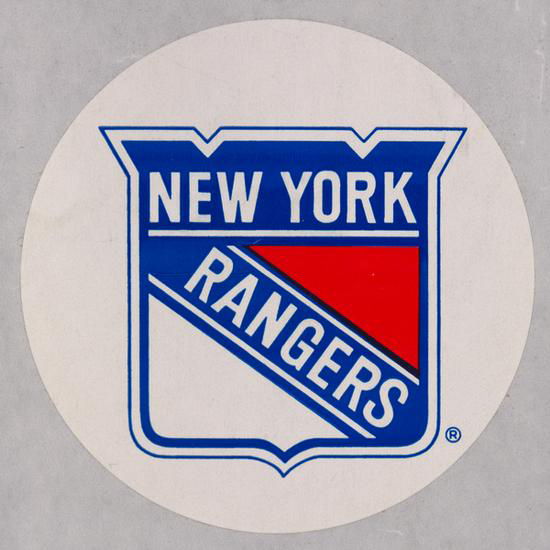 Sticker for the New York Rangers, 1996-1997. Museum of the City of New York. X2014.12.553.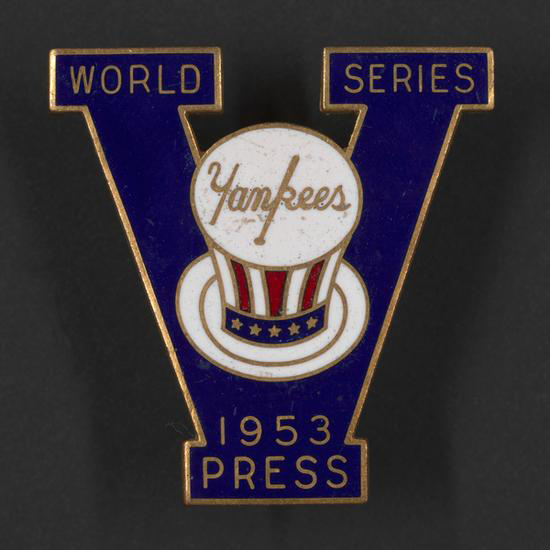 Press button for World Series Yankees, 1953. Museum of the City of New York. 81.97.41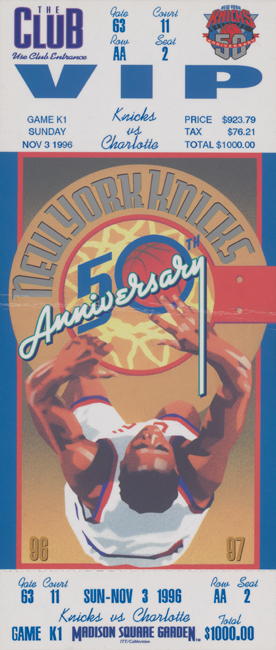 Ticket for New York Knicks 50th Anniversary Season, Knicks vs. Charlotte. 1996. Museum of the City of New York. 97.131.4.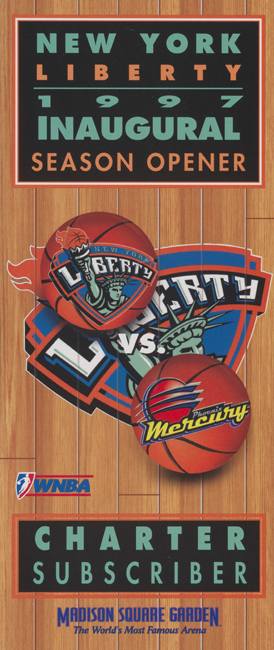 Roster for the inaugural season of New York Liberty, 1997. Museum of the City of New York. 98.31.9.
Blue is the color of the Metropolitan Transportation Authority. Whether you take the A/C/E lines or not, blue is part of a New Yorker's daily commute. On all cards used as a payment method to enter the subway or bus, the word "MetroCard" is spelled out in blue across a field of yellow.  
The New York City Police Department has long been associated with the color. The navy blue uniform was first introduced in 1853, and the popular 1990s television drama "NYPD Blue" cemented the Department's connection in popular culture.  
These official blues are part of the structure of the city, but when some think of New York, it's that light robin egg blue of Tiffany and Company that comes to mind. The boxes stacked in the Fifth Avenue flagship windows of the famous jewelry store have come to evoke an expectation, a promise wrapped in blue.
If you're feeling in the New York City blues, come check out the new installation and play with the instruments on display. You can always pop by during the Museum's summer series, Uptown Bounce, and dance those blues away!