Echoes of Epidemics Past:
Telling the Stories of New York's Champions and Change Makers
Friday, April 24, 2020
It is a hard truth that, long before the COVID-19 virus hit New York's shores, infectious disease repeatedly shaped and challenged our city. In fact, before the 20th century, contagion was the overwhelming fact of life – and death – in New York. Destructive outbreaks and epidemics have punctuated more recent times as well, from the 1918-1919 influenza epidemic, to the repeated seasonal threat of polio that marred summers for generations of children, to the scourge of HIV-AIDS beginning in the 1980s, to feats over global threats like SARS, MERS, and Ebola in the 21st century.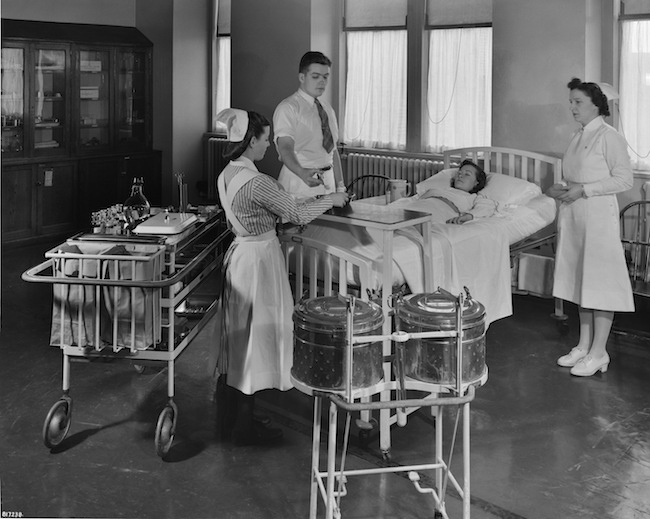 Wurts Bros. (New York, NY) [Broadway and 168th Street. Columbia Presbyterian Hospital School of Nursing, patients dressing group with people.] 1947. Collection of the Museum of the City of New York. X2010.7.1.9195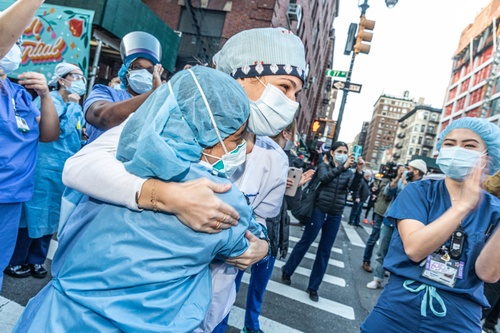 Marsha Lebedev Bernstein, "Lenox Hill Hug" 2020
But at the same time, the resilience and determination of New Yorkers have also been on display. In fact, this has been quite literally true at the Museum of the City of New York, where a broad range of exhibitions over recent years have brought forward extraordinary stories of compassion, courage, and creativity in the face of urban threats from a variety of communicable diseases. These include Germ City: Microbes and the Metropolis; Activist New York; AIDS at Home: Art and Everyday Activism; and our permanent exhibition, New York at Its Core.  
Here are just a few of the front-line fighters featured in those exhibitions who led the work against infection in the metropolis through the centuries.  
Cholera in the mid-19th century: Dr. Nathaniel Edson Sheldon 
Featured in: Germ City 
The 1832 cholera outbreak in New York City was one of the most deadly events per capita ever documented in the city, killing more than 3,500 New Yorkers out of a population of 250,000. The disease hit the working-class neighborhoods of lower Manhattan the hardest. Many city officials blamed the residents of the poorest neighborhoods for contracting the disease, citing their weak character and morals, instead of viewing the epidemic as a public health problem.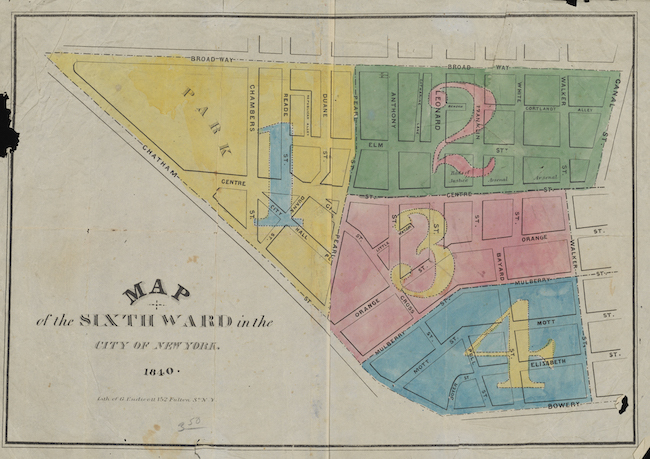 George Endicott (1802-1848). Map of the Sixth Ward in the City of New York. 1840. Collection of the Museum of the City of New York. 29.100.3210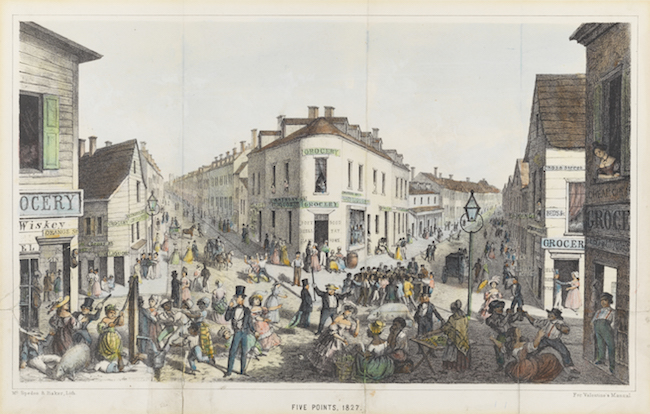 McSpedon & Baker. Five Points, 1827. ca. 1850. Collection of the Museum of the City of New York. 97.227.3
The epicenter of the epidemic was the Sixth Ward, which included Five Points, the notorious slum inhabited largely by immigrants and African Americans. But conditions in the island's southernmost wards were also desperately bad. Nathanial Edson Sheldon was the newly appointed ward physician in New York City's Second Ward (bordering the East River on Manhattan's southernmost point), one of the worst affected areas of the city. Just one year out of medical school in 1832, Dr. Sheldon diagnosed the first case in the city and alerted his superiors, who investigated the diagnosis and uncovered more cases. He ministered to the afflicted at a time when many were fleeing the city in fear. This covered silver ewer was given to Sheldon by the Board of Health in 1832 in recognition of his service.  
Although there was little to be done for individual patients, the cholera epidemic did lead to an outcry for a clean water source for New York. John Snow's epidemiological breakthrough proving that the transmission of cholera in London could be traced to contaminated water supplies did not come for another two decades, but observers had long cited the need for "pure and wholesome water" to fight "pestilence." Just two years after the 1832 outbreak, city voters approved a plan to build a new water system. In 1837 construction began on the Croton Aqueduct, which brought clean water to New Yorkers, fed by gravity alone, providing abundant water and laying the groundwork for our water system still in use today.  
Tuberculosis in the early 20th century: Lillian Wald and the "Black Angels" of Seaview 
Featured in Activist New York, Beyond Suffrage, and Germ City 
Tuberculosis was one of the most devastating diseases of the 19th and early 20th centuries. It was the leading killer in New York City, but for a long time, it received little attention from authorities because it was not considered an acute epidemic disease. Lacking any effective treatment, it fell to nurses to deliver comfort and palliative care to patients. One backbone of this effort was New York's Visiting Nurse Service, which had its roots in the "settlement house" movement. Inspired by London precedents, in the late 19th century settlement workers took up residence in poor, largely immigrant neighborhoods, immersing themselves in neighborhood issues and problems, and seeking to become intermediaries between the "huddled masses" and those in established power.   
Among those were Lillian Wald and her associates in the Henry Street Settlement on the Lower East Side, who in 1893 took the settlement idea a step further. They were trained nurses and used the Henry Street Settlement as a home base to provide inexpensive and free health care in tenement neighborhoods. Making the connection between poverty, urban environment, and illness, they advocated for healthier living spaces, including better light and ventilation. Visiting nurses tended to patients in their homes and also promoted lifestyle changes to prevent the spread of disease—with mixed success, since their advice often came into direct conflict with the cultural norms of the people they were treating.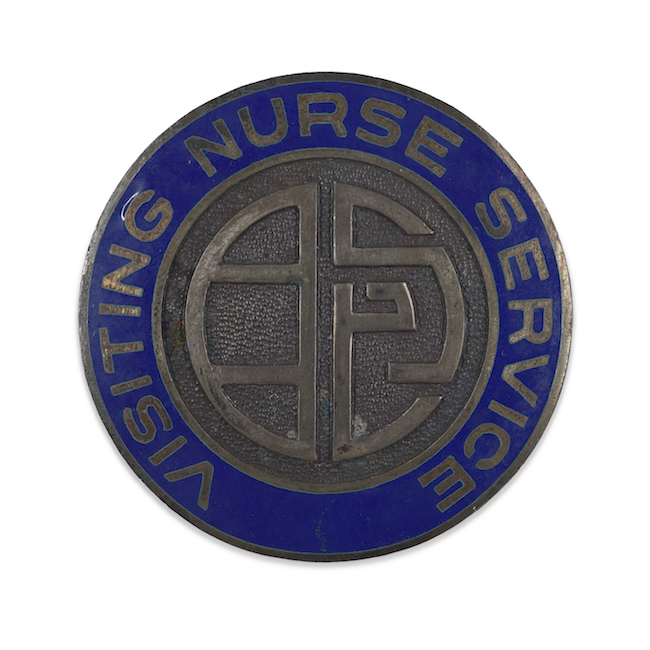 Visiting Nurse Service. ca. 1920. Collection of the Museum of the City of New York. X2015.186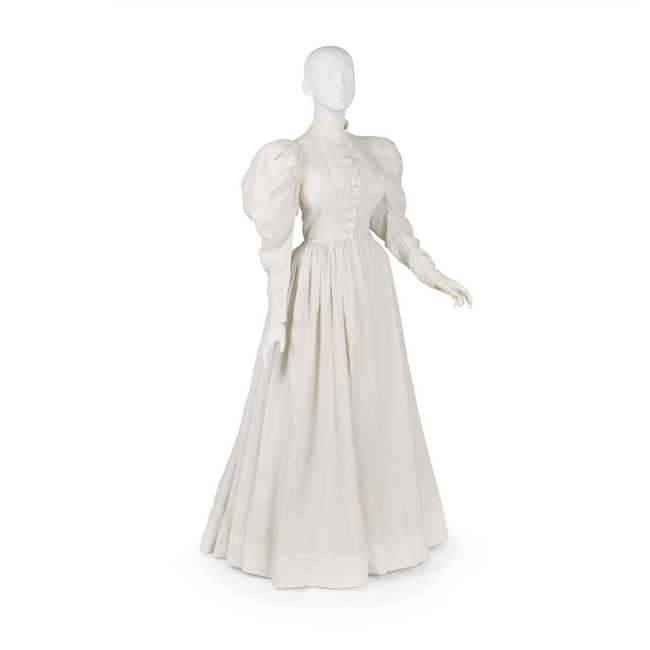 Ensemble comprising dress and hat, worn as uniform by Lillian D. Wald, founder of the Visiting Nurse Service of N.Y., 1893. Collection of the Museum of the City of New York. 70.31.1A-B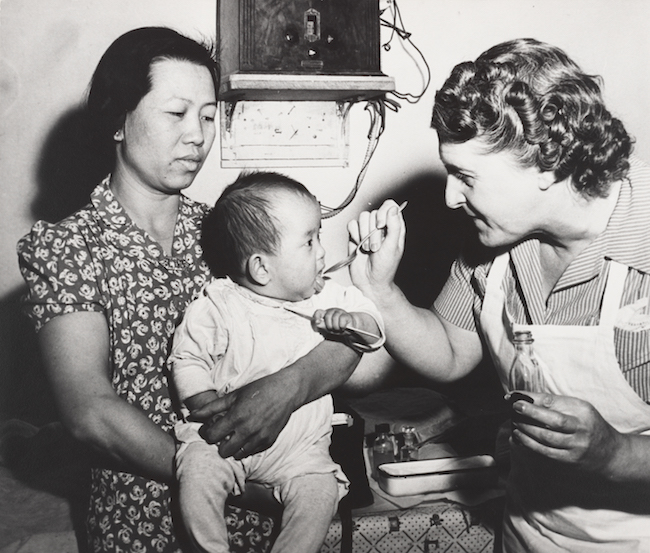 Roy Perry. Henry Street Visiting Nurse Service, Helping a Chinese Mother Spoon Feed Medicine to Her Infant. ca. 1940. Museum of the City of New York. 80.102.53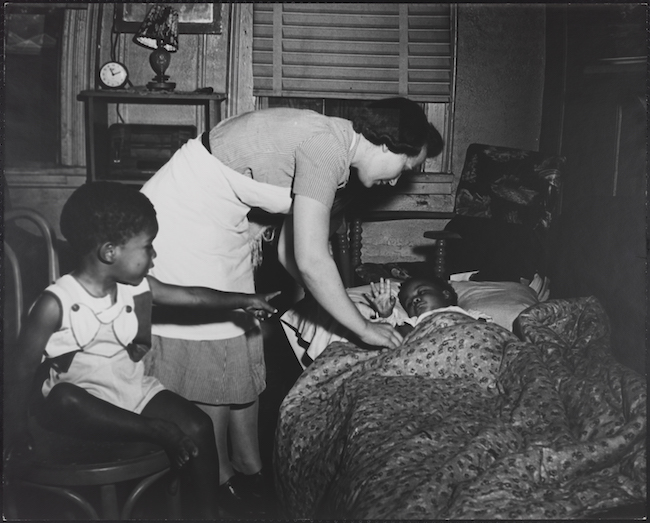 Roy Perry. Henry Street Visiting Nurse Service, Examining a Sick Child in a Cold Water Flat in Brooklyn. ca. 1940. Collection of the Museum of the City of New York. 80.102.82
The work of the Visiting Nurse Service was extended at Seaview Tuberculosis Hospital in Staten Island, built in 1913. Its wards, housing as many as 2,000 patients, were staffed largely by African-American nurses. (White nurses had more employment options, and declined to take these jobs which were viewed as too dangerous.) The Seaview nurses became known as the "Black Angels," and one of them, Virginia Allen, recalled that "Before the cure; the only treatment was diet, fresh air, and rest. There was nothing you could do to help them, except to comfort them, and make them feel as though they were not alone." Allen vividly recollects witnessing a major breakthrough: it was at Seaview in 1951 that Dr. Edward H. Robitzek and his staff demonstrated the "miraculous" ability of a new drug, isoniazid, to restore patients whose health had been devastated by the disease: "When it happened, it was like a party.  The patients were dancing around.  They banged on pots, they laughed, they talked, they hung out of the windows of the pavilions, and it was very joyous.  It was a wonderful occasion to be a part of, because that is a part of history."  
Diphtheria and smallpox in the early 20th century: Dr. Louis T. Wright 
Featured in: Germ City 
The effectiveness of medical care is dependent on people's ability to access it, and many activists and practitioners have been vocal critics of the uneven access to care among New Yorkers. Among these critics was Dr. Louis T. Wright, who in 1919 had become the first black doctor appointed to the staff of a municipal hospital in New York City. 
Wright had earlier made a name for himself working at the Freedman's Hospital in Washington, DC, where he proved that the Schick skin test could indeed be used to detect diphtheria in African-American patients. In New York, his appointment desegregated the medical staff at Harlem Hospital, where he later became the Director of the Department of Surgery. Dr. Wright worked extensively on infectious diseases, in addition to his research on diphtheria, he developed a smallpox vaccine that could be administered right under the skin and led a team that made breakthroughs in research on the antibiotic Aureomycin.  
Wright was a vocal advocate for the integration of medical educational institutions and hospitals throughout his career, and he argued that black people were disproportionately affected by such diseases as tuberculosis, pneumonia, and venereal disease, not due to any fault of their own, but because of "bad housing, inability to purchase proper food in adequate amounts, having to do laborious work while ill, little or no funds for medical care and treatment" along with lack of access to information, and racial discrimination in the form of what he called "unresponsive" and "neglectful" health officers and public health officials. 
Wright himself fell ill from tuberculosis in 1939 and was hospitalized for three years as a result, dying of complications years later, in 1953.
HIV-AIDS in the late 20th century: Gay Men's Health Crisis Buddy Program 
Featured in: AIDS at Home  
Not all of the champions and change makers of the work against infectious disease are medical professionals; sometimes everyday activism falls to laypeople who are prepared to step up.  As the health care crisis around Acquired Immune Deficiency Syndrome (AIDS) grew, a group of New York activists founded Gay Men's Health Crisis (GMHC) in New York in 1981. Their goal was in awareness about the emerging epidemic and raise funds for research. The organization has since grown into one of the city's leading providers of HIV/AIDS education, prevention, and support. GMHC's groundbreaking Buddy Program, started in 1983, paired volunteers with people living with AIDS. Volunteers provided a variety of material and emotional support to clients, including household chores and grocery shopping, home and hospital visits, as well as crisis intervention. The volunteer "buddies" were organized into teams and met monthly to discuss their work and support one another.   
Beginning in 1987, journalist Susan Kuklin (b. 1941) followed Team 7—a volunteer Buddy group based in the East Village—interviewing and photographing caretakers and their clients over the course of nine months. She published her account of the program two years later in the book Fighting Back: What Some People Are Doing About AIDS. At the time, medical providers often approached people with HIV/AIDS with unsubstantiated fears of infection. Michael, one of the clients featured in the book, recalled that some orderlies insisted on wearing masks and gloves before coming into his room. Kuklin's photographs reveal instead moments of gentle embrace and support, with acts often as simple as sitting and listening. 
The Buddy Program continued into the early 2000s, and it became a model for similar volunteer programs across the country. 
Acknowledgments
This post was adapted from research provided by the curatorial team for Germ City: Microbes and the Metropolis, including Dr. Rebecca Jacobs the Museum's former Andrew W. Mellon Foundation Fellow, and Anne Garner of the New York Academy of Medicine; Dr. Steven H. Jaffe and Dr. Sarah Seidman, Puffin Foundation Curator of Social Activism who have curated the exhibition Activist New York; and Dr. Stephen Vider, curator of AIDS at Home: Art and Everyday Activism, and the Museum's former Andrew W. Mellon Foundation Fellow.
The Museum would also like to acknowledge the Staten Island Museum for providing their research on Virginia Allen, and Professor Adam Biggs, University of South Carolina Lancaster for sharing his research on Dr. Louis T. Wright.