100 Years with the 19th Amendment
Friday, August 21, 2020 by
August 26, 2020 is the 100th anniversary of when the federal government certified states' ratification of the 19th amendment pertaining to voting rights for women. The federal amendment mandates "The right of citizens of the United States to vote shall not be denied or abridged by the United States or by any State on account of sex." The anniversary has prompted digital initiatives, new monuments, and collaborative consortiums. It has also been the occasion for new scholarship and nuanced conversations that complicate the legacy of the suffrage movement and demonstrate the significant yet partial victory of the amendment.
At the Museum of the City of New York, we have exhibited histories of women's political activism in many and varied ways. The exhibition Beyond Suffrage commemorated New York State's suffrage anniversary in 1917. Rebel Women soon followed, which explored the lives of New York women who transgressed Victorian norms in the decades before suffrage. In our ongoing exhibition Activist New York, the original suffrage section is available online, while the gallery features a section on the women's liberation movement and content on women in the garment workers' movement, struggles over reproductive rights, the civil rights movement and Young Lords Party, trans activism, and the Movement for Black Lives.
Through these exhibitions, lesson plans, and past programs, three themes about woman suffrage frequently arise:
1. Suffrage activists pioneered many innovative political tactics still used today. These include lobbying elected officials—as they did in statewide and national suffrage campaigns; going door-to-door to convince male voters in New York State to vote yes on the statewide suffrage ballot initiative; and picketing the White House. Suffragists also leveraged the burgeoning consumer culture by creating political ephemera—such as fliers, badges, and cartoons—and infused their public protests with symbolism and visual impact by proudly wearing white, at a time when it was unusual for women to even gather in public.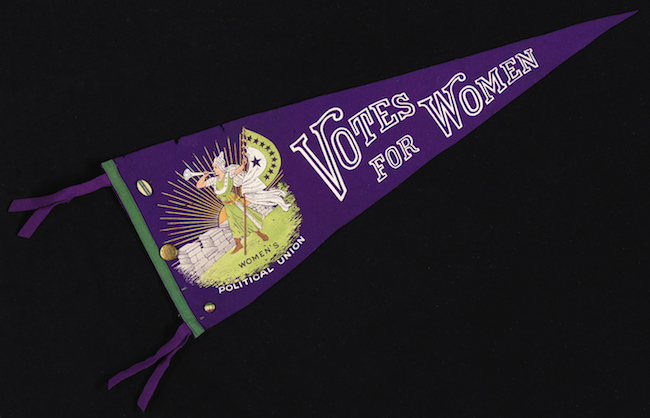 Unknown maker. Women's Political Union Pennant. ca. 1917. Museum of the City of New York. 49.215.14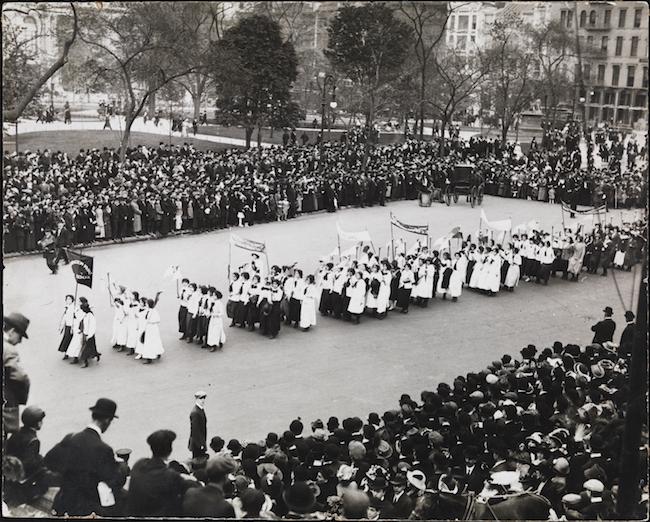 Unknown photographer. [Woman's Suffrage parade.] 1915. Museum of the City of New York. X2010.11.10836
2. The suffrage movement and the 19th amendment discriminated against many women of color. In New York, the suffrage movement attracted a diverse range of women, including Sarah J.S. Garnet, who founded the Equal Suffrage League in Kings County in the late 1880s and organized for the vote through the National Association of Colored Women, and Mabel Lee, who led a contingent of Chinese and Chinese-American women in a suffrage parade down Fifth Avenue in 1917. Yet white-led suffrage organizations in New York and elsewhere usually excluded Black women and sometimes told them to march at the back of parades. After the 19th amendment passed, Black women did vote and run for office in New York, as opposed to many states that passed state and local laws disenfranchising them. But Native American women and Asian American women were barred from voting due to other federal citizenship laws: Native women until 1924 and some Asian women until the 1950s.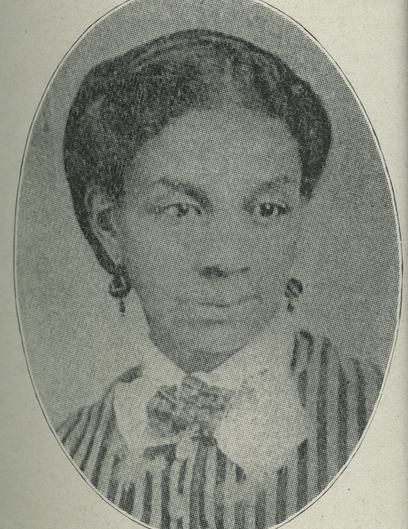 Sarah J.S. Tompkins Garnet, c. 1860, Courtesy Photographs and Print Division, Schomburg Center for Research in Black Culture, The New York Public Library, Astor, Lenox, and Tilden Foundations
Mabel Lee, 1915, Courtesy of the Barnard Archives and Special Collections
3. Voting is one among many crucial tools in the activist toolbox. Women have often sought change through voting or running for office, but they have also worked behind the scenes in government and pushed for change through grassroots activism. This was the case in 1920, fifty years later amidst the demands of the women's liberation movement, and in 2020, with our upcoming election today.