Muslim in New York
Highlights from the Photography Collection
February 18 - August 14, 2017

Back to Past Exhibitions
Muslim in New York
Muslims have been woven into the fabric of New York since the city's origins as New Amsterdam, and today New York's diverse Muslim community—immigrant and American-born, from multiple racial, ethnic, and cultural backgrounds—constitutes an estimated 3% of the city's population, some 270,000 people living in all five boroughs. They represent an important part of the diversity that the Museum of the City of New York's rich photography collection chronicles.
Muslim in New York features 34 images by four photographers who have documented Muslim New Yorkers from the mid-20th to the early 21st century. Works by Alexander Alland date to ca. 1940, a time when New York's diverse Muslim community included Arabs, Turks, Afghans, East Indians, Albanians, Malayans, African Americans, and others. Photographs by Ed Grazda come from his 1990s project "New York Masjid: The Mosques of New York City," and cover both immigrant populations and native New York Muslims, including converts, the long-standing African-American community, and a growing Latino Muslim community. Mel Rosenthal's photographs of Arab New York Muslims from the early 2000s were commissioned for the Museum of the City of New York's exhibition A Community of Many Worlds: Arab Americans in New York (2002). Robert Gerhardt's images, a promised gift to the Museum's collections, document Muslim New Yorkers in the early 2010s.
Together these photographs paint a group portrait of New Yorkers who have greatly enriched the life of the city. 
From left: Photographs by Mel Rosenthal, Ed Grazda, and Robert Gerhardt
In-Depth Stories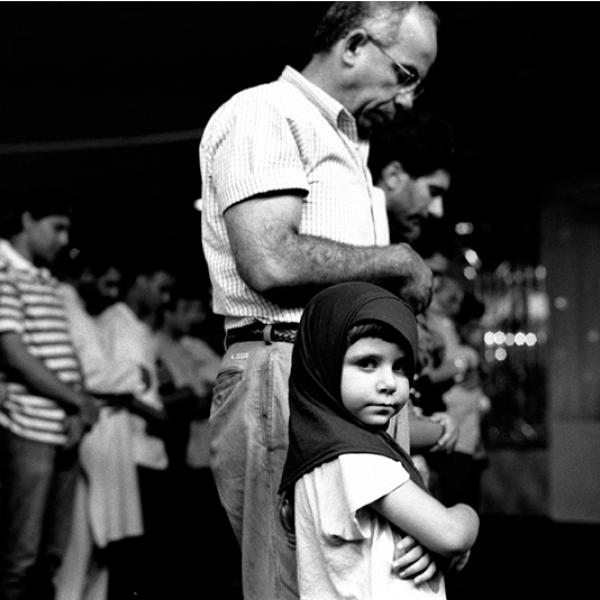 Photographer Robert Gerhardt, whose work is featured in Muslim in New York, shares his experiences documenting Muslim American communities.