Photographing Muslims in New York
Monday, July 31, 2017 by
The Museum of the City of New York asked me to write a blog post to accompany the Muslim in New York exhibition to talk about what I have learned from photographing Muslim American communities over the last seven years. I thought to myself, "How can one sum up what one has learned over the past seven years?" Especially at a time when the government is discussing banning Muslims from the country, and some people are considering Syrian refugees, or even just the existence of mosques, as something nefarious.
I spent the day in the darkroom making some prints of my photographs for a pair of upcoming exhibitions. I spent seven hours pretty much on my own, looking at my negatives, using the enlarger to blow them up, and cementing them on paper. All the while, I mulled this post over in my head.
At one point in the late morning, I went out to a little deli about a block and a half down the street from the darkroom to get some air and buy a cup of coffee. The only people there were the Muslim owner of the shop and a single customer speaking together at the counter. I greeted them with "As-salaam alaikum" (Arabic for "hello"), paid for my coffee and said "shukriya" (Urdu for "thank you") as I received my change. This brought a smile to the men's faces, and they asked where I had learned those phrases. I told them about my trip to Pakistan last summer.
And as I was walking back to the darkroom, it sort of hit me. What I have learned, above and beyond everything else, is that Muslim Americans are really no different then any other group in this country.
Muslim Americans are families; the adults go to work; the kids go to school and play ball in the park; the teenagers go to the movies on the weekends and hang out with their friends. I have played pickup games of cricket with young Muslim kids in Brooklyn—to their great amusement of how bad I am at it. I have been asked by countless other kids to photograph them dunking their basketballs like Michael Jordan before prayers. In Oklahoma City, I rode around with one of the local Imams in his tiny Toyota Prius and ate at the greatest Pakistani restaurant I've been to in the U.S. Outside of Chicago, I watched little children fall asleep during prayers, just like kids of all religions sometimes fall asleep during services.
I have been invited in for tea in more places then I can remember, and I've had more then my share of Iftar dinners. I have dined with Muslim families all over the country, and sipped coffee with them in countless cafes spanning the Bronx, Brooklyn, and Manhattan.
I've met Muslim doctors in small towns, and seen Muslim cops praying in Mosques in big cities. I've met teachers, lawyers, artists, cab drivers, models, mechanics, shop owners, social workers, and college students who were all Muslims. Some were black; others were brown or yellow; and a few were blue-eyed blondes just like me. But none of that mattered. I was welcomed by all, and no one ever made me feel like an outsider.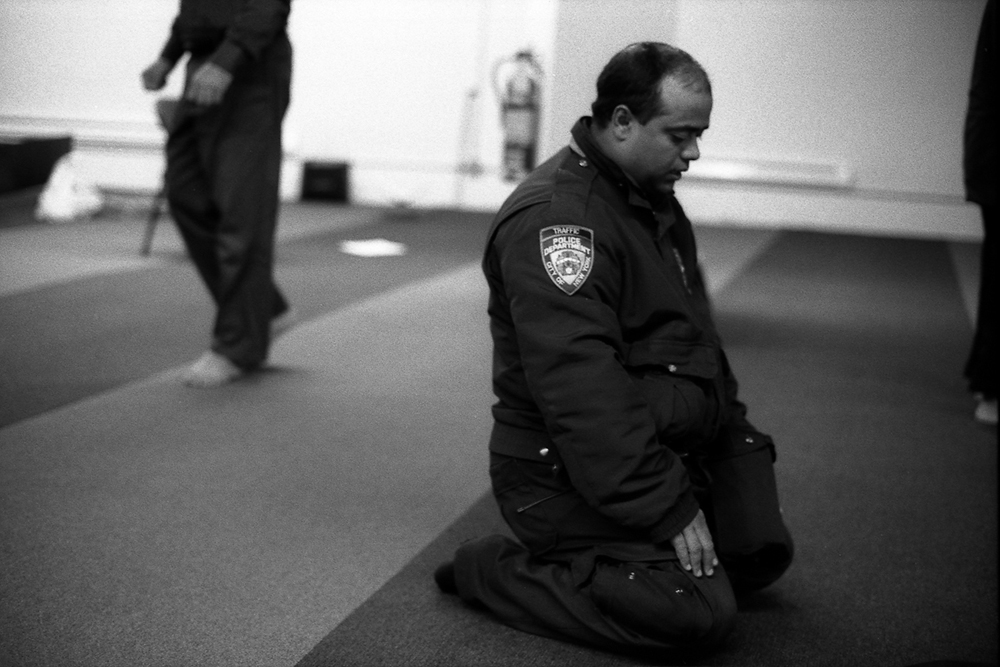 Robert E. Gerhardt, Jr. NYPD Traffic Officer at Prayer, Park 51, Manhattan, NY. 2012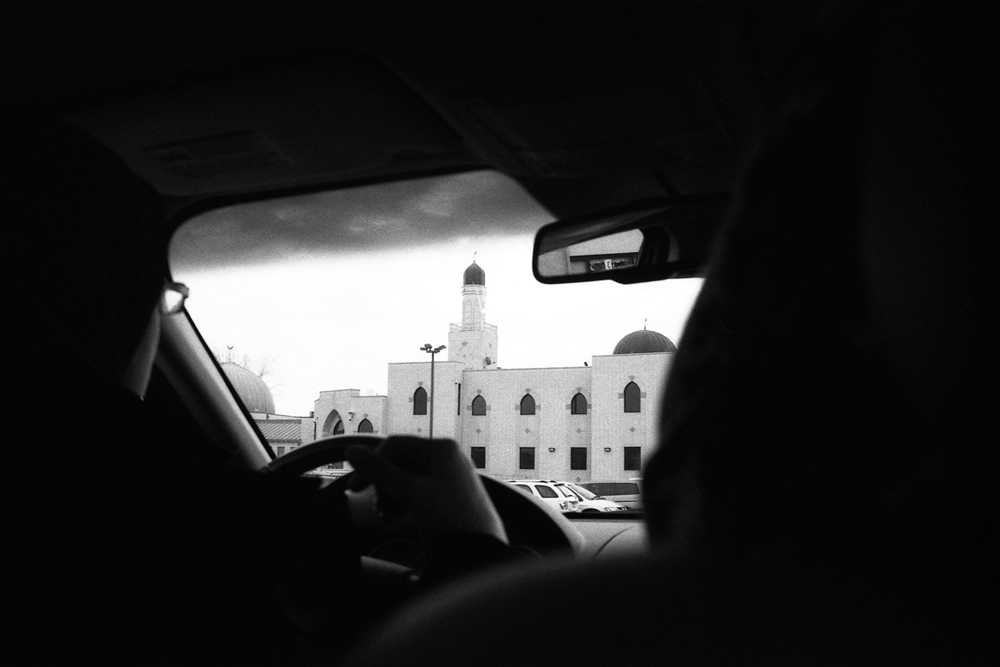 Robert E. Gerhardt, Jr. Driving to Friday Prayers, The Mosque Foundation, Bridgeview, IL. 2012
We have more that unites us than divides us. We all are here, living in peace and trying to make our lives, and that of our families, better.