POSTPONED: Educator Evening | The City Within: Brooklyn Photographs by Alex Webb and Rebecca Norris Webb
When:
Wednesday, March 18, 2020, 4:30pm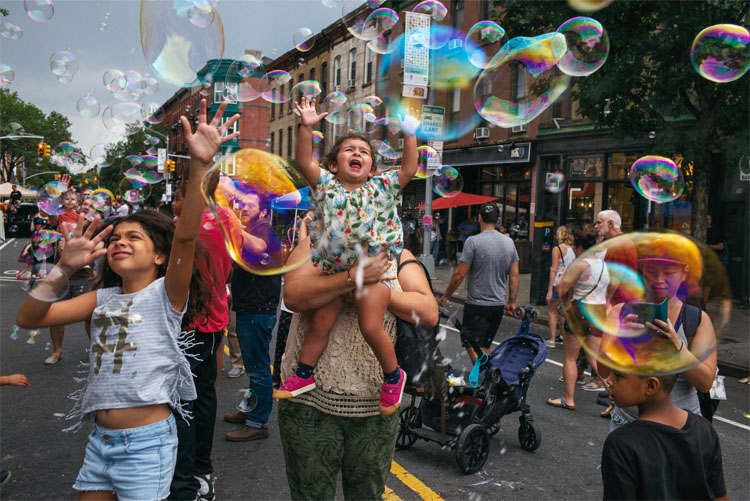 Please note that this program has been postponed. All registered participants will be contacted directly. 
Explore the exhibition and find curriculum connections on this free guided tour for educators.
Before it became part of New York City in 1898, Brooklyn was a city of its own—the fourth largest in the nation. Even today, as New York's most populous borough, Brooklyn remains a "city within the city," three times the size of Manhattan. It is from this point of inspiration that The City Within: Brooklyn Photographs by Alex Webb and Rebecca Norris Webb presents more than thirty images by celebrated photographers Alex Webb and Rebecca Norris Webb.
Alex Webb has sought to canvas Brooklyn with an emphasis on exploring its tremendous cultural diversity, from Mexican and Caribbean Brooklyn to Chinese Brooklyn. By contrast, Rebecca Norris Webb has photographed the green heart of Brooklyn, its parks and gardens, as the contemplative core for this body of work. Through the work of Alex Webb and Rebecca Norris Webb we come to see the complex beauty of the borough—its people, its urban landscape, and its verdant green spaces.
Free. RSVP Encouraged. 1 CTLE Hour.
Supporters
The City Within is made possible in part by Cherylyn and Chris Ahrens, Bill and Victoria Cherry, Susan Griffith and David Neill, William and Elizabeth Kahane, Marina and Andrew Lewin, Jennifer and Andrew Marrus, and Ann G. Tenenbaum and Thomas H. Lee.
Professional Learning programs are made possible in part by …a chance… fund, inc.
The Frederick A.O. Schwarz Education Center is endowed by grants from The Thompson Family Foundation Fund, the F.A.O. Schwarz Family Foundation, the William Randolph Hearst Endowment, and other generous donors.