Past Event: Fania All-Stars: Live in Africa
When:
Wednesday, April 11, 2018, 6:30pm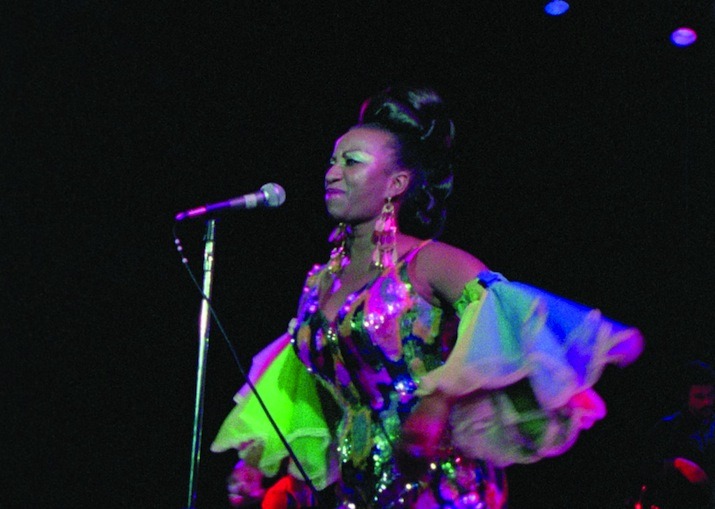 Please note that this program is now sold out. There will be a wait list starting at 6:00 pm on the night of the program. Any additional seats will be released at 6:35 pm in the order the names were received. You must be physically present when your name is called or your place will be forfeited. We do not guarantee that any seats will become available.

In 1974, during the heyday of New York City's salsa explosion, the Fania All-Stars, a group that brought together several of the Fania record label's most popular artists, were invited to perform in front of 80,000 people at a stadium in Zaire, Africa. Featuring exquisite performances by Celia Cruz, Héctor Lavoe, and the All-Stars' many other virtuoso players and vocalists, the concert was captured on film by director Leon Gast with help from Albert Maysles. Live In Africa (53 min, 1974) offers a glimpse into a particularly soulful moment in the history of Latin music and serves as a key document of the influence of New York City's diasporic, polyglot cultures on the world.
Afterwards, join us for a conversation with Academy Award-winning director Leon Gast, musician and journalist Aurora Flores, and Fania All-Stars members, Larry Harlow, Nicky Marrero and Eddie Montalvo, moderated by Jessica Green, cinema director at the Maysles Documentary Center.

Includes Museum admission and complimentary beer courtesy of Harlem Blue.
About the Speakers:
Aurora Flores is a bandleader, author, and performer. She was the first Latina editor of Latin New York Magazine and later became the first female music correspondent for Billboard Magazine. She can be seen in films including Americanos, Latino Life in the U.S. and Palladium: When Mambo Was King. Flores is the bandleader of Zon Del Barrio and the co-author of Man of La Salsa: Tales from an Unexpected, Marvelous Life.
Leon Gast is an American documentary film director, producer, cinematographer, and editor. His documentary, When We Were Kings, won the 1996 Academy Award for Documentary Feature. Gast also co-directed the 1977 documentary, The Grateful Dead Movie and the 1983 film Hell's Angels Forever. Most recently, Gast co-directed the 2014 film, Manny about the life of professional boxer Manny Pacquiao.
Larry Harlow, a famed, Brooklyn-born musician signed to Fania Records soon after it was founded in 1964. He quickly became a musical star as a bandleader, producer, and recording artist (affectionately known as "El Judio Maravilloso,") and a mainstay of the New York City Salsa scene. Harlow was also the producer and pianist for the Fania All-Stars, who have recorded over 60 albums. In 2000, he was inducted into the International Latin Music Hall of Fame and received the Grammy Trustees Award in 2008.
Nicky Marrero is a percussionist from the Bronx. He joined the Fania All-Stars in the 1970s and was on their trip to Africa featured in the film. In addition to the All-Stars, Marerro played drums with Willie Colon, Eddie Palmieri, Larry Harlow, Wynton Marsalis, among others. He is also a sought after percussion instructor.
Eddie Montalvo is a Grammy-nominated musician from the Bronx. Before joining Fania All-Stars in 1979, he played congas with Julio Romero & the Latin Jazz All-Stars and worked with artists including Celia Cruz, Héctor Lavoe, and Willie Colón. He released his first solo album On My Own in 1995 and in 2012 released his second solo album, Desde Nueva York a Puerto Rico which was nominated for a Grammy in 2013.
Jessica Green (moderator) is the cinema director at the Maysles Documentary Center and has overseen the programming at the Center since 2008.
This event is part of the second season of our nonfiction film series, Smile, It's Your Close Up: New York's Documentaries, co-programmed with Jessica Green and Edo Choi of the Maysles Documentary Center, which zooms in on key moments, individuals, and communities to pose the question: "What makes New York New York?" To view all of the programs in the second season of the series, click here.