Past Event: Drawing NYC: A Conversation with Kim Deitch
When:
Wednesday, January 15, 2020, 6:30pm
This event has passed.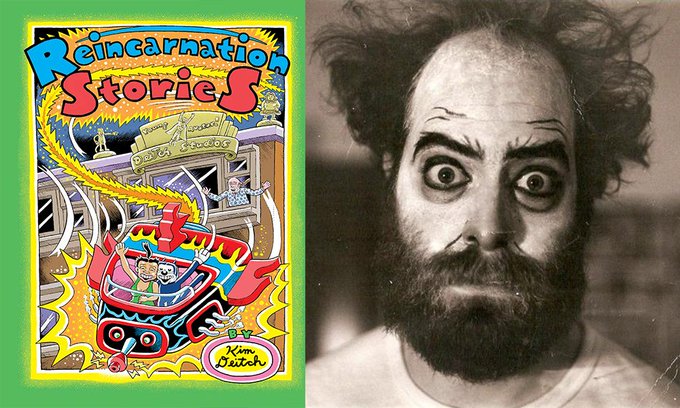 Join graphic novelist and underground comix legend Kim Deitch and jazz critic and historian Gary Giddins to discuss Deitch's latest book, Reincarnation Stories (Fantagraphics, 2019), just named one of the "Best Comics of 2019" by The New York Times. With settings ranging from Central Park to the surface of the moon, and a cast of characters including a feline jazz pianist, cartoonist Spain Rodriguez, Jesus Christ as an intergalactic conqueror, Frank Sinatra, and Deitch himself, Reincarnation Stories blends the familiar with the fantastic. The Times calls Deitch's surreal "fact-flipping meditations on cycles of life [both] an escapist pleasure and an optimistic note for this mind-bending moment."
Reception and book signing to follow.

This event is part of our Core Conversations series. To view all the programs in the series, click here. 
About the Speakers:
Kim Deitch got his start doing comic strips for The East Village Other in 1967 and in 1969 succeeded Vaughn Bodé as editor of the Other's underground comics tabloid. His Boulevard of Broken Dreams (2002) was named one of Time's "100 Best Graphic Novels Ever Written," he has also been awarded an Eisner Award and an Inkpot Award for his work. His newest book is Reincarnation Stories (2019). Deitch remains a true cartoonists' cartoonist, adored by his peers as much as anyone in the history of the medium. 

Gary Giddins joined The Village Voice in 1973, and a year later, introduced his column "Weather Bird," which ran through 2003, garnering six ASCAP Deems Taylor Awards for Excellence in Music Criticism. In recent years, Giddins has contributed articles about jazz to The New Yorker, Jazz Times, The New York Times, The Atlantic, The Nation, Esquire, Vanity Fair, and many other publications. He has received many awards for his work, including a Peabody, a Grammy, and a Guggenheim Fellowship. Giddins has also just completed the second (of three) volumes of his Bing Crosby biography.