MCNY Kids Create: City as Canvas - Graffiti Art in New York City
When:
Thursday, July 22, 2021, 10:00am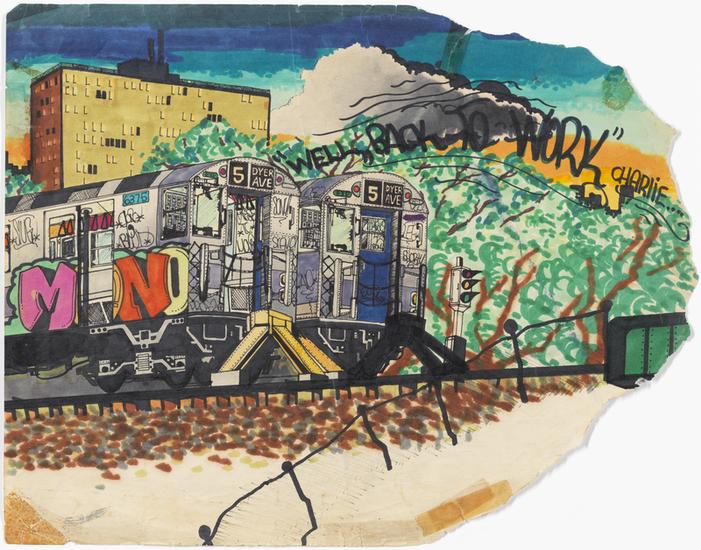 Recommended for ages 7 and up. Sketch your own ideas in this virtual family program as you explore the Museum's graffiti art collection from artists' blackbook sketches to photographs of large-scale pieces and works on canvas. Hear about the NYC "writers" who made graffiti into a worldwide phenomenon and get inspired by their different styles and techniques. 
FREE. Registration Required.  
Recommended for ages 7 and older. All ages are welcome. Sessions are intergenerational and family members are encouraged to join and participate together. Individuals, families or summer school classes are invited to register. Teachers interested in registering a class of up to 35 students can do so if they project the program from their classroom. Multiple classes from the same school can register if there is a different teacher in charge of the registration for each class. This live program will not be recorded.
See. Discuss. Create! 
This event is part of MCNY Kids Create, a virtual series where you can meet New York artists and participate in hands-on art projects. Check out all the videos and upcoming workshops here. 
How it Works: 
Sessions are live taught and interactive in a virtual setting that balances active engagement and privacy. Programs are presented as webinars. You will be able to send questions, comments, and observations via the chat feature to the educators, but participants will not use cameras or microphones and will not be visible on screen. 
Student Artwork Submission 
Participants are invited to submit photos of artwork created during or after a MCNY Kids Create virtual program to be considered for a student gallery of work on the Museum of the City of New York's website. To send in a submission, please fill out the Student Artwork Permission Form and email a signed copy to familyprograms@mcny.org along with a digital image of the student's artwork. 
Materials:
For this program, you'll need a piece of paper and pencil, or any other drawing materials you like to use.   
Supporters
Education programs in conjunction with City as Canvas were made possible by a grant from the Keith Haring Foundation Inc.   
The Frederick A.O. Schwarz Education Center is endowed by grants from The Thompson Family Foundation Fund, the F.A.O. Schwarz Family Foundation, the William Randolph Hearst Endowment, and other generous donors.