Educator P Credit Course: Rhythm & Power
When:
July 14 – 19, 9:00am - 4:00pm
Price:
$250 course fee. Additional $125 fee for ASPDP/P Credit participants.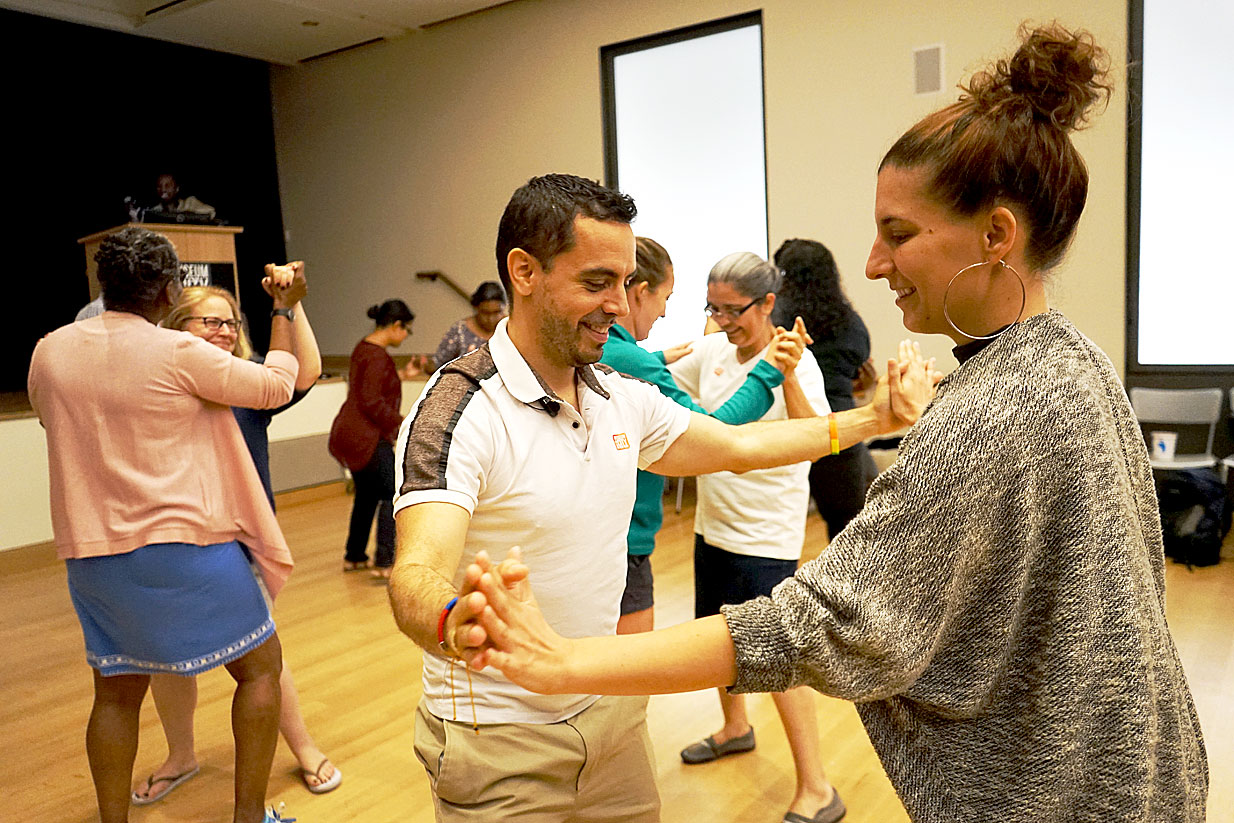 P Credit Course: Rhythm & Power: Dance, Immigration, and Community Action in NYC History
Course Details:
Sunday, July 14 through Friday, July 19, 2019, 9am-4pm daily
Course Fee: $250 (+ $125 ASPDP fee for P Credit participants)

3 P Credits, 6 Day Course, 36 CTLE Hours

Course Description:
Get energized and have fun this summer as you learn about the history of New York City's diverse population and rich immigrant cultures through the lens of dance. 
Experience and practice multiple engagement strategies and write lessons that engage your students through music, dance, cultural studies, and history. Suitable for educators of all grades – and requiring no prior dance experience – this course is inspired by the award-winning exhibitions and programs of the Museum of the City of New York.

The course will use five different dance and musical styles as entry points for examining case studies of 20th- and 21st-century immigration and community development in New York City. These five case studies reflect the current top five countries of origin for immigrants in New York City: Dominican Republic, China, Jamaica, Mexico, and Ecuador. Dance instructors – themselves with engaging stories to tell of their communities – will connect you directly to the art form as you take part in dance lessons.
Simultaneously, examine New York City's unique role as a place of density, diversity, money, and creativity. Scholars, curators, and museum educators will lead engaging talks, tours, and workshops that illuminate New York's role as a place of cultural fusion, artistry, and economic power. 
In the end, you will leave with new ways to engage your students, a set of lesson plans you've written for your classroom for student population, and a new appreciation for your city and the many communities who call it home.
Registration Instructions:
Taking the course for P Credit?
Step 1: Register for the course on the ASPDP Summer Course Catalog and pay the ASPDP fee of $125. Step 1 must be completed by 11:59 pm on July 13, 2019. Participants who register after this time will not be eligible for P Credits.

Step 2: Register with the Museum and pay the Education Partner fee of $250. 
Taking the course for CTLE only (or for fun?)
Register with the Museum and pay the Education Partner fee of $250. 
Course Eligibility:
All educators are welcome to take this course. No prior dance experience is required.
The Museum is CTLE certified. Participation in this program provides 36 hours of CTLE credit for eligible participants.
Eligible participantswho register with ASPDP and complete the course requirements also receive 3 P Credits.
About P Credit Courses:
The Museum of the City of New York offers Professional Credit (P Credit) Courses throughout the year. These courses are open to all educators, including educators not eligible for credits through the New York City Department of Education.
P Credit in-service courses are offered in conjunction with the New York City Department of Education's After School Professional Development Program (ASPDP) and can be applied towards teachers' 30+ salary differential. ASPDP courses may also be used by teachers and paraprofessionals toward the NYS Professional Development requirement, as long as their principal approves. For more information on DOE salary differentials, please visit the DOE website.
Find out more about all of the P Credit Courses offered by the Museum on our P Credit page.
Questions? Call us at 917.492.3492 or email pd@mcny.org.
Supporters
The Frederick A.O. Schwarz Education Center is endowed by grants from The Thompson Family Foundation Fund, the F.A.O. Schwarz Family Foundation, the William Randolph Hearst Endowment, and other generous donors.