Past Event: New York at Its Core: The Archaeology
When:
Tuesday, May 8, 2018, 6:30pm
This event has passed.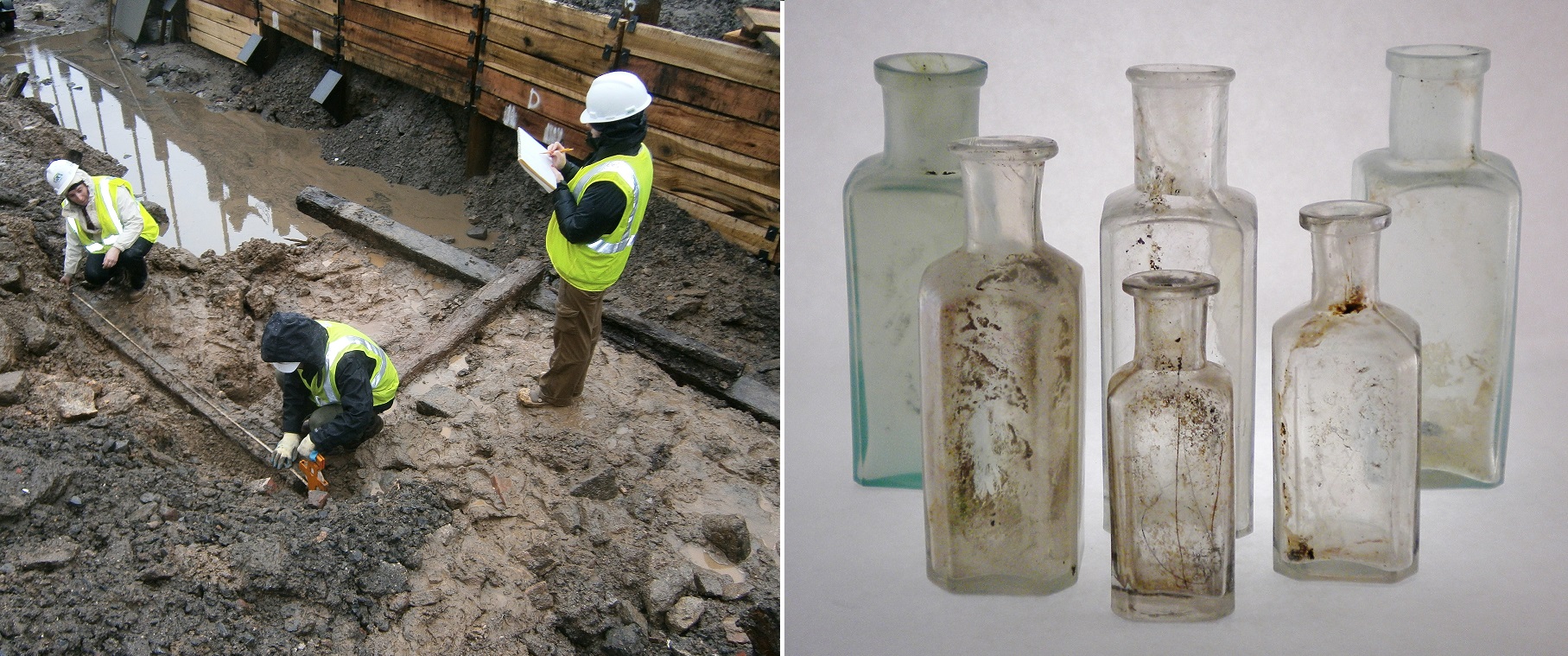 Manhattan's dramatic growth over the centuries is often pictured as a process of expansion, either northwards (up the island) or upwards (with ever taller skyscrapers). But since the 17th century, the island has also been expanding outwards into the East and Hudson Rivers through landfill. Garbage and rubble have long been used to create hundreds of acres of new, artificial land along Manhattan's coastline. Once overlooked, this landfill has increasingly been seen by archaeologists as a rich source of information about the city's past. Join a panel of leading archaeologists and anthropologists including Dr. Joan Geismar, Dr. Robin Nagle, Dr. Joseph Schuldenrein, and Dr. Kevin Wiley moderated by WNYC features reporter Jim O'Grady as they share their latest subterranean findings from Manhattan's shorelines and explore what they reveal about the lives of previous generations of New Yorkers.

This is our 38th annual program presented in partnership with Professional Archaeologists of New York City (PANYC).

About the Speakers: 
Dr. Joan Geismar is an archaeological consultant practicing in the New York‑metropolitan area. She is a founding member of PANYC, serves on the Preservation Committee of the Municipal Art Society, and is the recipient of numerous preservation awards. In 1999, she was designated a New York City Centennial Historian. 

Dr. Robin Nagle is the anthropologist-in-residence with New York's Department of Sanitation (DSNY), and clinical professor of anthropology and environmental studies at NYU's School of Liberal Studies. Her most recent book, Picking Up: On the Streets and Behind the Trucks with the Sanitation Workers of New York City (Farrar, Straus and Giroux, 2014), is an ethnography of the DSNY. 

Dr. Joseph Schuldenrein is Principal Archaeologist and President of Geoarcheology Research Associates. A former Fulbright Fellow in Geology and Archaeology (Hebrew University, Israel) and Fellow of the Field Museum of Chicago, Schuldenrein received his Ph.D. in environmental archaeology at the University of Chicago.

Dr. Kevin Wiley is the Senior Archaeologist of Geoarcheology Research Associates and a Visiting Scholar at New York University. He has worked on prehistoric and historic archaeological sites in the Northeast U.S. and throughout Central Europe. Wiley specializes in computerized mapping and spatial analysis of archaeological data.
Jim O'Grady (moderator) lives in Brooklyn and is a reporter for New York Public Radio. He has told stories on NPR, Studio 360 with Kurt Andersen, and This American Life. He has also hosted Midday Live on WNYC and is a Moth GrandSLAM storytelling champ.

About Professional Archaeologists of New York City:
Professional Archaeologists of New York City, Inc. (PANYC) is a non-profit organization of local professional archaeologists concerned with preserving and protecting the archaeological and historical resources of New York City and educating the public about our cultural heritage.