Welcome Home: Collections at the Museum
Tuesday, June 4, 2019 by
Our Welcome Home series invites readers to learn more about the Museum. In this edition, we delve into the varied objects that comprise the Museum's far-reaching collections.
Costumes and Textiles
The Museum's Costumes and Textiles Collection is one of the foremost repositories of New York City-centric attire, and is distinguished by its interpretation of clothing not only as a medium of aesthetic but as one of social commentary.
Long before upcycling, or the process of revamping pre-existing, unwanted material into a new product, gained cachet as a trendy and environmentally conscious enterprise, the unknown maker of this maternity shirtwaist demonstrated remarkable resourcefulness by fashioning it out of an earlier, nineteenth-century man's vest.
Manuscripts and Ephemera
The Manuscripts and Ephemera Collection documents the day-to-day life of New Yorkers over the past 300 years and comprises a variety of objects, such as menus, invitations, pamphlets, pennants, sashes, and badges.
This 28-page pamphlet, published by MTA Bridges and Tunnels in May 1950, describes the newly constructed Brooklyn-Battery Tunnel (officially known as the Hugh L. Carey Tunnel) and includes maps and illustrations. Construction of the tunnel began in 1940 but was delayed because of material shortages during World War II. It was and still is the longest continuous underwater vehicular tunnel in North America.
Photographs
The Museum's Photographs Collection consists of more than 400,000 prints and negatives that document New York City and its inhabitants from the mid-nineteenth century to the present day.
Walter Rosenblum was born in 1919 into a poor Jewish immigrant family living in the Lower East Side. His mother died when he was sixteen years old, and he borrowed a camera and began to photograph his surroundings as a way to process his grief. He joined the Photo League in 1937, where he met Lewis Hine, Berenice Abbott and other eminent photographers. He became president of the League in 1941. In addition, he taught photography at Brooklyn College for 40 years. This photograph is a recent acquisition and shows the vibrant East Harlem neighborhood on 105th Street near Park Avenue.
Gerard H. Gaskin, a photographer based in the greater New York City area, takes inspiration from his native Trinidad and Tobago to document the queer African American and Latinx ballroom community. In an interview with GAYLETTER, he stated, "Being from Trinidad, Trinidad is I call it the land of Carnival, some people might say Brazil, but us Trinidadians, we think Carnival is from Trinidad. We have a huge history of Carnival, my father was a Carnival costume maker and all those kinds of things. So going to the balls for me was almost an extension of Carnival in Trinidad."
Silver
The Museum's Silver Collection includes approximately 2,600 pieces of civic, domestic, religious, and presentation hollowware, flatware and accessories made by New York silversmiths and designers.
Henry Kiddle (1824-1891) received this beverage service by Tiffany and Company in 1879 from more than 1,000 public school teachers as a testimonial of their respect. Kiddle was a lifelong educator and became superintendent of public schools in New York City in 1870, but resigned in 1879 due to public unease with his belief in spiritualism.
Theater
The Theater Collection at the Museum contains over 200,000 accessioned objects that document theatrical performance in New York City from 1785 to the present day, and comprises a wide range of material types such as annotated scripts, correspondence, design renderings, photographs, window cards and architectural elements, to name a few.
From the 1920s to the 1950s, Hattie Carnegie and the fashion empire she built influenced the styles worn by countless American women. Born Henrietta Kanengeiser in 1886 in Vienna, Austria, she immigrated with her family to New York in 1892 and settled in the Lower East Side. Around 1909, she changed her last name to Carnegie, naming herself after Andrew Carnegie, the richest man in the United States. In addition to retail, she designed costumes for numerous theatrical productions, such as this dress worn by Gertrude Lawrence during the dream sequence of "Lady in the Dark".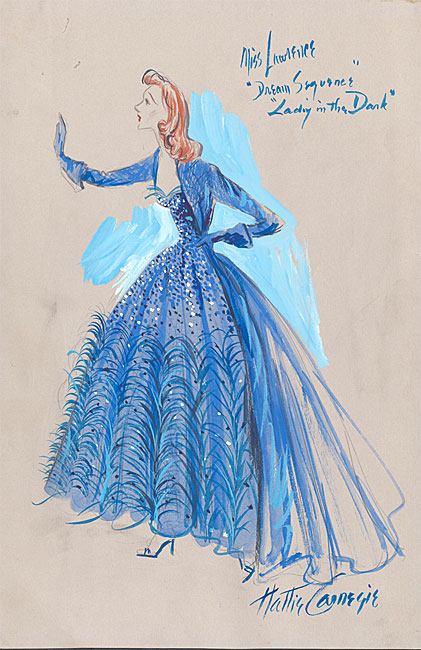 Hattie Carnegie, Inc. Dress worn in dream sequence in "Lady in the Dark". 1941. Museum of the City of New York. 53.57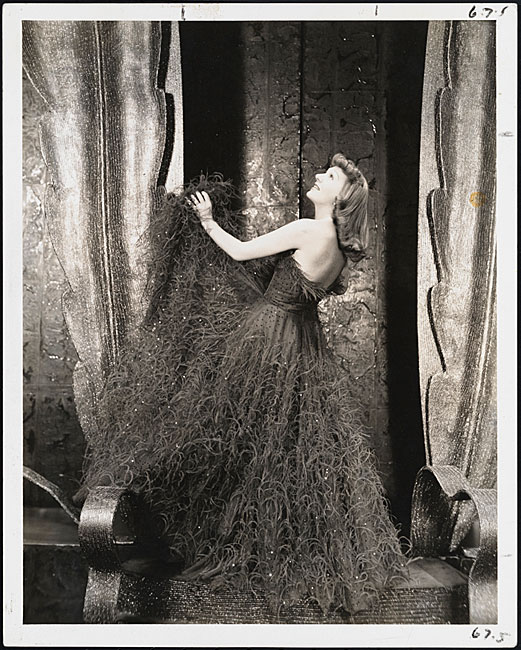 Vandamm. Gertrude Lawrence as Liza Elliott in "Lady in the Dark". 1941. Museum of the City of New York. 48.210.898 ©The New York Public Library
Works on Paper
The Museum's drawing and watercolor collection contains approximately 6,000 works and represents the full span of American art from the early nineteenth century to today.
Jessica Daryl Winer is a native New Yorker whose work is informed by the landscapes, architecture and inhabitants of her home city. She did this watercolor from memory, based on sketches she made both from the street and from the sixteenth floor of the Flatiron Building, where she worked in the mid-1980s. She observed a one-day taxi drivers' protest in which taxicabs drove down both Fifth Avenue and Broadway in unison.
The Museum holds approximately 750,000 objects in its collections. The objects support the Museum's exhibitions, but not all of them can be on view at once. We hope that you have enjoyed reading about these lesser known gems in our collections.