Telling the Stories of Activism in New York City Today
Wednesday, October 19, 2016 by

Sasha Alexander, Linda Sarsour, and Marian Thom, 2016. Images from the Activist New York Interactives, Museum of the City of New York.
Museums are often tasked with examining the past, but how do they represent the present? As part of the update to the Museum's ongoing Activist New York exhibition—including a new original documentary film, City of Movement, and a section on nuclear disarmament activism from the 1950s to the 1980s—we recently overhauled our content that speaks to current activism in the city. In an era of increased visibility for grassroots movements, ranging from #BlackLivesMatter, which opposes racial violence and disparities in the criminal justice system, to the Fight for $15, which seeks to ensure a "living wage" of $15 per hour, and activists' ever-growing use of media and technology, this new content provides a glimpse into the breadth of issues and approaches to current organizing and mobilizing in the city.
First, we updated our list of current organizations operating across the five boroughs, re-organizing them under the categories of political and civil rights, economic rights, immigration, religious freedom, environmental advocacy, and gender equality—themes that are emphasized throughout the historical sections of the Activist New York exhibition. Among the many, many groups working in the city today, these organizations address issues from domestic violence to urban farming, and use approaches ranging from providing social services and launching media awareness campaigns to practicing civil disobedience.
Next, we interviewed six activists at organizations represented in each category on our list. Our team, including myself, Multimedia Producer Josephine Decker, and Andrew W. Mellon Postdoctoral Curatorial Fellow Derrick Washington, generated a list of questions that aimed to at least partly answer "who are the activists of today?" We asked activists questions such as: how and why did you become an activist? What is the work of your organization? What are the preferred tools for spreading your message? And how are you inspired by others past and present in New York City?
Whenever possible, we traveled to the sites and public spaces where our interview subjects do their work. Here's our film crew behind the scenes: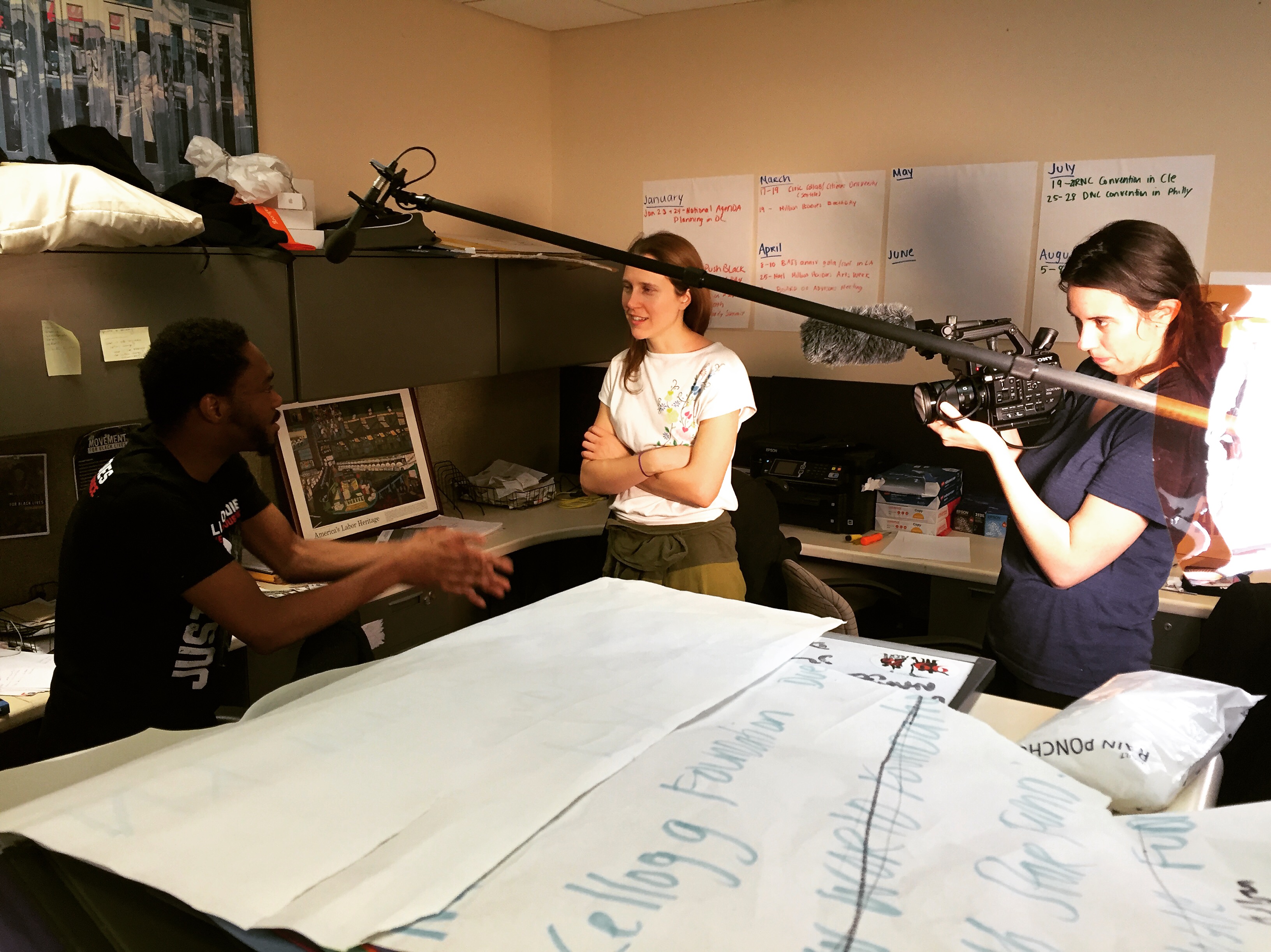 Dante Barry at the Million Hoodies Movement for Justices New York City Headquarters, with Multimedia Producer Josephine Decker and Cinematographer Charlotte Hornsby, March 9, 2016. Photograph by Sarah Seidman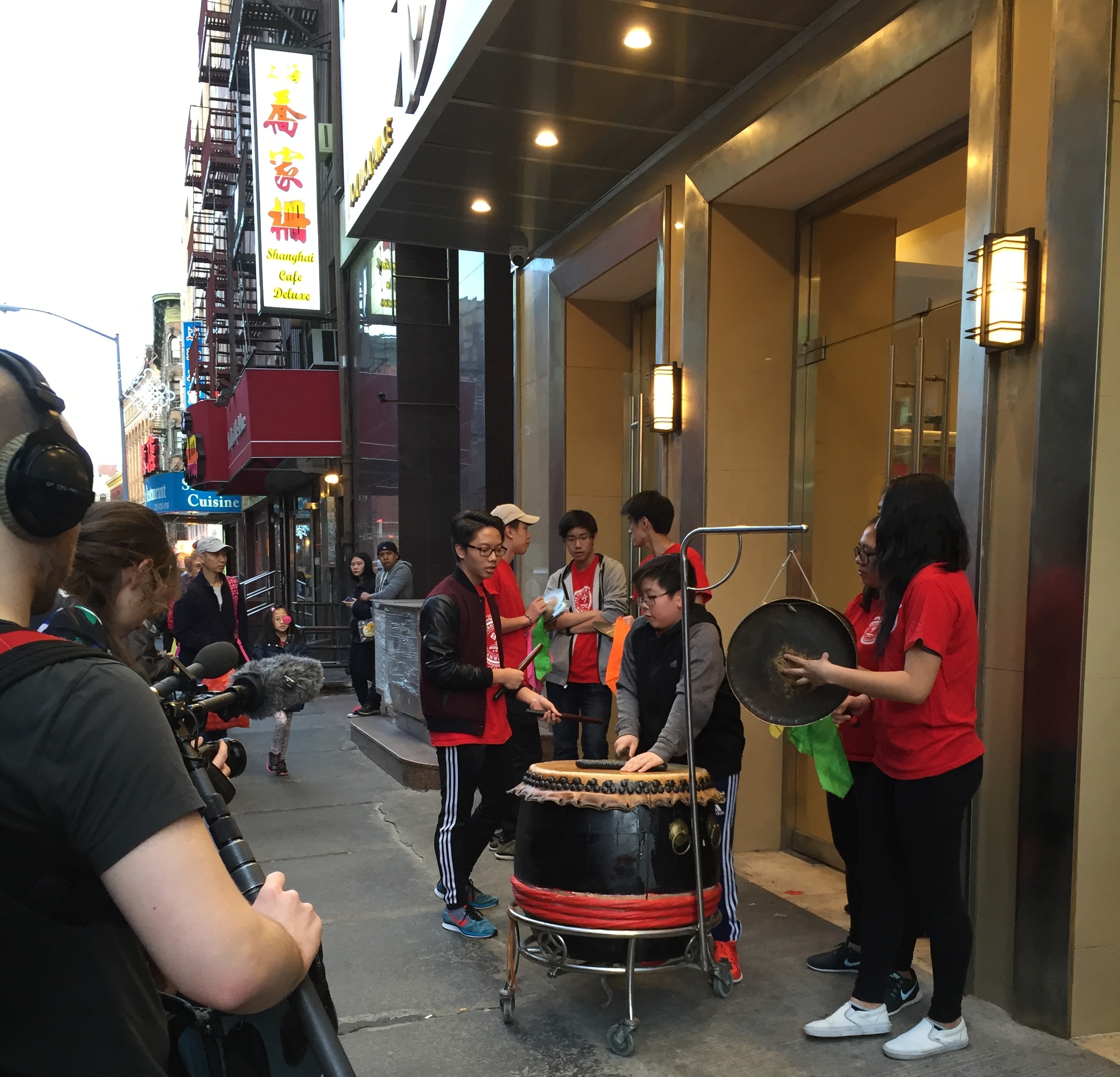 Sound Recorder Michael Parker Kozak and Cinematographer Charlotte Hornsby at the United Federation of Teachers Asian American Heritage Committee's Lunar New Year Banquet hosted by Marian Thom in Chinatown, March 12, 2016. Photograph by Sarah Seidman.
In addition to offices and meeting rooms, our team visited Harlem Grown's urban farm, a Lunar New Year celebration, a rally outside of City Hall, a lawyer's trip to a courthouse, an event for young Muslim women at Columbia University, and an open-mic night for undocumented and other immigrant youth.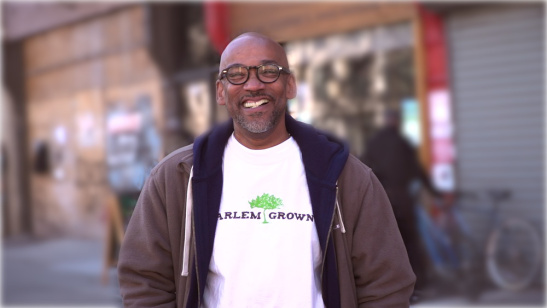 Tony Hillery of Harlem Grown, in Harlem, March 3, 2016. Museum of the City of New York.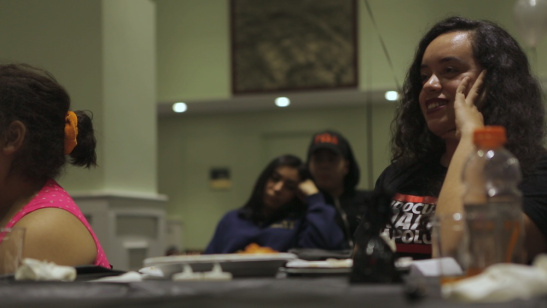 Angy Rivera, right, of the New York State Youth Leadership Council, at an open-mic night for undocumented and other immigrant youth, March 9, 2016. Museum of the City of New York.
Some of what our interview subjects had to say proved surprising; much of it enlightening. Marian Thom discussed her lifelong activism on issues of labor, housing, Asian-American heritage, and breast cancer, citing her mother as a role model. Tony Hillery, Executive Director Harlem Grown, talked about how food justice fits into a much broader framework of urban poverty, while Sasha Alexander of the Sylvia Rivera Law Project emphasized the need for both self-care and community mobilization for trans rights. Angy Rivera of the New York State Youth Leadership Council detailed how difficult it is to "come out" as an undocumented immigrant, while Linda Sarsour of the Arab American Association of New York talked about connections between Muslim New Yorkers and the #BlackLivesMatter movement. Dante Barry, Executive Director of Million Hoodies Movement for Justice, recounted the need to both be silly and visionary in fighting for racial justice.
Take a sneak peak of our interview with Dante Barry of Million Hoodies here:
#ActivistNY: Dante's story
Dante from Million Hoodies is one of the activists profiled in our new #ActivistNY touch screen interactive stations. Come see his story and others!
Visitors to the Activist New York exhibition in the Puffin Gallery at the Museum can see all six videos embedded in our new state-of-the-art touch-screen interactives. We encourage you to become part of the conversation, and help us tell the stories of activism in New York today by using our hashtag #ActivistNY on Twitter, Tumblr, Facebook, or Instagram. We want to see your images of New Yorkers involved in our city, its communities, and the larger world, whether through volunteering, organizing, lobbying, petitioning, protesting, making art, or otherwise taking action or speaking out. Your images could be featured in the gallery's updated social media feed, which also seeks to capture activism in New York City today.