New York Now: Home Artists Profile: Sara Bennett
Tuesday, August 15, 2023 by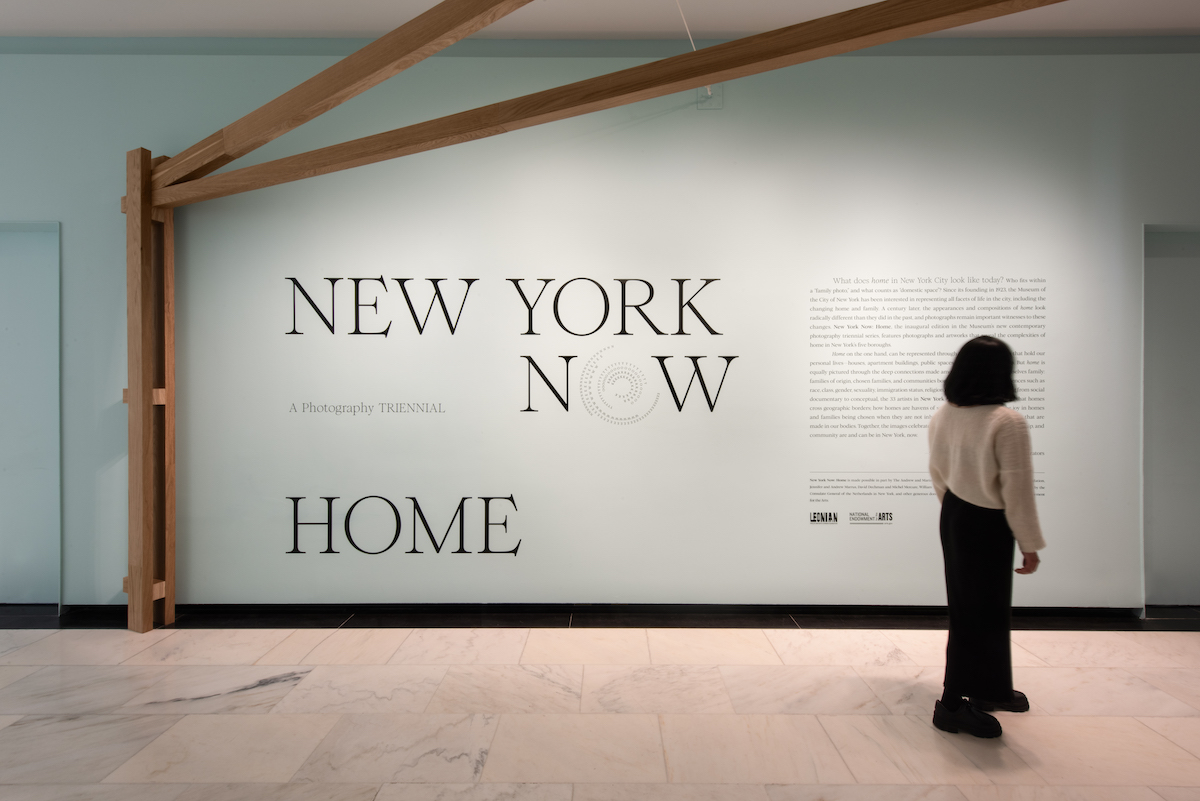 Courtesy Isometric Studio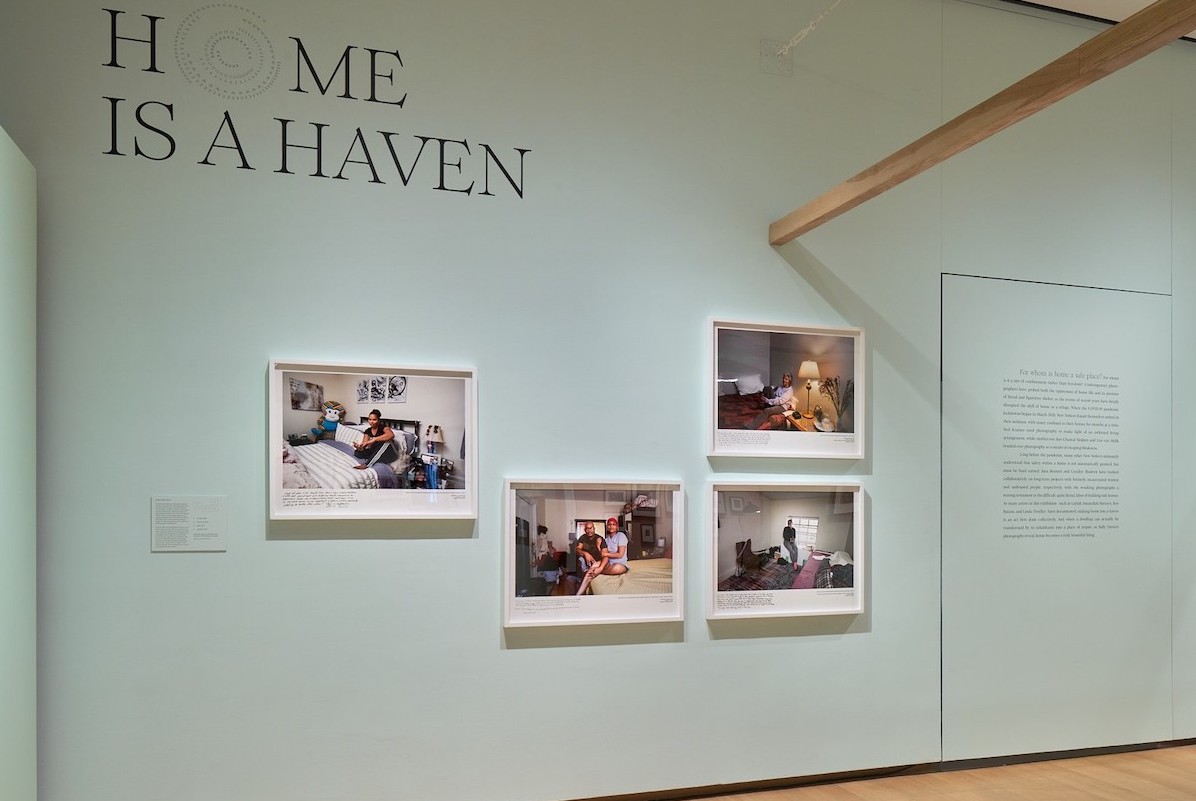 Brad Farwell/MCNY
This spring the Museum launched the exhibition, New York Now: Home, the first in what will become an ongoing Triennial exhibition (every three years) that will present a curated show of recent lens-based work. This series aims to explore several themes of relevance to New York, New Yorkers, and the experience of urban life in the city and promote diverse perspectives that include both established and emerging talents.  
New York Now: Home  brings together 33 image-makers whose work ranges from social documentary to conceptual, the exhibition celebrates the diversity of what home, family, kinship, and community are and can be in New York City.   
To memorialize the artists and works on view in this iteration of the Triennial, we are exploring the work of a selection of participating artists in greater depth. Sara Bennett is a Brooklyn-based photographer who began image-making after she left her position as a public defender. She now employs her work to raise awareness about the prison industrial complex—its harmful effects on society and the two million people currently incarcerated in US prisons and jails. 
Bennett began photographing women with life sentences while working as a pro bono clemency attorney for Judith Clark. Clark was serving a 75-year-to-life sentence for her role as a getaway driver in a famous 1981 Brink robbery in New York.  The result was Bennett's first project, Spirit on the Inside, which was about Judy and her influence on her fellow inmates' lives.  
Based on the positive reaction to this work, Bennett began a series entitled, Life After Life in Prison. For this work she, "Followed four women in various stages of re-entry, and I spent so much time with each of them that we really got to know each other." It was at this time that Bennett began to work on The Bedroom Project – the ongoing series of work that is on view in New York Now: Home. "The four women put me in touch with other potential subjects. So, before I even walked in the door, my new portrait subjects were open to me. They'd seen my previous work; they knew some of my former subjects or clients; and they'd been told that I could be trusted." 
At the time Bennett photographed the women, whose photographs are on view in the exhibition, some had only been recently paroled from extremely long prison sentences. Others had spent many years on the outside and were living in more stable homes. Each photograph includes handwritten personal reflections and anecdotes shared by the sitters, highlighting both the joys and the great challenges of remaking one's life completely after spending decades behind bars.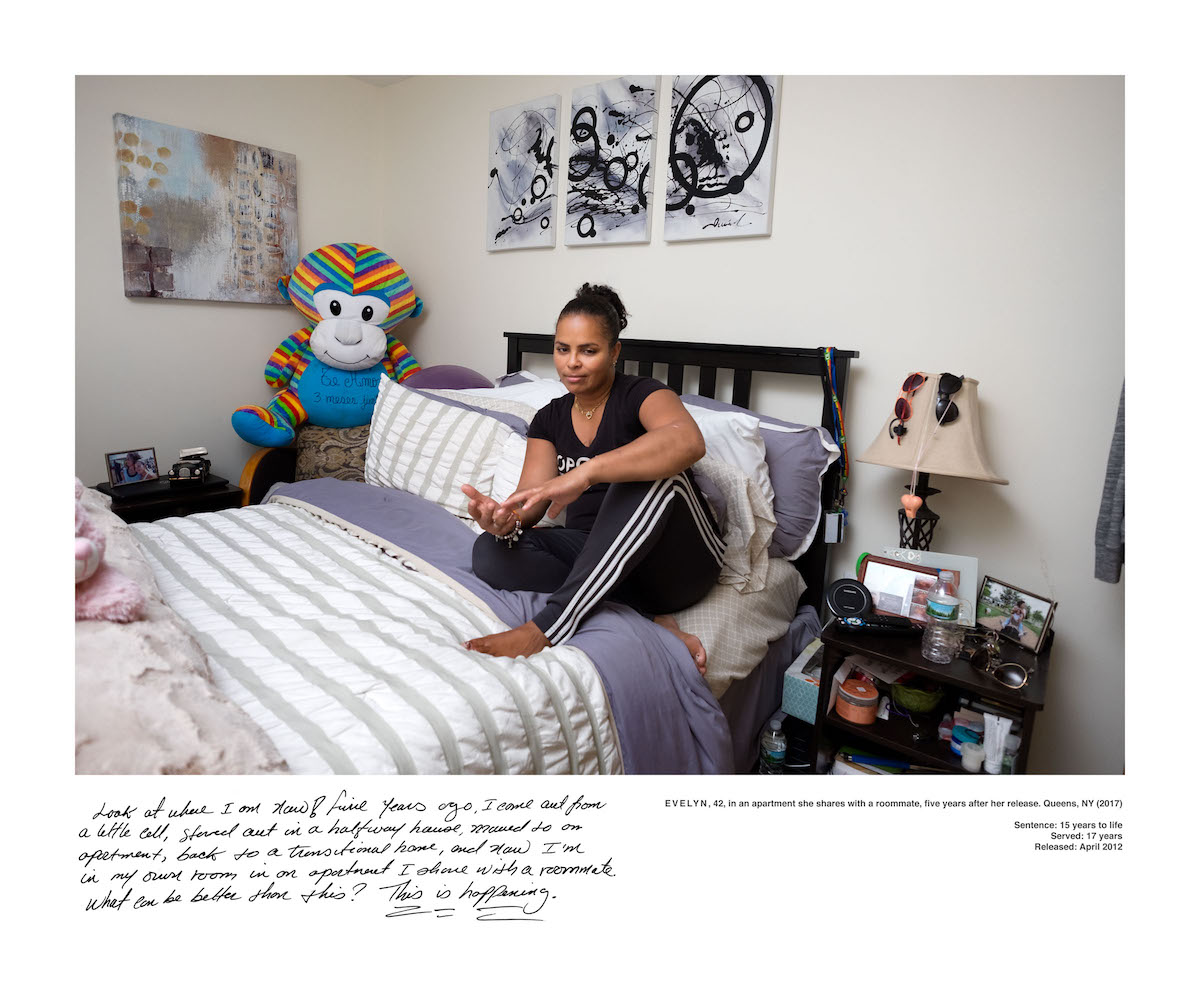 Sara Bennett. Evelyn, 2017. Courtesy the artist.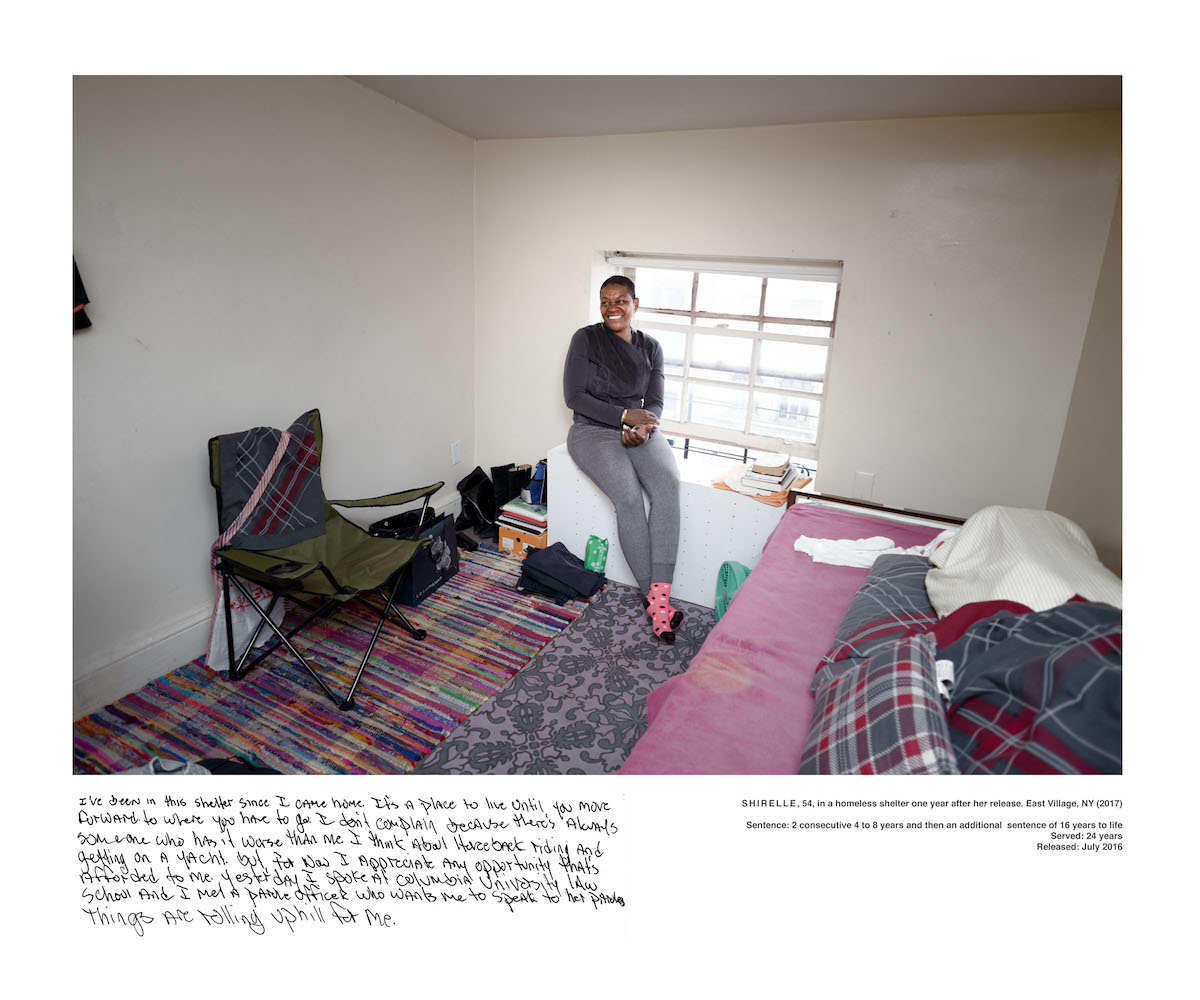 Sara Bennett. Shirelle, 2017. Courtesy the artist.
As Bennett explained in an interview with Pete Brook of Prison Photography Blog published in Medium in 2018, "My goal in all of my photography work is to show the humanity in people who are, or were, incarcerated. I believe that if judges, prosecutors, and legislators could see lifers as real individuals, they would rethink the policies that lock them away forever. I want viewers to know what these women are thinking. Including their handwriting emphasizes that these are their words, these are their thoughts. I asked all of them the same question: "When you see this photo I took of you, what does it make you think?" Their answers are varied and lead the viewer to all kinds of issues — from what it feels like to live in a cell, to educational and employment opportunities inside and outside prison, the difficulties in getting parole and being on parole, finding housing, and issues of remorse, regret, and forgiveness." 
When contemplating her year of work in the US prison system in an interview with Refinery29, Bennett concludes, "Honestly, everything about the system needs to change," adding "We need to be asking, as a society, why do we incarcerate in the first place and, when we do, why do we treat human beings so inhumanely? All of these women strive to live a meaningful life and to be worthy of our compassion, and all of them are so much more than the one act that sent her to prison."