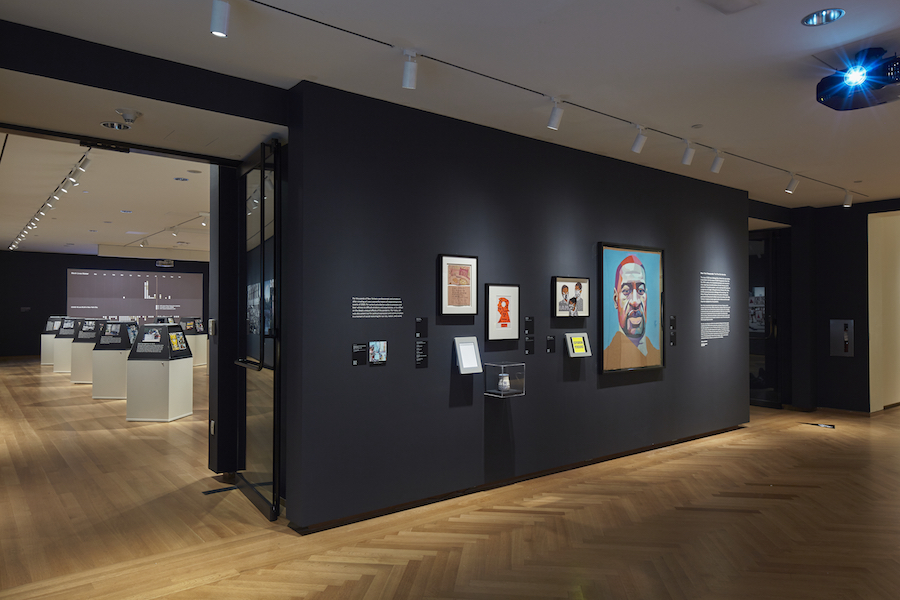 Street Art
New York's streets have always been a place for political and artistic expression, but street art took on a special urgency during the pandemic and the uprising. Some pieces, like Norm Magnusson's sculpture, were placed into public space, while others, like these works on plywood, were created onsite.
Explore the exhibition—return to all themes or return to the online exhibition.
 
---

Norm Magnusson 
2020 
Acrylic paint on aluminum 
Museum of the City of New York. Museum purchase, 2020. 
The artist explains, "This piece is part of a body of work that I've been doing for about 15 years, which subverts the format of New York State historical markers to add the weight of historical importance to some of today's most pressing issues. It was created on May 15, after armed protestors showed up at Michigan's capitol building protesting the governor's stay-at-home order. At the time, it struck me and many others that if it had been a group of armed Black men, the results would have been very different. As with most of my work, it existed originally as a Photoshop mockup, which I posted to Facebook shortly after I completed it.
"On May 25, George Floyd was murdered by police in Minneapolis and sadly, the message of this piece resonated even more. (There are two potential downsides to making art of social conscience about contemporary conditions….one is that the topic the piece addresses change and the piece becomes merely a historical curiosity, and the second is that things don't change, and the piece continues to be relevant. I've been making art for 25 years and I'm sorry to report that the first downside has never come to pass.)
"By early June, several Instagram followers asked for jpegs that they could use to make posters of it, to stick up around town. The posters went up in Brooklyn, Queens, Chelsea, and the West Village. I loved seeing pics on social media of new postings. By late June, I spoke to my foundry about getting on the schedule to have it made. By mid-August, a cast aluminum with acrylic paint version was made and installed in a tiny sculpture 'garden' in Woodside, Queens.
"We all live in this country where racism is allowed to exist. Where "driving while Black" is a dangerous activity and where white men are accorded an inordinate amount of privilege and where cops disproportionately target Black men. This is our country, and if justice is denied to any one of us, we should all feel the sting; we're in it together and we must all raise our voices with our art and our actions, in the streets and in the voting booth. It's time for this to end and for America to fulfill its destiny as a place where all people are truly treated as equals."
 
---
The plywood that boarded-up windows of businesses against potential vandalism or looting became a special opportunity for expression. These plywood pieces were part of a massive art project spearheaded by two artists' groups—Art 2 Heart and SoHo Social Impact—who in June transformed SoHo and NoHo into an "open-air museum" of more than 200 works, all made on plywood covering storefronts. In addition, many artists not affiliated with either group arrived to make the most of this rare moment. The group shared what they hoped to accomplish during this brief moment in the neighborhood prior to the Phase 2 reopening of New York City in the midst of ongoing Black Lives Matter protests, sharing: "If there ever was a moment for artists to express themselves it is now."
As the stores reopened, the SoHo Broadway Initiative, the not-for-profit that manages the neighborhood-focused business improvement district along SoHo's Broadway, reached out to property owners and retailers with a goal of retrieving as many of the painted boards as possible from along Broadway between Houston and Canal before they were discarded as storefronts removed them. The Initiative made arrangements with local property owners to temporarily store boards until they could be transferred to artists who wished to pick up their work. As of December 2020, over 20 plywood board artworks have been picked up by artists or their representatives.
 
Acknowledgments
The SoHo Broadway Initiative team and partners were in a unique position to support the artists who expressed themselves and to preserve this work from this historic moment in New York City's history. The Initiative would like to thank all of those who supported their work, which is allowing these three original plywood artworks that were painted on SoHo Broadway to be included in this exhibition: Margalit Startup City and Jerusalem Venture Partners; Aurora Capital Associates; Westwood Gallery; GFP Real Estate; Hugo Boss; PacSun; Heng Sang Realty; Galeria Melissa; Only Properties; SoHo Broadway Clean Team members:  Lance Marsh, Bobby Canty, Henry Jones and Melvin Vizcarrando; SoHo Broadway Initiative staff, Frank Wessels and Brandon Zwagerman
 
---
Deadly Virus 

Tyler Ives 
June 20, 2020 
Paint on plywood 
Courtesy of the artist and SoHo Broadway Initiative 
The artist writes, "I painted Deadly Virus directly onto the wall of a boarded-up storefront in SoHo on June 20, 2020. At the time, I had been making artwork that used imagery from street signs and other signage to create political commentary. I was looking at the new types of signage that popped up during the pandemic, and I noticed these signs on the front doors of storefronts that warn customers not to enter if they're showing signs of the virus. I saw the opportunity to subvert one of these signs to make a political statement, and I painted it directly onto a storefront so it would have the context of the signs I was originally inspired by. 
"This piece is a commentary that was made for the moment in time when the coronavirus pandemic and the uprisings in support of Black lives were happening simultaneously. My mural makes a clear statement—that just like the coronavirus, racism is a public health crisis that continues to claim Black lives through police brutality and through systemic inequality, as the coronavirus disproportionately affects people of color. During the spring and summer of 2020, the Black Lives Matter movement forced the world to acknowledge these disturbing truths, and my mural seeks to make it clear that racism is a deadly virus that is plaguing our society unlike any other."
 
My Humanity Is Tied to Yours 

Rochelle Leanne White 
Undated 
Paint on plywood 
Courtesy of Artist Rochelle Leanne White and SoHo Broadway Initiative 
The artist writes, "This piece is inspired by an A/R painting called Kaepernick's Knee, which is in production, and a documentary, titled MiddleMen, in post-production, which is about New York families coping with the loss of their unarmed children in a thin blue line society. Colin Kaepernick taking a knee is symbolic of bringing human rights issues in front of America in a place where people would never want to see it.
"Football is one of 'America's' favorite pastimes. America is supposed to represent freedom attainable by all, but the truth is that inequality and racism prevent true freedom. We must listen to heal and support people who have the courage to tell their stories. Kaepernick spoke with silence. This piece responds to his actions: 'I hear you and see you. I respect you and appreciate you for taking a knee.'
"I am one small voice armed with a paintbrush. As always, the power is in the unity of the artist's work that continued to speak to onlookers after we left. Art is a powerful agent for social change. I got involved because I see a host of criminal justice system issues that need to be addressed. When police officers (people bound by ethics) abuse their position of power, it jeopardizes their ability to serve the people. Other notable issues are the use of excessive force, negligence, and indirectly the disenfranchisement of Black wealth, homeownership, and years of policy that has broken up Black families.
"New York, as the rest of the U.S. is very representative of all that. But New York is also representative of people who come together for change and has implemented reforms. Summer 2020 reinforced this dual reality. When people are judged based on their skin color it can be deadly. And we witness this over and over again."
 
Esperanza (Hope)

Fabio Esteban Amador 
June 20, 2020 
Spray paint and acrylic paint on plywood 
Courtesy of the artist and SoHo Broadway Initiative
The artist writes, "This work (Esperanza/Hope) was created on June 20 at the corner of Broadway and Spring Street. Early that morning the artists gathered holding hands in a circle and spoke of the importance of being agents of change in times of uncertainty. We believed that our art could have a positive impact in a time of despair. That morning everyone got to say one word that would be their inspiration for the day. My world was HOPE; it was the only word I could feel meaningful at that moment. HOPE prevails. 
"The piece is part of three works that I painted in SoHo, all inspired by the BLM movement and the social uprising.  My second painting, made on Broadway and Grand and later destroyed, was called The 8th, referencing the unfair treatment of people by the justice system of our country.  The final painting was made on Broome and Greene. It is called Stolen Freedom, inspired by the unfair government policies affecting international students who come to this country to study or search for a better future, yet who are often treated as criminals. I was angry and this was my expression.
"This year has been brutal in what we have faced as humans and as part of a larger community that is struggling to get a fair chance at life and to seek equal treatment from government policies.  I am an immigrant from El Salvador. who has lived in NYC since mid-1970s, I am very much part of the fabric of the city and I feel more than ever the need to express my voice and hope that my paintings make people reflect upon their lives and demand change for a just society."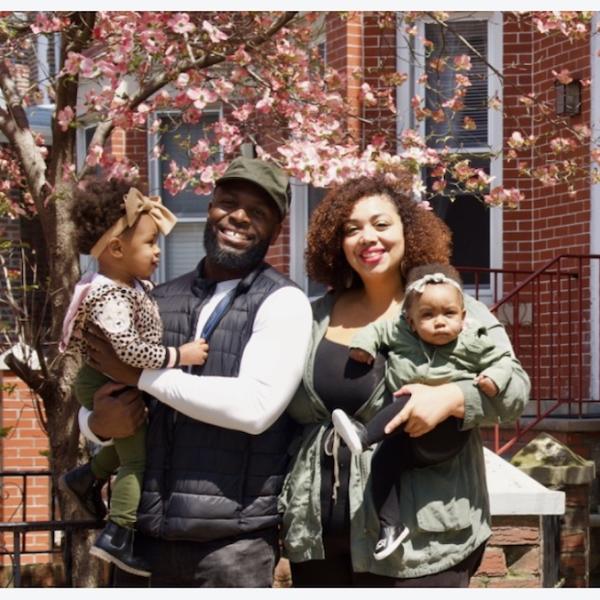 Listen to the voices of New Yorkers as they speak about these critical six months and how their communities responded.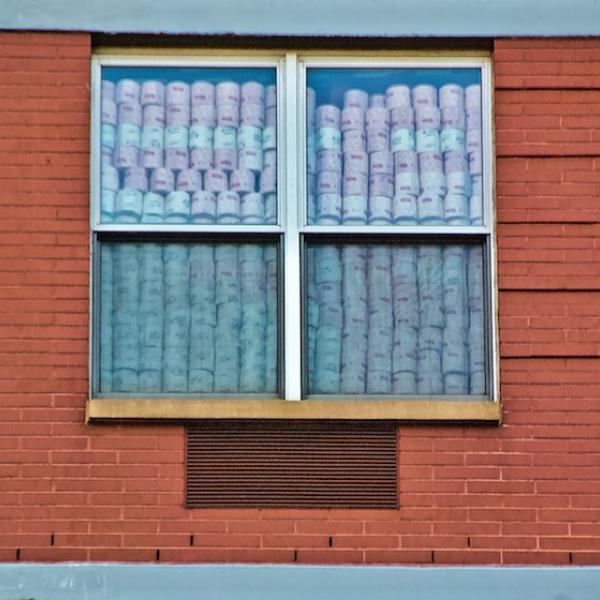 The cityscape in New York was dramatically transformed by the pandemic.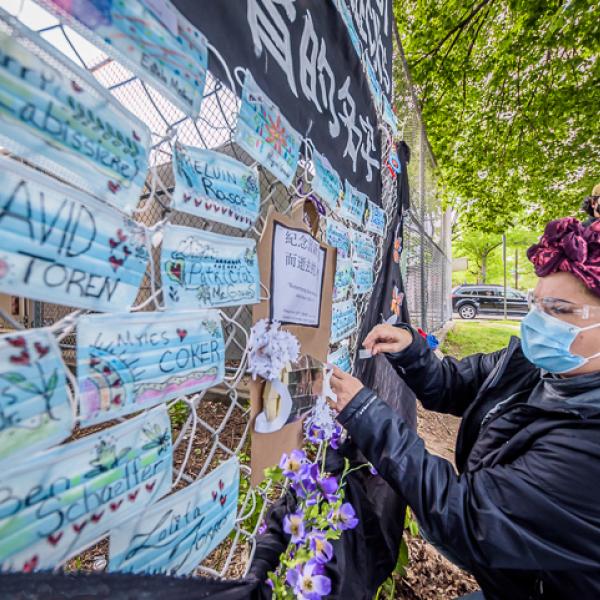 In a climate akin to wartime, New Yorkers came together—often virtually—to remember, to mourn, and to heal.