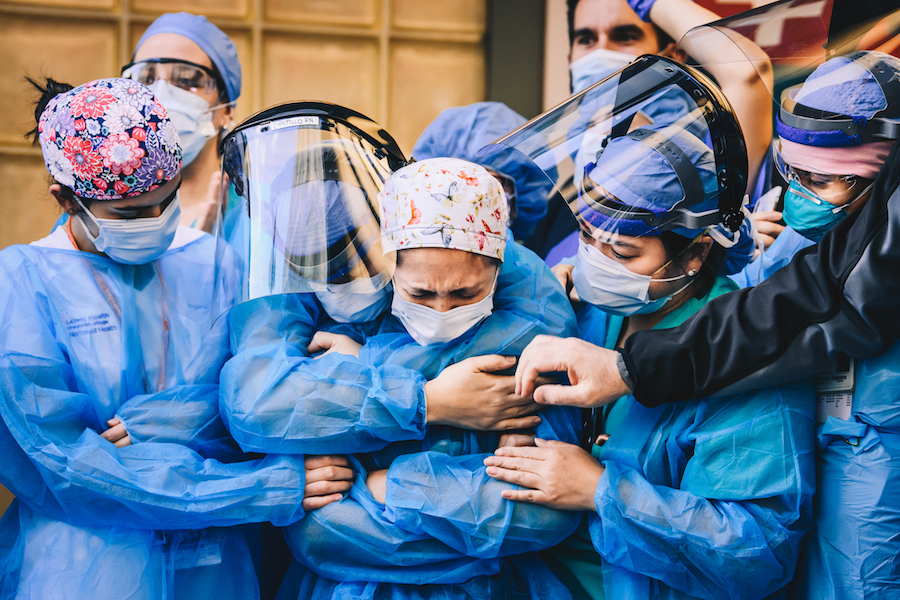 Facing the Virus
In the first weeks of spring, New York City emerged as a global hotspot for COVID-19, with the highest concentration of COVID-related deaths in the United States. Throughout the five boroughs, as hospitals reached capacity, healthcare workers treated the sick and the dying, chaplains prayed, and mortuary workers struggled to handle a surge of deaths. In a climate akin to wartime, New Yorkers came together—often virtually—to remember, to mourn, and to heal.

Explore the exhibition—return to all themes or return to the online exhibition.
 
---
[A kindergarten student's writing assignment] 

Bita Monkhtari Sharghi 
April 22, 2020 
Courtesy P.S. 6 Lillie D. Blake School 

Bita's teacher writes, "It caught my attention that a kindergarten student was so expressive and able to write her ideas about what is going on in our world. Her writing was thought out, neat and she tried her best with spelling and punctuation. Bita was able to write numerous sentences about this topic, which clearly children are also concerned about. I was very proud of her."  
 
---

Lillian Espinoza 
April 7, 2020 
Courtesy the Mount Sinai Health System, Aufses Archives 

The photographer writes, "When humans are dealing with such level of trauma and suffering, sometimes the only thing we have is our faith. Here Dr. Zazzu is providing a prayer to a patient whose life expectancy was short hours. The only hope the patient's son had was that his mother would have a blessing before she leaves. I know from speaking to him in my role as a Palliative Care Social Worker that Dr. Zazzu's prayers gave him much peace and comfort."  
Dr. Zazzu recalled the early days of the pandemic, "So I remember the day that we all said, 'On my god, there are 13 patients with COVID in Elmhurst' and we thought it was astronomical and we had none. And in two days we had 30. And in four days, we doubled it. In six days, we doubled it. And within two and a half weeks, we were double our normal census and we were 99 percent COVID and the rapidity of death was stunning.  
"I did 50 bedside memorials in 75 hours and over half of them were in a refrigerated truck. It's unspeakable. My ministry has been in hospitals for 30 years. I have seen every kind of disgusting open, oozing wound, and grieving person and saturated grief. This was unspeakable. No family could be here. So just imagine what it is to be a mother, a daughter, a sister, a brother, a child, a grandparent, to know that your relative has a cough, and then never to see them again.  
"And the old. Because of the laws for COVID, the only memorial they will ever have, the only person who will sing their name to God, is me. That's it. So I am on the phone with people doing bedside memorials in full PPE, outside a patient's door because they're not going to waste 11 sets of PPE on me to go into the room." 
 
---
[Sign reading "Next Week's Cremations" at the Gerard J. Neufeld funeral home in Elmhurst, Queens] 

Bryan Smith 
April 27, 2020  
Courtesy of the photographer 

The photographer explains, "Here, Funeral Director Omar Rodriguez prepares the manifests for caskets to be moved from the funeral home during the outbreak of COVID-19.   
"I spent 12 hours with the owner and employees of the Gerard J. Neufeld funeral home as they prepared over 30 caskets to be moved to a truck to be brought upstate for cremation. In witnessing their work, dedication, and empathy with the families of the victims of the disease, I recognized that these are the unsung frontline responders. They worked non-stop with professionalism and respect for the dead and the families under overwhelming stress. I have never seen so many caskets in one place and thought that the images would be a stark warning to the rest of the country to wear a mask and listen to the science."
 
---
Lenox Health Greenwich Village, 7 p.m. 

Nina Westervelt 
April 29, 2020 
Courtesy of the photographer 

The photographer recalls, "Every night at 7 p.m. from mid-March through late summer, our city came alive as residents took to the streets, rooftops, fire escapes, and stoops to make noise and applaud our medical workers. When I took this photo on Seventh Avenue outside Lenox Health Greenwich Village, the West Village was flooded with New Yorkers and their noisemakers. A truck pulled over and blared Sinatra's 'New York, New York' on its speakers. To me, it is a representation of both the joy and pain our nurses and doctors experienced during these moments of celebration.
"In the following months, I came to personally know the nurse at the center of this image. At the time this photo was taken, she had just returned to work after battling COVID-19. Her brother was also sick with COVID, and he died four days after this image was taken. I want this photo to not only remind viewers how the disease impacted our communities, but how our communities came together at the time to celebrate and uplift each other." 
 
---
[New Yorkers "Naming the Lost" in the summer of 2020] 

Erik McGregor 
July 3, 2020 
Courtesy City Lore 
As Memorial Day approached and the U.S. death toll approached 100,000, a national vigil entitled "Naming the Lost" was held online. Physical memorials were also created, including this one at Jacobi Medical Center in the Bronx. As the organizers wrote, "The lack of collective mourning during the COVID-19 crisis has left many feeling even more isolated and alone—and created a gap in the public conversation about what is at stake and who is suffering at this time."
 
---
["Elmhurst Strong" scrub cap] 

Lisa Scaturro, Marina Torio, and Skewville Press 
2020 
Promised gift of Elizabeth Awerbuch, DO, Pulmonary/Critical Care Medicine, TCN2020.181.  
Elmhurst Hospital in Queens is in one the most diverse neighborhoods in the world, where many people work in "essential" jobs and live in close quarters, and where COVID hit especially hard at the beginning of the pandemic. The City-run hospital became the center of the crisis, as it was besieged with sick patients, far more than the staff was able to serve at the 545-bed facility. A medical resident told The New York Times that the situation was "apocalyptic," although beds remained available at hospitals just 20 minutes away. "Elmhurst Strong" quickly emerged as a motto to celebrate the hospital's hardworking medical personnel.
The donor writes, "Lisa Scaturro has been a social worker at Elmhurst Hospital Center for over 20 years. Having spent many years in the ER, she wanted to find a way to be supportive during the height of the pandemic. She was inspired by the 'Elmhurst Strong' motto in the ER and, after seeing it written in chalk outside the hospital, she came up with the idea of the surgical cap with the motto. She collaborated with Marina Torio, a graphic designer with Skewville Press, to design the graphic and develop the final product."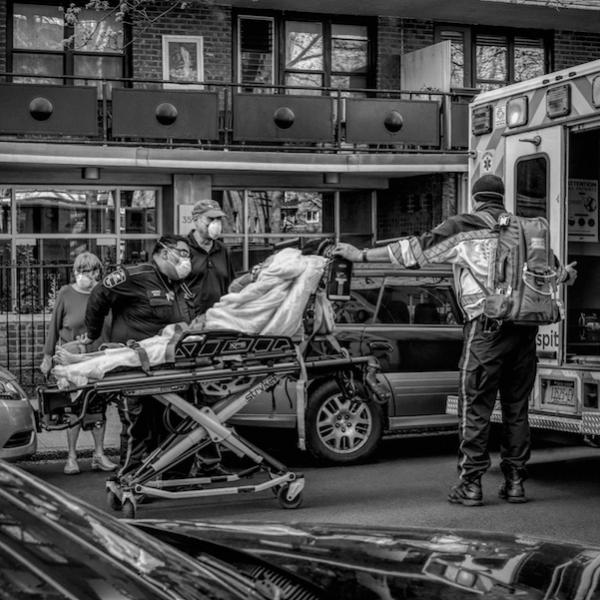 As NYC faced down the virus, healthcare workers met the challenge with determination and a spirit of innovation.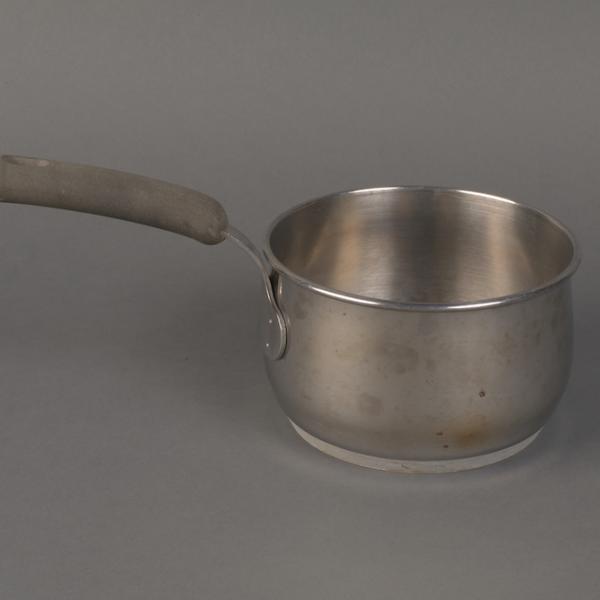 Clapping and banging pots at 7 p.m. became a way to thank essential workers for their service and sacrifices.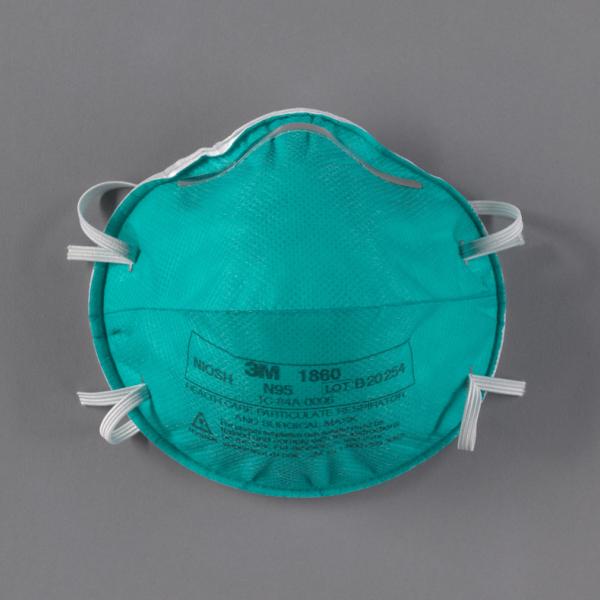 Wearing a mask became an opportunity for personal expression – whether in the form of levity or as a message of protest.