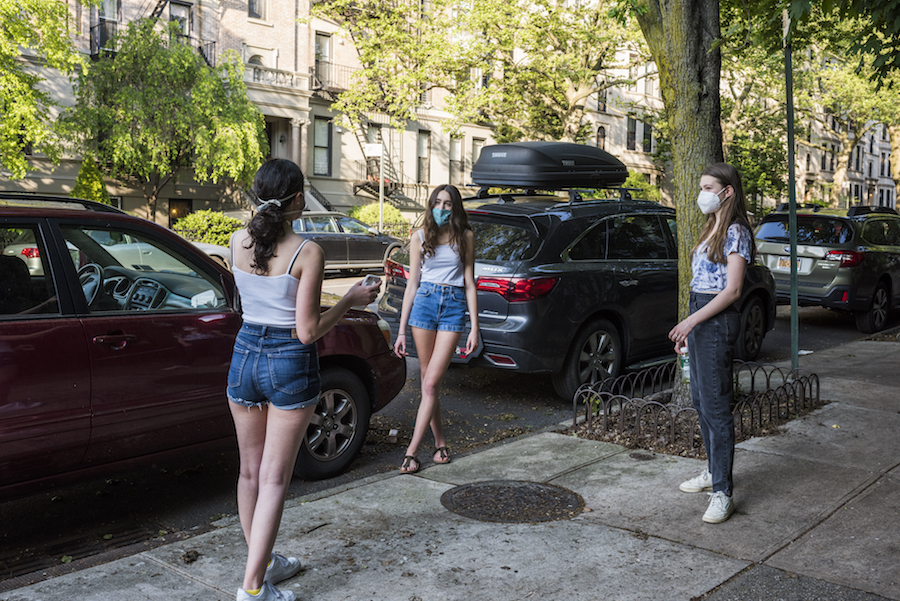 The New Normal
Empty streets and playgrounds, the wailing of ambulances, a life lived at a distance and online: COVID-19 ushered in a "new normal" for how New Yorkers related to each other and their city. Teachers, students, and families adapted to—and often struggled with—remote schooling. As people moved outside, they became accustomed to wearing masks, social distancing, and a transformed city landscape.
 
Explore the exhibition—return to all themes or return to the online exhibition.
 
---
The Space Between

Nancy Oliveri 
April 25, 2020 
Courtesy of the photographer 
Lines for food—whether at grocery stores, food pantries, or soup kitchens—quickly became a standing feature of the pandemic urban landscape. They were even more prominent as they stretched out due to the requirement that waiters on line stand at least six feet apart.  
In the words of the photographer, "I am a New Yorker and I like looking at strangers on the subway and on the streets. I'm also a loner who is rarely lonely. During the early days of the pandemic quarantine, I missed looking at and seeing people. I missed their gestures, bone structure, eye color, hair texture, accessories, the patterns on fabrics from parts of the world I will never see, the lipstick shades, and the team logos in the early morning light on the F train and Sixth Avenue. 
"The Space Between is a photographic series I made in my South Brooklyn waterfront neighborhood from March 1 through May 1, when I found grocery shoppers lined up for blocks with shopping cars and wearing masks. Using a safe distance 200 mm lens I was trying to record and understand the impact of the pandemic on political, cultural, and historic forces on ordinary people during an extraordinary time, and simply, to see and remember people. 
"The Space Between is dedicated to the first responders and frontline workers of Brooklyn and everywhere." 
 
---
Six Feet Apart, Park Slope, Brooklyn.

Valery Rizzo 
May 15, 2020 
Courtesy of the photographer 
In the words of the photographer, "Three young friends together, hanging out on a corner, all wearing masks and standing the recommended six feet apart. At first glance they all seemed the same, like triplets: all had long dark hair, white shirts, and blue jeans, standing the same distance apart, following the safety protocols responsibly. I was proud of them. 
"This image spoke to me about the strength of a city and a neighborhood working together, taking precautions, supporting one another, a city that went from being the epicenter of the virus to being one of the safest cities in the country. The mask, together with social distancing, proved to be the way forward to resuming work and life." 
 
---
Sidewalk Salon 

Gudrun Georges 
July 10, 2020 
Courtesy of the photographer 

The photographer explains, "In early July, New York just slowly came out of a severe coronavirus lockdown. Hair salons were considered dangerous and non-essential, so people became creative. This boy was getting a haircut on the sidewalk on my block in the East Village. I just loved how serious these guys took the simple act of trimming a boy's hair by donning him with this salon cape. Two female relatives were standing close by and turned this mundane event into a fun family experience."
 
---
[A socially distanced construction safety lecture] 

Alexander Yaggy 
May 13, 2020 
Courtesy of the photographer 
On March 30, following an executive order issued three days earlier by New York State, the Department of Buildings suspended all non-essential construction and demolition work in the five boroughs. When this photograph was taken in May, only "essential" or emergency construction work was permitted, and then only with social distancing requirements in place. The suspension was lifted on June 8, when Phase I of the reopening began in New York City.   
In the words of the photographer, "After a year of site preparation, the construction workers had lain the foundation of the new building outside our window in DUMBO, Brooklyn, only to take a hiatus when COVID struck. Work later resumed but with new procedures. Gone were the random groupings, replaced by grid formations for daily briefings.  
"'Six feet apart' has replaced 'six feet under' in our daily language. Close-knit teams are unwound to protect from the unseen, and even those amongst us who take enormous risk on a daily basis have newfound fear. We're all scared of the invisible, some with wrecked livelihoods and upended futures. Yet construction, and life, goes on." 
 
---
[Graduation ceremony at St. Charles School in Staten Island] 

Steve White 
Undated 
Courtesy CUNY College of Staten Island 
 
---
Under Pressure

Diana Zuluaga 
August 8, 2020 
Courtesy of the photographer 
In the words of the photographer, "It was one of the first days that I decided to go out for more than a trip to the supermarket. It was a warm beautiful day in early August and being outside seemed kind of daring still, but the sunshine felt really good.  
"There was an open streets event that day in Spanish Harlem and someone from the fire department was called to open the hydrant for the afternoon. All the kids around went for it, excited to get cooled off and, I assume, just be regular kids for a little while.  
"I watched this girl tentatively approach it, testing it out on her midsection, careful to hold on when she discovered the extreme force of the water. She played there by herself, got soaked, and really seemed delighted. But then she crouched and tucked herself under the powerful stream, and I was struck by just how small she seemed. The scene echoed how I had been feeling since all this started; stuck, overwhelmed, scared, and ultimately at the mercy of something unknown and bigger than myself.  
"In that moment, she was all of us."
 
---
Teaching from Home  

Miriam Sicherman 
April 7, 2020 
Courtesy of the photographer 
The last day of in-person schooling for New York City public school students was March 13; 1.1 million students and their teachers had to quickly pivot to remote learning.  
In the words of the photographer, "When schools shut down, I knew nothing about remote teaching. I had no background in Google Classroom or any other distance-learning platforms. Teachers were mostly left to our own devices to come up with teaching strategies and methods.  
"Here, I was trying to teach my students some initial lessons about fractions. If we'd been at school, I would have given all the kids construction paper so that they could create these fraction pieces themselves. I asked them to do that at home, but of course, not all of the kids had the needed supplies. So, I did my best to show these materials in online lessons. 
"To me, it felt really sad to do these lessons all by myself at home. There are no humans in this picture. I love interacting with kids in person, and seeing the mathematical discoveries that they make when they are able to talk with each other and hold and manipulate materials. Teaching them from afar felt like teaching underwater. Everything was blurry and hard to understand.  
"This year is somewhat better, as I have a lot more confidence in online teaching applications, we have a lot more live online teaching, and I've been able to teach in person sometimes. But it's still a shadow of what I think of as 'real' teaching and learning. It's heartbreaking to see kids try to learn in crowded and noisy places, with faulty devices and inconsistent connections, in spite of their parents' and teachers' best efforts."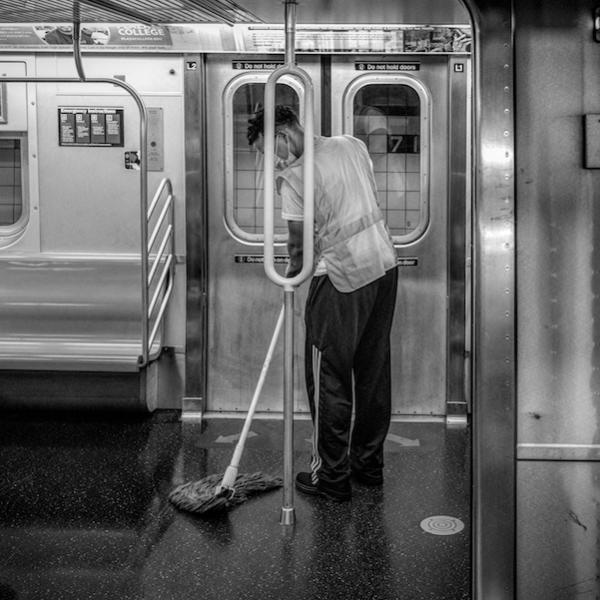 One of the greatest challenges during the lockdown was how to keep New Yorkers moving safely.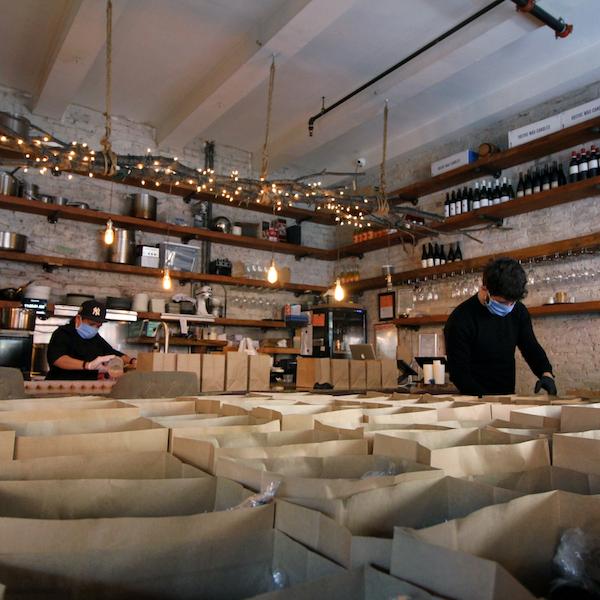 For the New York restaurant industry, which operates on thin margins, COVID-19 was catastrophic.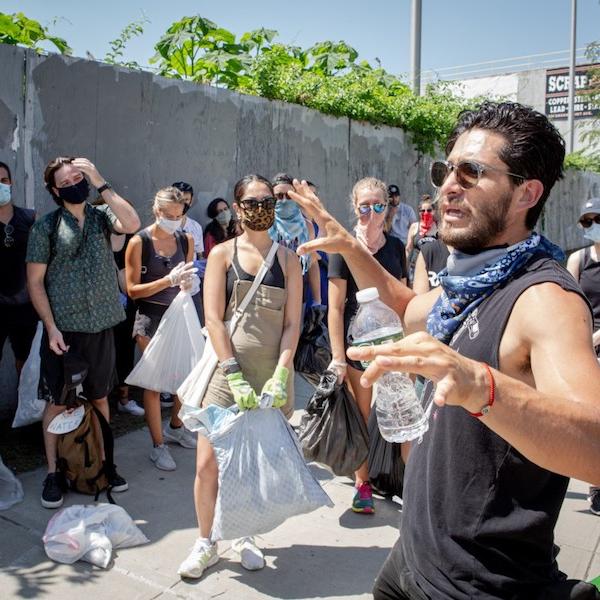 As the pandemic spiraled across the five boroughs, New Yorkers launched initiatives to help their neighbors.