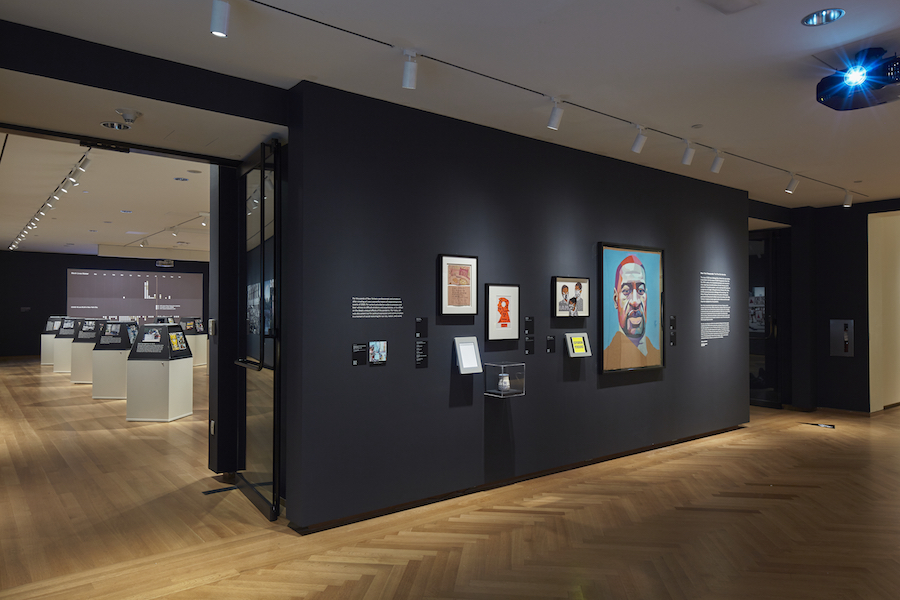 Art as Response
For thousands of New Yorkers—professionals and amateurs alike—creating art was a powerful means of responding to the events of 2020. For some, it provided an outlet to process and bear witness to difficult emotions and experiences, or to reflect on the deeply unequal effects of the pandemic. For many, art was also a potent tool for political expression and communication in a moment of social reckoning for our city, nation, and world.
Explore the exhibition—return to all themes or return to the online exhibition.
 
---

West Harlem Art Fund, Savona Bailey-McClain, and Nadia DeLane 
(Run time: 17:30 minutes)
2020 
Courtesy of the creators 
Image: Cityscape Blue by Nadia DeLane, acrylic and paper, 2018. 
The designer explains, "Memory Opus is an audio piece inspired by West Harlem Art Fund's Covid Diaries POC, an ongoing oral history project documenting the experiences of people of color in quarantine.  
"The piece puts experiential knowledge at the forefront, which is so vital during historic times like these. Our lives are often told in statistics. This project highlights the resilience of New York City's communities and the power of voice. The soundscapes immerse the listener, inviting them to relate to the speakers and build the bonds that are forged when we hear one another. It's an opportunity to learn from one another. Memory Opus creates space for healing so that we can live into new narratives about what it means to be a global citizen right now." 
 
---

Ansel Oommen 
April 8, 2020 
Biohazard labels 
Courtesy Ansel Oommen, MLS (ASCP)CM 
 
---

Michelle Ling 凌萱 
April 14, 2020 
Loan from the artist 
This work is part of The Love letters to Chinatown 給唐人街情書 project. It was organized by the W.O.W. Project, a community-based initiative located inside Wing On Wo & Co., the oldest continually-run family store in New York Chinatown. The organizers explain the aim, "to collect love letters, poems, illustrations, paintings, etc. inspired and dedicated to Chinatown to help uplift our neighborhood in its darkest times."  
The project invited members in the community and across the diaspora to submit art: poetry, stories, letters, illustrations in response to the prompt: Write a love letter to a person, business, or organization you hold dear in Chinatown.  
"Volunteers translated the letters, and another group of volunteers posted them around the neighborhood according to our no-contact policy. By posting the letters across Chinatown, we hope to bring love and care to our community, reminding us that we are resilient. These messages of love and support stand in contrast to empty community spaces and notices of business closures." 
 
---

Kate Missett 
June 2020 
Porcelain 
Collection of the artist and courtesy Greenwich House 
 
---

Artists for George 
2020 
Paint on corrugated cardboard 
Promised gift of Richard Hart, TCN2020.179. 

The artist explains, "The motivation was a response to the injustice of George Floyd's killing and a desire to contribute to protests without getting physically involved myself, as I worried about possibility of a run-in with the the authorities and not being a US citizen. Painting in the safety of my studio allowed me to have my voice heard without risking deportation."
 
---

Judith Eloise Hooper 
July 2020 
Paper relief sculpture collage 
Courtesy Judith Eloise Hooper 
The artist explains, "I created Say My Name in the last week of July. I went to sleep after seeing an image with a mask that was hands to muffle the protest and thought yes, we are being asked to be silent about our history of being Black in America as though it is all in the past. At the same time, during COVID, more Blacks and people of color were at risk doing the essential jobs.  
"I woke up the next morning with the thought that the mask should have images of what was happening in my youth. I thought about how all people of color wear their racial history in this country on their skin because of their color and how people will react to that in whatever way it means to them. In researching images I decided to use the list names of men and women who had died violent deaths at the hands of those who are to protect.  
"Once this piece was done it opened a door to a new way for me to express myself in collage. I found myself researching images from the 60s and 70s and the BLM movement now to use to tell the story of what was happening now and how it connected people. I did a few pieces dressing essential workers in the names of the 100,000 people that The New York Times listed because that experience doesn't wash off at the end of the day. For essential workers of color, they were fighting on two fronts, carrying the weight of COVID's rising death count and the continuing loss of Blacks at the hands of the police. 
"Say My Name echoes the call of those asking for justice and remembrance of those lost; the pieces I did after addressed either COVID or the coming together of people from all backgrounds in spite of COVID and their own safety." 
 
---

Urayoán Noel 
2020 
Courtesy of the creator and Clemente Soto Vélez Cultural Center 
The artist explains, "This piece was made at home in the South Bronx in August 2020. Esta pieza fue creada en casa en el sur del Bronx en agosto del 2020. It is part of a series of bilingual works that involve sourcing and arranging anagrams and turning them into GIFs, using online anagram generators and GIF-making tools. Es parte de una serie de obras bilingües cuyo proceso involucra buscar y ordenar anagramas y convertirlos en GIFs usando generadores de anagramas y herramientas para hacer GIFs disponibles en la red. I consider these works acts of mourning, ways of saying the unsayable. Considero estas obras instancias de duelo, maneras de decir lo indecible.
"As I struggle with what it means to protest or make art under the pandemic logic of racial capitalism, I have to remind myself that sometimes it's enough to repurpose words and make room for the dead we carry with us: we can disorder the languages of empire to deflect their violence. Mientras lucho por entender lo que quiere decir protestar o hacer arte bajo la lógica pandémica del capitalismo racial, me toca recordarme que a veces basta readaptar palabras y crear espacio para los muertos que llevamos con nosotros: podemos desordenar las lenguas del imperio para desviar su violencia. These pieces are bilingual because my life and my South Bronx block are, but they also resist translation, trolling English and Spanish as languages of empire, and imagining an embodied technology with no master developer. Estas piezas son bilingües porque mi vida y mi calle en el sur del Bronx lo son, pero también resisten la traducción, troleando al inglés y al español como lenguajes imperiales e imaginando una tecnología del cuerpo sin autoridad desarrollista.
"Translation here is also about redeploying the rawness, humor, and shareability of the GIF as a medium: just as the English can only hint at the Spanish (and vice versa), even the finest art can only hint at the depths of our struggle and our joy. La traducción aquí también tiene que ver con reorientar lo crudo, cómico y compartible del GIF como medio: así como el español sólo puede insinuar el inglés (y viceversa), incluso el arte más refinado sólo puede insinuar lo profundo de nuestra lucha y nuestra alegría."
 
---

Shellyne Rodriguez
2020
Colored pencil on paper
Museum of the City of New York. Museum purchase, TCN2020.93.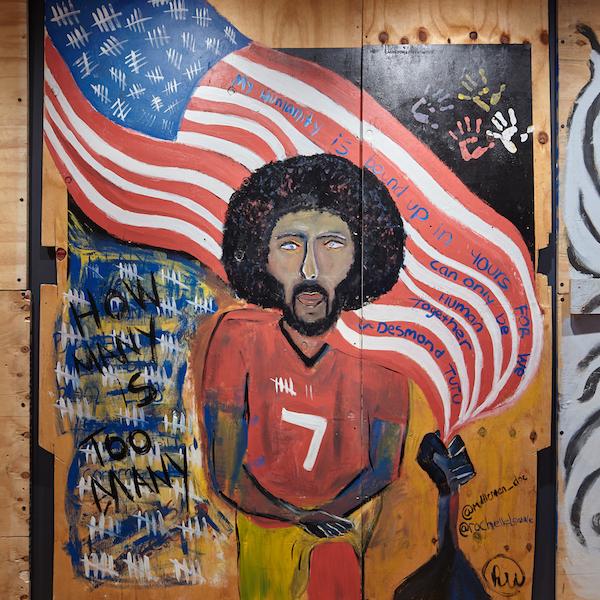 NY Responds looks at how street art took on a special urgency during the events of 2020.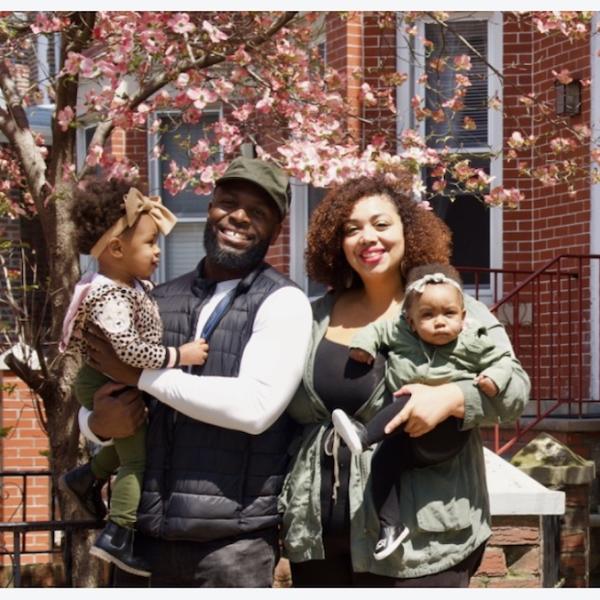 Listen to the voices of New Yorkers as they speak about these critical six months and how their communities responded.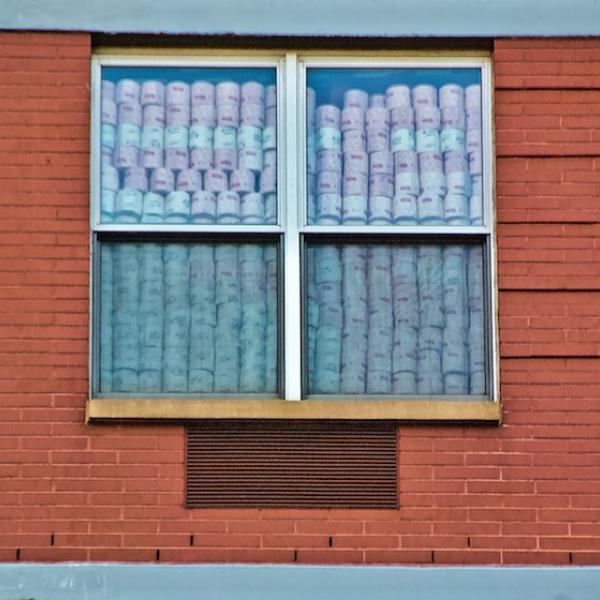 The cityscape in New York was dramatically transformed by the pandemic.