New York on Film: A Thousand and One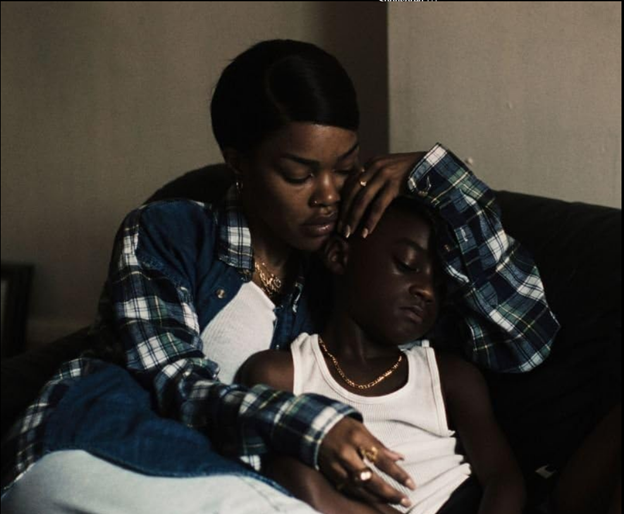 Struggling but unapologetically living on her own terms, Inez (Teyana Taylor) is moving from shelter to shelter in mid-1990s New York City. With her 6-year-old son Terry in foster care and unable to leave him again, she kidnaps him so they can build their life together. A Thousand and One (A. V. Rockwell, 2023, 114 mins) tells a deeply American story of a mother and son living for each other in a gentrifying Harlem that is uninterested in the reality of their lives. Winner of the top U.S. Dramatic Prize at Sundance 2023.
This screening is the 2020's installment of our year-long series New York on Film: Decade by Decade, programmed by Jessica Green. The series accompanies the Museum's centennial exhibition, This Is New York: 100 Years of the City in Art and Pop Culture.  
Introductory speaker to be announced soon!
About Jessica Green:
Jessica Green is an independent film programmer currently programming film, speaker, and performance series for BAM, the Weeksville Heritage Center, and the Museum of the City of New York. Jessica served as the Artistic Director of the Houston Cinema Arts Society from 2019-2022, providing artistic leadership for year-round film programming and the Houston Cinema Arts Festival, Houston's largest film festival. She was the Cinema Director of the Maysles Documentary Center in Harlem from 2008-2018. Jessica is also a former founder, owner and Editor-In-Chief of the New York-based, independent Hip-Hop magazine Stress (1994-2001), as well as the former Executive Editor of BET.com (2000-2005).
New York on Film is the centennial year edition of the Museum's ongoing Moonlight & Movies series.
Important Event Logistics 
Please contact programs@mcny.org with any questions or ticketing issues.
All sales are final; refunds not permitted. Exchanges and credit for future programs only. Programs and dates may be subject to change. 
General Admission $20 | Members $15
Members: To receive your discount, click on the "Buy Tickets" button above, then sign in to your account on the ticketing page.
Groups of 10 or more get discounts; contact us at programs@mcny.org or 917.492.3395.
Accessibility: Assistive listening devices are available and our auditorium wheelchair lift can accommodate manual and motorized wheelchairs (max. capacity 500 lbs). Please contact the Museum at 917.492.3333 or info@mcny.org with any questions.
Supporters
Moonlight & Movies is made possible in part by Sophia and Peter J. Volandes.