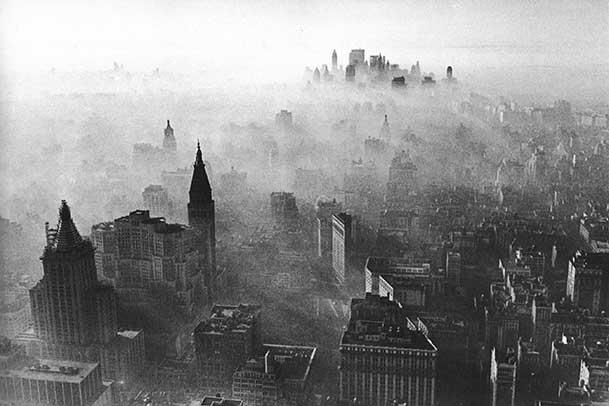 Rising Sea Levels and New York City
Image Exploration  
The photograph below is by the Dutch documentary photographer Kadir van Lohuizen. He created this image as part of Rising Tide, a multi-media project that shows the impact of sea level rise due to climate change on different communities around the world.
You can see this image and others in the Museum's exhibition Rising Tide: Visualizing the Human Costs of the Climate Crisis, which opened April 16, 2021.
Explore the photograph and discuss the questions with friends or a grown-up. Think about some of the challenges we face as a city, and some of the potential solutions. 
Questions
Look at the image – what do you see?
What types of landscapes are pictured?
What types of buildings are in this image?
Are the buildings close together or far apart?
How close is the water to the buildings?
Is there anything protecting the buildings from the water?
Due to climate change, scientists predict that sea level rise will continue in New York City and around the world. If the water levels continue to rise, what do you think would happen to this neighborhood?
What would happen to the buildings?
What would happen to the beach?
What are some ways we could help protect this neighborhood from rising water levels?
---
How can we protect our city from rising sea levels?
New York City has more than 500 miles of shoreline, where the land and water meet. The city has considered a number of options to help reduce the impact of flooding.
Three of these options are: build flood walls, restore shoreline habitats, and design with materials that absorb water, such as permeable pavement.
In the Museum's Future City Lab, we ask visitors to test these options in a digital game as they design a waterfront city park and make a more sustainable shoreline.
Take a look at some of the pros and cons of each option. Then answer the questions below.
Option 1: Build Flood Walls
Pro: Flood walls prevent rising water from reaching dry land and the people who live there.
Con: Flood walls are expensive, block access to the waterfront, and can harm plants and animals that live in or near the water.
Option 2: Restore Shoreline Habitats
Pro: Marshes and wetlands can protect the shore from storms and waves. They give different types of plants and animals a place to live – like oysters, which both clean water and protect the shores.
Con: Wetland habitats cannot completely protect the city from rising sea levels. Creating wetlands prevents housing and parks from being built along the waterfront.
Option 3: Design with Materials that Absorb Water
Pro: "Green" materials like plants, grass, and permeable pavement absorb water like a sponge, which can prevent flooding. They also help keep the city cool in hot weather.
Con: Water-absorbing surfaces require special care and do not protect land from rising seas as well as flood walls do.
Questions
Which of these options would you choose to help protect the Rockaways, the New York City neighborhood shown in the photo by Kadir van Lohuizen you examined above?
Would you choose the same option for every location in New York City? Why or why not?
What would you design to help protect the city from flooding? Draw your solutions!
A Closer Look: What is permeable pavement?
"Pavement" is the hard surface covering of a road or a street - what people walk on and cars drive on.
"Permeable" means that water can go through it so that the ground underneath absorbs the water.
Materials like concrete and asphalt are impermeable, meaning they cannot let water soak through.
Bodies of water (like lakes or streams) in or near cities are usually surrounded by parking lots, biking or walking paths, and other structures made by people. When it rains, these areas can't absorb the rainfall because the materials they are made from (such as concrete) are impermeable. During intense storms, rainwater that is not absorbed can flow into the bodies of water, bringing pollution and contributing to their rising levels, especially if the rainwater overflows sewer systems or storm drains.
To address this problem, engineers have developed permeable pavement as a measure against flooding. It works like this: rainwater will flow through the pavement and become absorbed into the ground instead of storm drains and sewer systems. Permeable pavement can also collect pollutants that would otherwise flow into our lakes and streams.
---
Supporters
Family and Community Engagement Programs are made possible in part by the Margaret S. Ogden and Stephen A. Ogden Memorial Fund, Milton and Sally Avery Arts Foundation, Sy Syms Foundation, and the Frank J. Antun Foundation.
The Frederick A.O. Schwarz Education Center is endowed by grants from The Thompson Family Foundation Fund, the F.A.O. Schwarz Family Foundation, the William Randolph Hearst Endowment, and other generous donors.