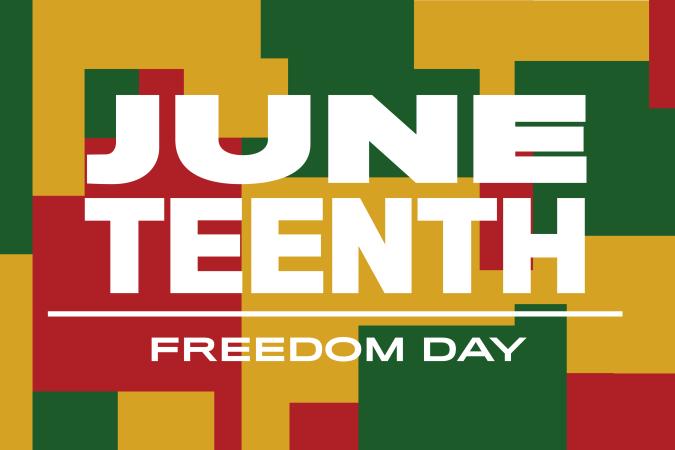 Juneteenth is the oldest nationally celebrated commemoration of the ending of slavery in the United States. Hear from poet Shanelle Gabriel as she discusses what the holiday means to her and join her in a guided poetry-writing exercise. Read on to learn more about Juneteenth and find a video interview and writing exercise with Shanelle. 
Juneteenth 
Juneteenth is the oldest nationally celebrated commemoration of the ending of slavery in the United States. Dating back to 1865, it was on June 19th of that year that Union soldiers, led by Major General Gordon Granger, landed at Galveston, Texas with news that the war had ended and that the enslaved were now free, two years after the emancipation proclamation.
This year will be the first year that NYC will be recognizing Juneteenth as a state holiday. On June 17, 2020, Governor Cuomo declared Juneteenth a holiday for state employees. Two days later, Mayor Bill de Blasio made Juneteenth a city and school holiday for 2021, noting that it should become a moment for "truth telling, a day for examination and shining a light. It's a holiday in fact that millions and millions of Americans don't know exists. But now as it comes to the fore, it's perfect for change, for transformation." 
In Conversation: Shanelle Gabriel 
Shanelle Gabriel hails from Brooklyn, NY and is a poet, singer, and interim director at Urban Word NYC.
To honor Juneteenth 2021, the Museum of the City of New York invited Shanelle Gabriel to create a poem for FREEDOM SONGS, an afternoon of song and spoken word reflections celebrating freedom and commemorating the ending of American slavery.
Watch the video below to hear Gabriel discuss her artistic process and what Juneteenth means to her. Then, take part in her guided poetry-writing exercise for students and young people based on the theme "Freedom is…"
Download a PDF of the poetry worksheet that accompanies this video here.
Video Editing: Salahadeen Betts for Seven Six Media, Inc. (sbetts.com).
About the Artist: Shanelle Gabriel 
Shanelle Gabriel is a poet, singer, and lupus warrior from Brooklyn, NY who has performed internationally including Africa and Europe. Widely known for featuring on HBO's Def Poetry Jam, she has shared the stage with artists such as Jill Scott, Nas, Nikki Giovanni, and more. She was listed as one of Blavity.com's "Artist Activists You Should Know" and one of "8 Millennial Feminist Poets That Deserve Recognition" by BET.com. Shanelle is also a health activist who has featured on the Lifetime Network about her continued battle with lupus. Presently, she is working on her third album while serving as the Interim Executive Director at Urban Word NYC, a youth organization that uses poetry & hip-hop to promote literacy and youth voice. shanellegabriel.com   
Learn More 
MCNY Digital Education 
Information about the Museum's programs for teachers, students, and families, as well as online lesson plans and educational resources, can be found on the Museum's Digital Education Hub: mcny.org/DigitalEd
Activist New York  
Visit the Activist New York exhibition at the Museum of the City of New York to learn more about the city's history of activism and the people who have propelled social change from the 1600s to today.   
Explore the Activist New York online exhibition and discover classroom resources and lesson plans by visiting activistnewyork.mcny.org.
Supporters
Education programs in conjunction with Activist New York are made possible by The Puffin Foundation, Ltd.  
The Frederick A.O. Schwarz Education Center is endowed by grants from The Thompson Family Foundation Fund, the F.A.O. Schwarz Family Foundation, the William Randolph Hearst Endowment, and other generous donors.