The Origins of Window Shopping in New York City
Friday, December 13, 2019 by
The time-honored tradition of window shopping truly comes alive during the holiday season, when retailers pull out all of the stops to make their window displays ever more eye-catching, festive and uplifting. Countless visitors and New Yorkers alike participate in this yearly ritual, which has its roots in the Gilded Age. That era of rapid economic growth and industrialization, which began in the 1870s and lasted until around 1900, generated the building technology that made window shopping in the city possible.
The 1870s in New York marked a critical threshold in its evolution as a world-class fashion capital. As the mechanisms that conspired to produce the Gilded Age cranked into high gear, the nation's most fashionable city was poised for its own golden era. With the expansive boundaries of its shopping district solidified, marked by three decades of steady growth and perfection of marketing techniques, the city now assumed the stature of destination-venue for cutting-edge finery and inspiration. The variety of retail options it offered was dizzying, ranging from sparkling newly-completed department stores, private dressmakers, milliners and specialty stores offering both domestically produced and imported goods. A shopper's dream, the approximately mile-long expanse of densely-packed packed luxury establishments was rimmed by Broadway as its diagonally-running eastern border from Fourteenth Street up to Twenty-third Street, with Sixth Avenue at its western edge.
The city's premiere retailers and dressmakers invited a quickly-expanding mass of consumers to "window-shop" the chic new wares, now publicly viewable through the architectural innovation of the plate-glass display window.
It was here that American taste was transformed and a modernist approach towards consumer education took hold. Thirsting for au courant fashion information without the liability of having to actually buy, women flocked from all reaches of the city to promenade the avenues and experience first-hand the splendors of store interiors, no strings attached. The attraction of dissolving into the general multitude and anonymously perusing store merchandise proved irresistible to the hoards of fashion pilgrims who flocked to this Ladies' Mile, so-called for the women it beckoned by providing opulent and safe surroundings. The slackening of former social constraints on unescorted feminine excursions gave birth to newfound mobility for women, encouraging small groups of women to travel together and simply enjoy their leisure experience: New York's recreational shopper was born.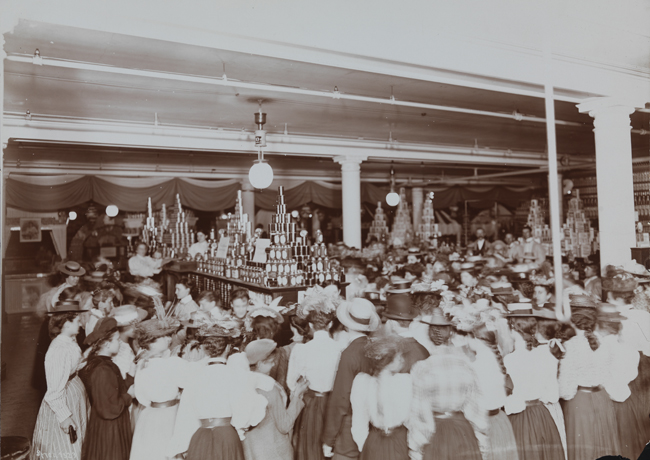 Byron Company (New York, N.Y.). Siegel Cooper, Sixth Ave. & 18th Street. ca. 1897. Museum of the City of New York. 93.1.1.14372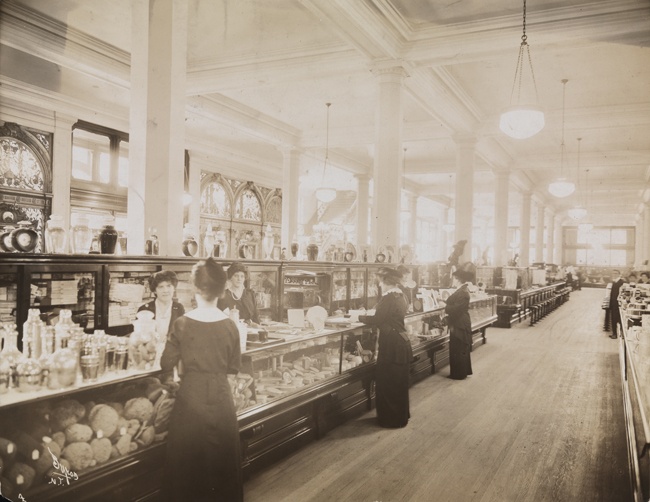 Byron Company (New York, N.Y.). Stores, Dry Goods Store (Old Time). 1910. Museum of the City of New York. 93.1.1.14355
With the completion of the Sixth Avenue "El" in 1878, Sixth Avenue had indeed become a "Fashion Row," boasting a line of shops that included B. Altman & Co. (founded 1865, moved to 621 Sixth Avenue in 1877 and esteemed for its ladies' apparel), Simpson, Crawford & Simpson (at 307 Sixth Avenue, established as a partnership in 1880 with an upstairs in-store workroom capable of rapidly producing made-to-measure, tailor-made, and walking costumes), millinery and trimming-specialist H. O'Neill & Co. (329 Sixth Avenue in 1870), Stern Brothers (at 337 Sixth Avenue in 1867), James McCreery & Co. and numerous smaller retailers.
Originally a "fancy dry goods" store at the corner of Sixth Avenue and Fourteenth Street, R. H. Macy & Co. had acquired a cluster of surrounding buildings by 1872—four stores on Sixth Avenue, two facing Fourteenth Street, and one opening on Thirteenth Street. By the 1880s the Macy's expansive premises had acquired a new modernized exterior shell unifying its separate departments that featured such non-dry goods commodities as books, notions, glass, pottery, groceries and confections, white goods and curtains, and dolls. A groundbreaking retailer, R.H. Macy's was the first New York department store to remain open until midnight on Christmas Eve (1867).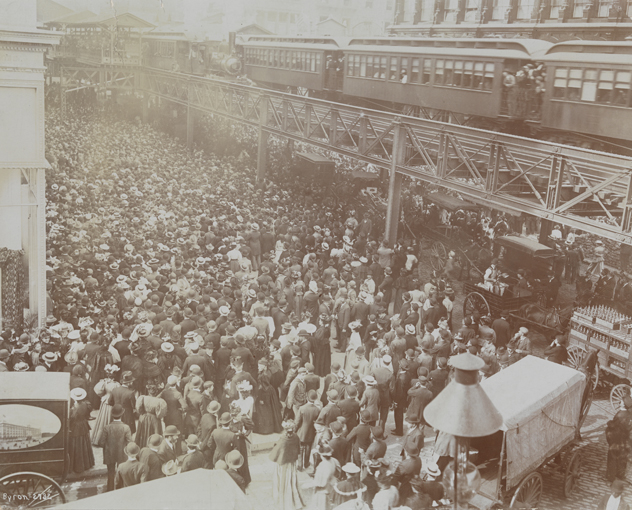 Byron Company (New York, N.Y.). Opening of Siegel, Cooper Co., Sixth Ave. 18-19th Streets Looking South from 19th. 1896. Museum of the City of New York. 93.1.1.18073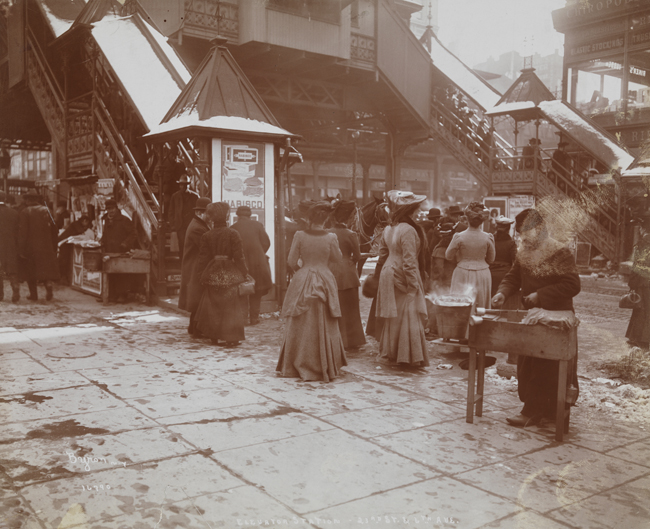 Byron Company (New York, N.Y.). 6th Ave & 23rd St. 1903. Museum of the City of New York. 93.1.1.18074
Today, changes in shopping and consumer behavior brought about by the Internet and online retail are speedily transforming the streetscape. In the past year, retail giants like Lord & Taylor, the Gap, and Tommy Hilfiger have closed their flagship stores on Fifth Avenue. In reaction, the Fifth Avenue Association, which represents business and property owners, hired a designer to create holiday window displays for four empty storefronts recently vacated by Polo Ralph Lauren, Henri Bendel, Massimo Dutti and Tommy Hilfiger. Rather than highlighting a brand, these window displays evoke the fantasy of New York City in the wintertime. The holiday windows will be on display through January 5.
Text by Phyllis Magidson, adapted from her essay, "A Fashionable Equation: Maison Worth and the Clothes of the Gilded Age" and published in the book "Gilded New York: Design, Fashion, and Society", Donald Albrecht and Jeannine Falino, editors. Museum of the City of New York and Monacelli Press, 2013. Introduction and conclusion by Lauren Robinson.