Shopping in the Late 19th Century
Tuesday, January 8, 2019 by
As the ArtTable Fellow at the Costumes & Textiles department of the Museum of the City of New York, one of the projects that I had an opportunity to contribute to was the fan inventory. One day while checking the description, conditions, and location of different fans, I came upon a few cases with the Tiffany stamp inside their lids. Surprisingly, it read "Tiffany & Co., Union Square, New York." For us New Yorkers in the current era, we know that the Tiffany flagship store is on Fifth Avenue by 57th Street, where Breakfast at Tiffany's was shot. It was the only Tiffany store until they opened their second store in the Financial District in 2006. As evidenced by the objects in these cases, Tiffany was originally located in Union Square.
In the late 19th and early 20th centuries, long before the luxury retail stores on Fifth Avenue were established, there was Ladies' Mile directly north of Union Square, between Broadway and Sixth Avenue. It was developed in accordance with the consumerism that flourished immediately after the Civil War. According to Phyllis Magidson, Curator of the Costumes & Textiles department at the Museum, it was the very first area in New York City where ladies felt comfortable going alone without a chaperone.
In Ladies' Mile, there were storefronts for middle-class women. There were dry-goods stores, tailors, fabrics and trimmings stores in addition to large department stores. Many department stores we know of today opened their first store in Ladies' Mile. Macy's opened its very first dry-goods store on Sixth Avenue by 14th Street in 1858. Bergdorf Goodman's first store opened to the north of Union Square in 1899. Henri Bendel also opened in 1896 on 9th Street by Broadway. Lord & Taylor opened in 1826 in the Lower East Side but it moved to Ladies' Mile at the southwest corner of Broadway and 20th Street in the 1870s.
Chicago-based department store, Siegel-Cooper opened on Sixth Avenue between 18th and 19th Streets in 1896. Siegel-Cooper was one of the largest and most popular stores at the time though it was built late in the game.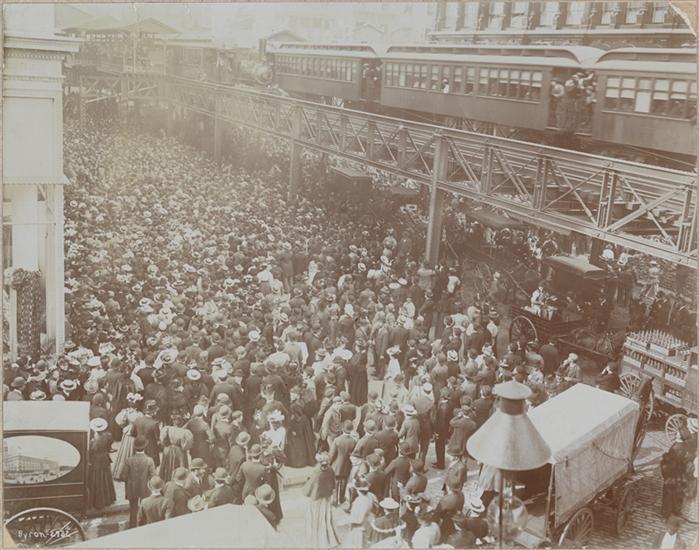 Byron Company (New York, N.Y.) Opening of Siegel, Cooper Co., 1896, Sixth Ave. 18-19th Streets Looking South from 19th. 1896. MCNY. 93.1.1.18073.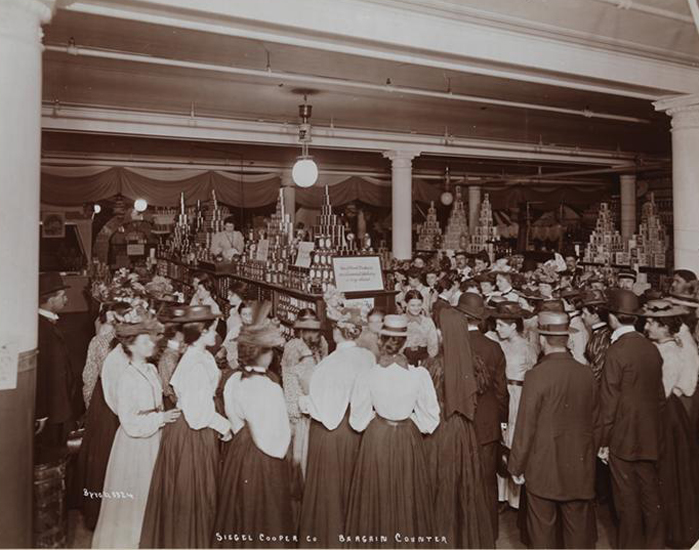 Byron Company (New York, N.Y.) Retail Trade Dept. Store. 1897. MCNY. 93.1.1.18404.
Around this time, stores first started to have show windows because the cast iron buildings during this Gilded Age made it possible to install large glass windows onto buildings. This made it feasible for people to just window shop without going into each store or committing to buy an item.

In the 1890s New York City became the national center for the expanding ready-made clothing industry, decades after pattern paper was invented in 1850s. However, many women still wore custom-made clothes. Many of the small shops and large department stores in Ladies' Mile specialized in custom-made anything.
With the Midtown flagship stores of Lord & Taylor and Henri Bendel's both closing their doors, New York City is seeing another shift in shopping culture.
You can always find that perfect New York gift at the Museum's Shop during your next visit or any time online.