Milton Glaser and I [heart] New York
Tuesday, June 30, 2020
The Museum of the City of New York was saddened to hear of the passing of graphic designer Milton Glaser, who created over 300 works in connection to literary, music, theater, film, and institutional and civic initiatives. Whether or not they knew his name, most New Yorkers are familiar with his famous I [heart] New York design. Found on everything from t-shirts to keychains and other souvenirs, it is in many ways now woven into the fabric of the city's identity.  
Glaser was a central figure in an effort to revitalize New York's image and economy in the late 70s and early 80s and this logo was a major tool used to accomplish this goal. His imagery and creativity captured the vibe of a chic, cool, exciting metropolis. As New York's storyteller, the Museum has displayed Glaser's works on many occasions, including the original concept for the "I [heart] NY" logo, which was first sketched with a crayon on a scrap of paper during a taxi ride. On loan from MoMA, it was one of the showstoppers on view during the opening of New York at Its Core, the Museum's award-winning permanent galleries, which defines New York through four key characteristics – Money, Diversity, Density, and Creativity. Glaser also co-founded New York Magazine in 1968. The magazine acted as a guidebook for a fun, hip city, with the inside scoop on shopping, restaurants, and culture in New York. Glaser designed the magazine's iconic logo and was president and design director until 1977. A NYC "foodie" he also authored the regular feature "The Underground Gourmet" for a number of years. Currently, several issues of New York Magazine are on display in these galleries. 
In May 2019, the Museum acquired eight posters featuring Glaser's designs for its Ephemera collection—the first examples of his work to enter the collection. These works, all from the late 20th century and early 21st century, represent a range of his designs and clients. Several, such as a print of the "Give Earth a Chance" poster, which was on view in the exhibition Activist New York, reflect cultural and social movements of the time.   
This selection of posters complements other works in our collection, such as activist buttons and photographs related to Earth Day and photographs and ephemera related to September 11th. In addition, the Museum holds more than 50 pieces of ephemera from the "I Love New York" state campaign created by Wells, Rich, Greene, and given to the Museum by the firm in 1984. The materials include background on the campaign and ephemera printed with the I [heart] NY logo.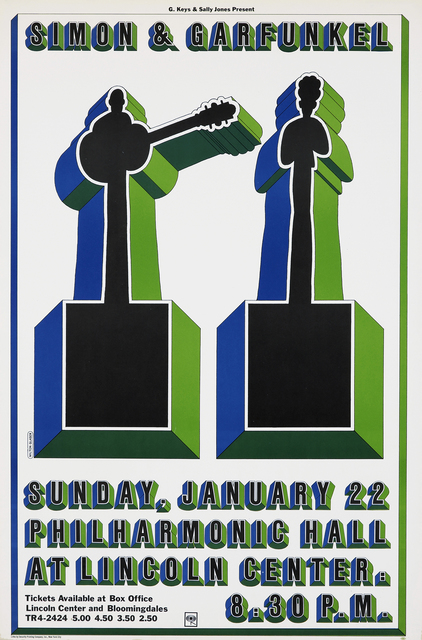 [Simon & Garfunkel concert poster], 1967. Museum of the City of New York. Gift of Milton Glaser, 2019. 2019.27.6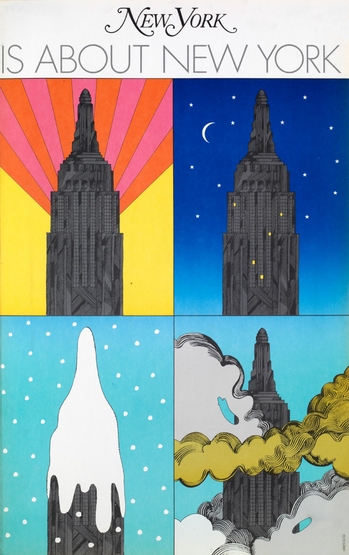 "New York Is About New York," 1967. Museum of the City of New York. Gift of Milton Glaser, 2019. 2019.27.5
IMAGE – Simon & Garfunkel 
IMAGE - New York Is About New York 
Four of Glaser's posters are on view in the exhibition Stuyvesant to Sid Vicious: Collecting New York's Stories, which highlights recent additions to our collection. We hope that when we are able to once again welcome you to the Museum, you will have a chance to see these works and reflect on Milton Glaser's career, the importance of his designs, and his role as one of New York City's influential designers.  
This post was adapted from research provided by Dr. Lilly Tuttle and Emily Chapin.