Looking Back on the 30th Anniversary of New York City History Day
Monday, February 24, 2020 by
"What about the history of History Day?" This poignant question was posed by a seventh grader during an MCNY-led workshop at P.S. 49 The Dorothy Bonawit Kole School in Queens. It prompted the Museum's Frederick A.O. Schwarz Education Center to dig into the history of one of the Museum's longest-running and most celebrated annual events: New York City History Day.
Culminating in a day-long competition held each spring, New York City History Day is a program that brings hundreds of middle and high school students from across the city to the Museum to present original historical research on topics of their choosing. Inspired by an annual theme set by National History Day—this year's is "Breaking Barriers in History"—the students' projects reflect months-long research explorations and materialize in one of five forms: an exhibit board, website, documentary, live performance, or paper.
So what is the history of this now storied day of competition, creativity, and all things history?
The nation's first History Day began in 1974 when Professor David Van Tassel at Case Western University in Ohio launched an initiative to combat the dull, rote memorization he witnessed in too many K-12 history classrooms. Uninterested in the "spelling bee" model, he aimed to create something more akin to a science fair, except students would be conducting and presenting original research on topics like the constitutional convention rather than constructing baking soda volcanos. The program became so popular in the greater Cleveland area that it quickly spread and gained national traction.[1]
The New York City incarnation of History Day began nearly 20 years later. Spearheaded by former MCNY Head of Education Kathleen Benson, the event was to be a local affiliate of the growing National History Day. Yet when Benson called national offices to let them know she aimed to start a local chapter, they merely wished her good luck—they found New York City to be "impenetrable." "Nevertheless, I persevered, only to discover they were right," she recalled, reflecting on the difficulties of starting a local branch in such a large city with a powerful social studies teachers association.[2] Yet the hard work and a little help from the New York State coordinator paid off, and New York City History Day was born. On a spring day in 1991, 32 students from five schools arrived at the Museum to present projects related to the theme "Rights in History."
In preparation for that first competition, Benson started an afterschool History Club with sixth-grade girls at nearby P.S. 108. "We researched women in NYC history and developed a performance entitled 'Elizabeth Jennings Fights for Her Rights' about a Black woman who refused to leave a whites-only Third Avenue Railway streetcar, was arrested, and eventually won her case with the representation of a young attorney named Chester A. Arthur, who would later become President of the United States. Jennings's case led to the desegregation of public transportation in NYC," Benson explained.
The girls won first place in their junior division and used competition day to collect signatures on a petition asking the New York City Council to rename the corner of Park Row (originally Chatham Street) and Pearl Street in honor of Jennings. While their efforts at that time came to naught, 16 years later a group of third and fourth graders at P.S. 361 unearthed Haskins' New York Times letter to the editor about the effort, which spurred a new youth-led campaign. In 2007, the Council unveiled a sign at Park Row between Beekman and Spruce Streets reading: Elizabeth Jennings Place.
Benson, along with Susan Glaser, who took over managing the competition the next year, and many subsequent MCNY staff members and citywide educators have since turned the once small program into a mammoth annual event. By the second New York City History Day, participation already reached 150 students. Over the years it continued to grow, with students using the program to hone essential research and presentation skills, delve into subjects not covered in the standard curriculum, and render historical topics alive and meaningful.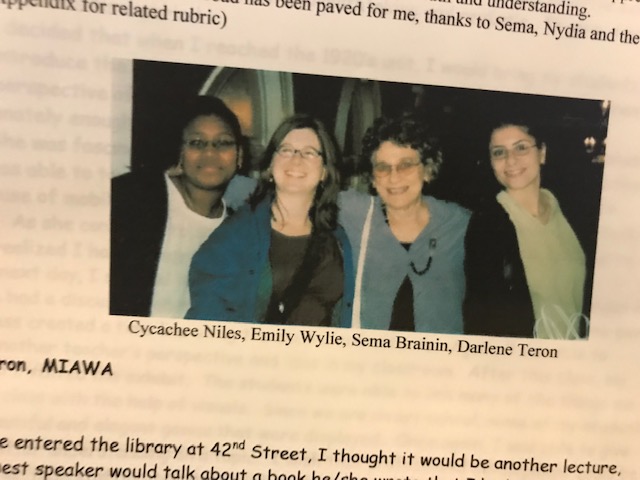 News clippings shared by Dr. Sema Brainin, photograph taken by Lauren Lefty, 2020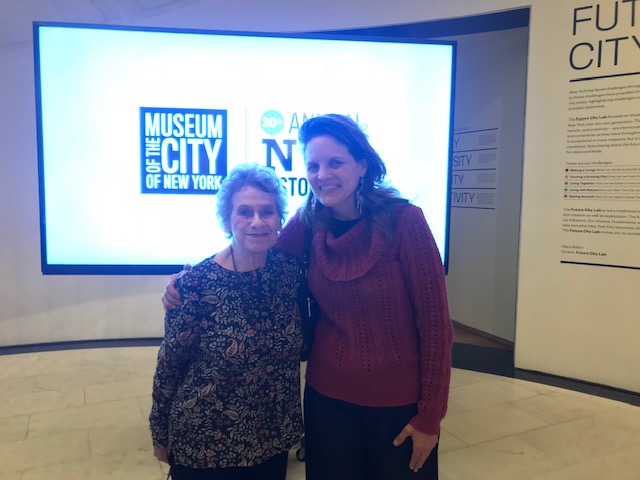 2020 History Day kick-off event at MCNY, photograph taken by Lauren Lefty
A New York City History Day kick-off event held at the museum in February shed more light on the event's past. In attendance was Dr. Sema Brainin, who led a federal Teaching American History grant program in the late 1990s. Dr. Brainin's program brought together Hunter College, MCNY, the NYC Department of Education, and East Harlem's Community District 4 to combat the middle school "muddle in the middle," drawing inspiration from History Day's project-based method to inspire students and community members to love and see themselves in American history. The image on the left shows Dr. Brainin with participating District 4 teachers in the 1990s, and the right image shows Dr. Brainin with Lynn Tiede, a former participant in the program, together on February 19, 2020, at MCNY. Tiede, now a teacher in Manhattan, has participated in New York City History Day with her students.
For many students, History Day is their first foray into archival and primary source research. For others, it's a chance to explore a topic they find relevant or inspiring—from the 1969 Stonewall Uprising, a foundational event in the gay and trans liberation movements, to the Radium Girls, a story of young female factory workers who contracted radiation poisoning but successfully sued their employer, leading to safer working conditions in the early 1900s.
As Stuyvesant High School senior and former New York City History Day participant Hana Kim reflected, "A lot of the history becomes very human to you when you really delve into it because we only have 45 minutes in class, right, and we have to cover a lot of material…but with this we got to spend hours and hours and hours on this one subject, and you realize there are so many connections you can make. And once you keep digging it just doesn't stop." Kim, along with fellow Stuyvesant senior Christy Guan, placed first in the exhibit board category (senior division, group) at last year's national competition in College Park, Maryland. Their award-winning project engaged 2019's theme "Triumph and Tragedy" by analyzing how the 1871 Chicago fire became a catalyst for a new form of architecture, a topic that—though focused on Chicago—was inspired by New York's towering skyscrapers.
Hana, Christy, and their faculty advisors Robert Sandler and Jennifer Suri laughed that Kim and Guan actually placed third in their school-wide competition at Stuyvesant, an elite public high school in lower Manhattan, before going on to win state and eventually nationals. The level of competition in New York City was in some ways the toughest. Sandler also shared how History Day allowed him, as an educator, to bond with students in a way simply not possible during regular school hours.[3]
Above, Manhattan's Stuyvesant High School students Christy Guan (left) and Hana Kim (right) stand with their winning exhibit board at the 2019 National History Day competition in College Park, Maryland. 
While New York City History Day began as a small effort with only a class-size worth of students, on its 30th anniversary on March 1st, 2020 over 400 students from all five boroughs will compete, supported by dozens of teachers, hundreds of family members, and over 140 volunteer judges, ranging from university professors to museum professionals. Winners of the citywide competition will then advance to the state level, and potentially on to nationals.
As with any historical investigation, this dive into the history of History Day led to a renewed appreciation for the event, including its founding principles, the work of its creators, and its ongoing legacy. The Museum of the City of New York is proud to host such a barrier-breaking event, which moves history outside the classroom and into the hands of the next generation of citizen-scholars.   
Registration for New York City History Day is now closed, but the public is invited to view student exhibit boards from 12:30pm–1:30pm on Sunday, March 1, 2020 at the New York Academy of Medicine, next door to the Museum. Click here for more information on participating in future events.
New York City History Day is made possible by Budd and Jane Goldman, Susan and Roy Glaser, Leah Johnson and Gerrard Bushell, and Kathleen Benson Haskins.
---
[1] Cathy Gorn, "Making Meaning from the Past," Education Digest (October 2018): 24-31. 
[2] Kathleen Benson, "History of New York City History Day," written and oral history interview conducted February 2020 by Lauren Lefty, Museum of the City of New York.
[3] Hana Kim, Christy Guan, Robert Sandler, and Jennifer Suri, "Reflections on New York City History Day," interview conducted February 2020 by Lauren Lefty, Museum of the City of New York.