Listening to Gay Gotham
Tuesday, October 18, 2016 by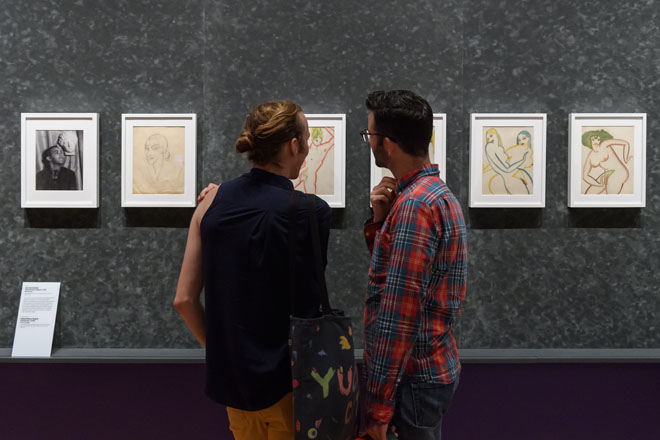 Visitors view the work of Richard Bruce Nugent, a Harlem Renaissance writer and artist featured in Gay Gotham. Photo: Filip Wolak
One of the unexpected highlights of curating Gay Gotham was a pair of recording sessions at a small studio far from the museum. The exhibition looks at the history of LGBT culture in New York through 10 emblematic artists and their creative networks, moving across all genres of art and culture, from painting and photography to dance and theater. For visual artists, such as George Platt Lynes and Andy Warhol, there was no shortage of work to display. But the first two figures of Gay Gotham, Richard Bruce Nugent and Mercedes de Acosta, were writers, posing a unique challenge.
To represent their work, we decided to record excerpts from their writings, and sought out readers who might feel a sense of kinship with them. This resonated with one of the key themes of Gay Gotham: many of the artists in the show not only depended upon the support of a broader queer artistic community, they also searched for a long queer lineage for inspiration. Robert Mapplethorpe, for example, drew inspiration from work by Warhol as well as George Platt Lynes. Lesbian activist, painter, and sculptor Harmony Hammond spearheaded a special issue of the feminist journal Heresies looking at the history of lesbian art and artists, including Staten Island photographer Alice Austen. As a scholar, this theme was particularly resonant for me: in my own writing and research, I have been driven by both a desire and a sense of obligation to uncover the stories of queer people from the past that might otherwise be forgotten.
Richard Bruce Nugent was one of the first writers to explicitly explore the intersections of race and same-sex desire. Much of what historians know about LGBT life during the Harlem Renaissance comes from Nugent: in the 1930s, he contributed a series of vignettes to Negroes of New York, a collection commissioned, but never published, by the Federal Writers Project of the Works Progress Administration. To perform Nugent's work, we approached Rodney Evans, the writer and director of the award-winning 2004 film Brother to Brother. In the film, a young black college student meets the now-elderly Nugent, who recounts his life during the 1920s, and his relationships with fellow artists including Zora Neale Hurston, Langston Hughes, and Wallace Thurman.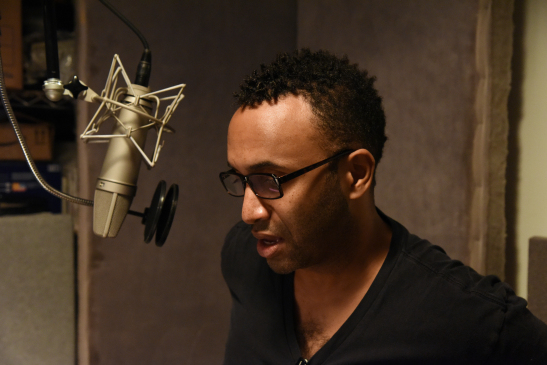 Rodney Evans performing work by Richard Bruce Nugent, photograph by Julie Cunnah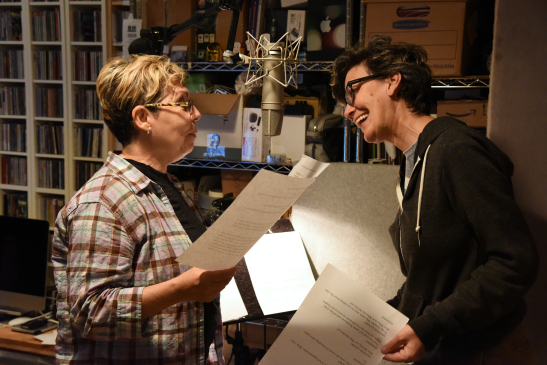 Carmelita Tropicana (left) and Moe Angelos reading works by Mercedes de Acosta, photograph by Julie Cunnah
In this recording, one of six you can hear in the exhibition, Evans reads an excerpt from Nugent's novel Gentleman Jigger—unpublished during his lifetime. The scene describes a "rent party," in which tenants charged admission to raise funds. Rent parties were common in Harlem during the 1920s. They were often quite raucous affairs, and offered unusual opportunities for gender and sexual boundary-breaking.
Living in at the same time as Nugent, though traveling in very different circles, Mercedes de Acosta came from a wealthy Spanish-Cuban family. Her plays and novels centered on women who defied gender and sexual conventions—not least of all, the pressure to marry—while her deeply personal poetry chronicled her tumultuous relationship with the actress Eva Le Gallienne. To perform her work, we approached two individuals who came out of the WOW Café, a women's theater collective founded in the East Village in the early 1980s: Carmelita Tropicana and Moe Angelos. Both performers are featured in the exhibition, and this seemed an unusual chance to connect two generations of lesbian performers.
In this recording, Angelos reads an excerpt from de Acosta's novel Wind Chaff, a loosely autobiographical work about an unconventional young woman beginning to understand her desires for other women. De Acosta published the novel in 1920, the same year she married painter Abram Poole.
You can also listen to one final recording that you won't find in the exhibition: Moe Angelos and Carmelita Tropicana performing an excerpt from Jehanne d'Arc, de Acosta's retelling of the story of the famous French martyr. Angelos plays the role of Jehanne, Carmelita Tropicana plays the parts of Jehanne's father and fiancé.
The recordings were produced by Cramersound. To learn more, please come visit the exhibition, open until February 26, 2017. Rodney Evans will appear at MCNY with two other filmmakers, Conrad Ventur and Michelle Memran, in a discussion about documenting LGBTQ life, on March 7, 2017.