John Vachon for Look Magazine: The Brooklyn Nobody Knows
Tuesday, August 13, 2019 by
The Museum is in the midst of an ongoing project to catalog, process, and digitize its LOOK magazine photo archive collection. Though most of LOOK's archives reside with the Library of Congress, MCNY holds those relating directly to New York City. This large collection dates from 1938 to 1968, and gives a literal picture of the city and the people in it through a remarkable variety of lenses, creating a striking impression of what it was like to be in one of the most exciting cities in the world at a time of constant change, strife, heartache, invention, entertainment, and growth.
John Vachon (1914-1975) was born in St. Paul, Minnesota and received a bachelor's degree in English literature from St. Thomas College at age 20. He began his career as a photographer working for Roy Stryker (1893-1975) at the Farm Security Administration during the Great Depression. Vachon became a staff photographer for LOOK magazine in 1947 and worked there for 25 years. His technical skill, dramatic composition, and talent for engaging his subjects often led editors to assign many of the most interesting stories to him. His photographs capture the subtle societal and cultural issues of the era within diverse narratives, and New York emerges as simultaneously the most American and the least American city in the nation.
LOOK assigned Vachon to the story "Brooklyn Nobody Knows" on September 21, 1948; it was published in the January 18, 1949 issue. By focusing on cultural institutions and figures, nightlife, historic landmarks, and civil engineering projects, Vachon's photographs presented Brooklyn as on par with its more popularly represented neighbor, Manhattan. Highlights, below, show the types of people and places he investigated. 
The Johannes Van Nuyse House was built around 1806 in the area of Brooklyn now known as Flatbush. When Vachon photographed the house at 150 Amersfort Place in 1948, it was one of the few remaining Dutch farmhouses in an area once heavily populated by the Dutch. The Historic American Buildings Survey (HABS) compiled a report on the house in 1934 and wrote, "While the land around it was for years given to farming it is now occupied principally by large apartment houses. This house, however, is on an undeveloped portion, vacant lots where the circus pitches its tents. Undoubtedly, houses and apartments will soon be built there also and the Van Nuyse house lost." Neighboring Brooklyn College acquired it in 1949 and used it as a faculty house. As HABS anticipated, the Van Nuyse House was demolished in 1961, and the Amersfort Place lot is now populated with row houses.
Charles M. Gage opened a restaurant at 302 Fulton Street in Downtown Brooklyn in 1879. Eugene Tollner joined him as a business partner in 1884, and the establishment became known as Gage & Tollner. Gage & Tollner moved to 372 Fulton Street in 1889 and operated successfully there until 2004 when it closed. The building's interior was designated a landmark by the Landmarks Preservation Commission in 1975. In an article dated July 20, 2018, Robert Simonson of the New York Times reported that three restaurateurs had joined forces to reopen Gage & Tollner in 2019.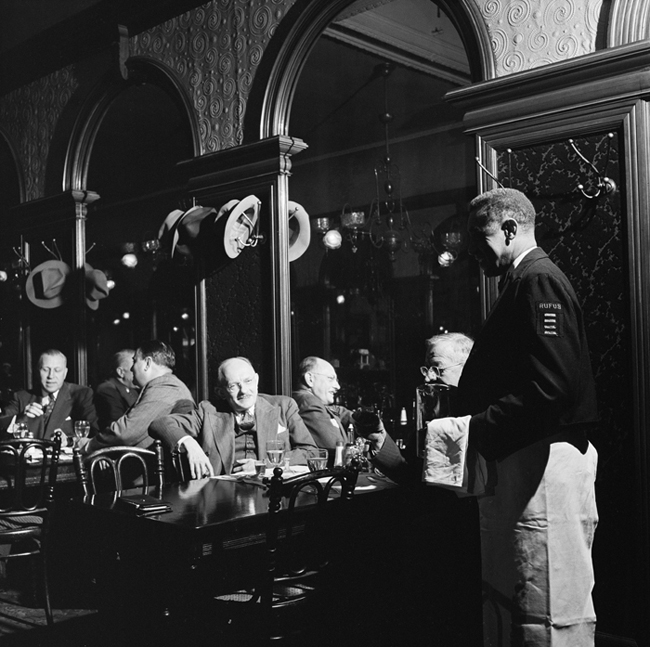 John Vachon (1914-1975) for Look magazine. Brooklyn Nobody Knows [Gage and Tollner.] 1948. Museum of the City of New York. X2011.4.10615.145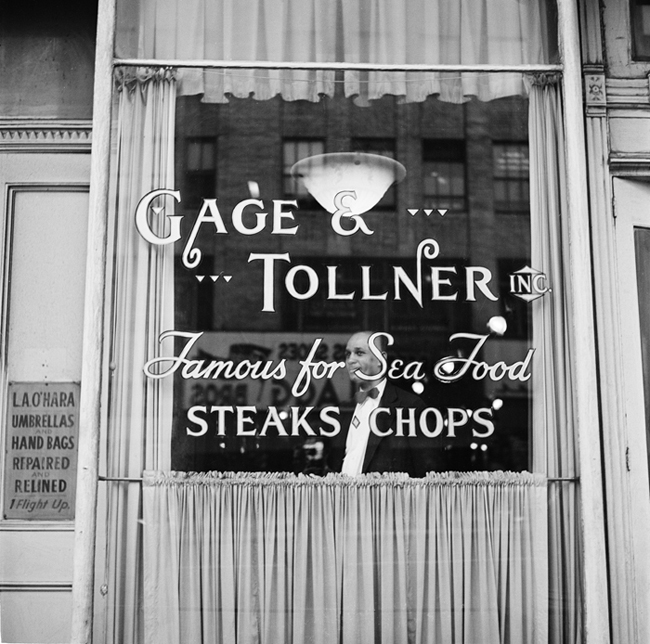 John Vachon (1914-1975) for Look magazine. Brooklyn Nobody Knows [Gage and Tollner.] 1948. Museum of the City of New York. X2011.4.10615.157
Florence Ripley Mastin (1886-1968) was an award-winning American poet and teacher at Erasmus Hall High School for 38 years. She was beloved among students, including American novelist and short-story writer Bernard Malamud, who attended Erasmus Hall from 1928-1932. In a letter to the editor published on May 29, 1983, in the New York Times, Nettie Tilevitz wrote, "I, like Bernard Malamud, attended Erasmus Hall High School and found its English classes exciting and stimulating, especially those taught by the poet Florence Ripley Mastin (…) Those teachers were and still are my inspiration, and when I was recently named New York City High School English Teacher of the Year, I gave silent thanks to them. My English regent's examination grade disappointed Miss Mastin, and I never became a writer. But somehow I feel that she and her aristocratic, multi-titled dog (Albertine Twinkle Duchess of Tiffany Countess of Whitehorn and Snapdragon Marquese of Bobolink-Sometimes Lytton Scratchy – Al for short) at last look down on me with approval."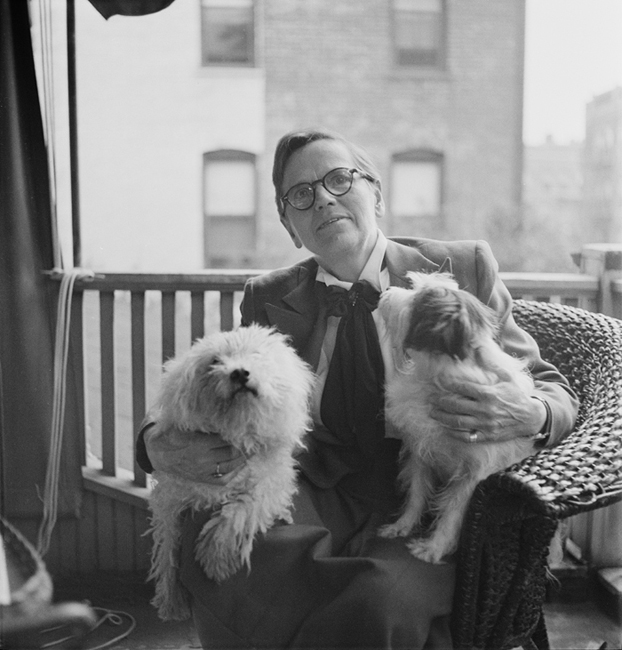 John Vachon (1914-1975) for Look magazine. Brooklyn Nobody Knows [Florence Ripley Mastin.] 1948. Museum of the City of New York. X2011.4.10615.66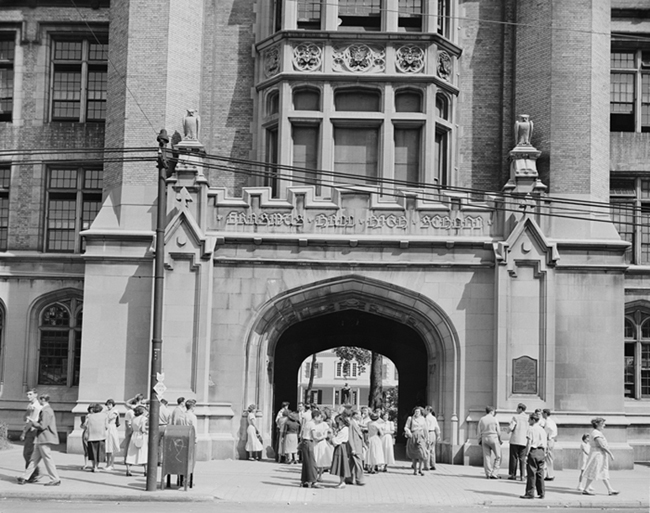 John Vachon (1914-1975) for Look magazine. Brooklyn Nobody Knows [Erasmus Hall High School.] 1948. Museum of the City of New York. X2011.4.10615.315
Over 1,600 photographs by Vachon are now available on the Collections Portal, showcasing a range of subjects like the International Ladies' Garment Workers' Union; New York City sidewalk merchants; Walter White of the National Association for the Advancement of Colored People (NAACP); and "Toast of the Town" with Ed Sullivan, to name just a few. Focusing the Lens: Creating Online Public Access to the Work of John Vachon in the LOOK Magazine Collection will make available approximately 18,500 photographs from 54 of Vachon's LOOK magazine assignments over the course of the next two and a half years. This project was made possible in part by the Institute of Museum and Library Services, grant MA-30-18-0153-18.