Augustus Hepp's Central Park in Blue
Tuesday, April 12, 2016 by
In 1853 the New York State Legislature set aside an expanse of land on the island of Manhattan that would eventually become Central Park. Five years later a design competition won by Frederick Law Olmsted and Calvert Vaux, known as the "Greensward Plan" established a unified aesthetic plan for the park that emphasized open green space for the public's enjoyment. In December of 1858 the public got its first taste of the very southern portion of the park. By 1863, the grounds south of 102nd street were largely finished. When Olmsted and Vaux were reappointed as landscape architects in 1865, construction began on additional features for public enjoyment, including Belvedere Castle, a working dairy, and eventually, a conservatory at Fifth Avenue and 72nd Street and a zoo. By 1873 the park was officially completed.
American politicians sought to convince their Continental counterparts that New York was not just an industrial powerhouse, but also a mature and cultured city that could create great urban parks on par with those in Europe. This might explain why Augustus Hepp, then the head gardener for Central Park, and one of the 33 previous entrants in the 1857 design competition for the park was commissioned to create a portfolio of images of the newly completed park. Hepp was commissioned by U. S. Secretary of State William Maxwell Evarts (1818-1901) to make photographs of Central Park that were sent to Paris as a gift to the French government in March of 1879.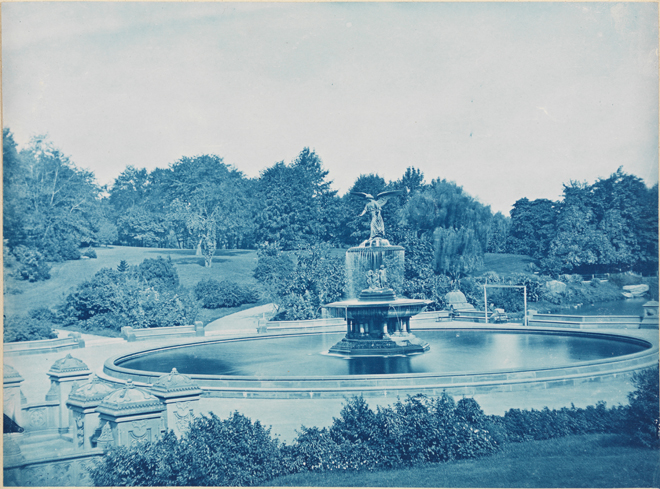 Bethesda Terrace, Looking West, Central Park, ca. 1878. Augustus Hepp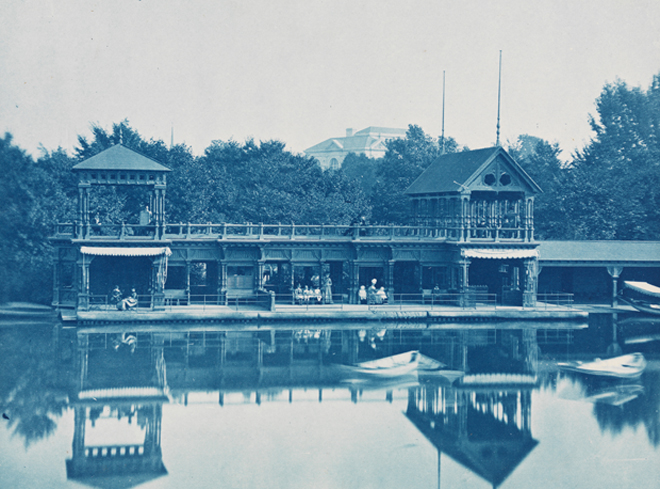 Boathouse, Looking towards 5th Avenue and 72nd Street, ca. 1878. Augustus Hepp
The Museum of the City of New York retains a collection of 40 large format cyanotypes made in the late 1870s by Hepp that beautifully document the park in its youth. The cyanotype process was developed by Sir John Heschel in 1842 and has been a popular a low cost and simple process ever since. The process, utilizing ammonium iron citrate and potassium ferricyanide, results in the vibrant Prussian blue.
These cyanotypes document many of the landmarks we know so well today, at a time when they were freshly built and the surrounding landscape is surrounded with fledgling growth. We even see the original Metropolitan Museum of Art in its Gothic revival style designed by Calvert Vaux and Jacob Mould. Some of the structures depicted are gone and others remain, but Hepp's photographs provide a dramatic window into the early days of New York's best known public space.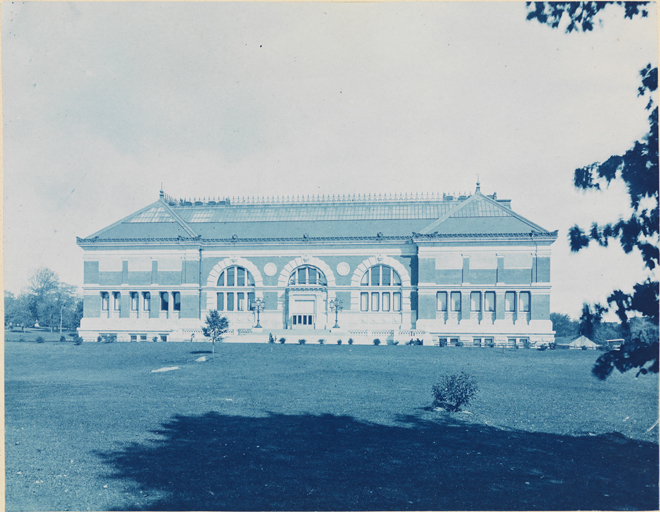 The Metropolitan Museum, ca. 1878. Augustus Hepp.=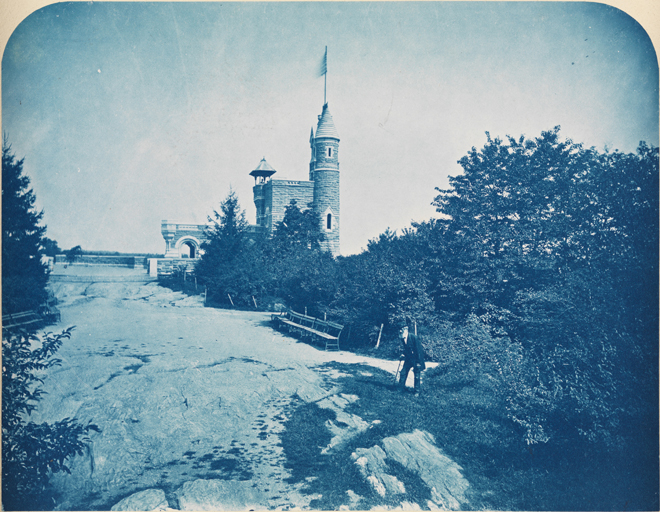 Belvedere Castle, Looking North, ca. 1878. Augustus Hepp