Now Playing! George M. Cohan
Tuesday, April 24, 2018 by
Last April, the Museum announced a new project to digitize, catalog, and make available the scripts, scores, and sheet music of George M. Cohan. (For more background on Cohan, check out this previous Story.) This week, the Museum is very happy to announce that the first group of material is now available online through the Museum's Collections Portal!
Over 400 objects have been digitized, including manuscripts, annotated typescripts, actors' sides, sheet music, and individual instrument orchestrations from over 13 musicals and plays by Cohan. Each record is chock full of information about what these early shows looked and sounded like, and taken together they show how Cohan's work changed over time. Below, the page of drum orchestration from the 1906 musical George Washington, Jr. lists a song under its original name "Grand Old Rag." When Cohan changed the song to "Grand Old Flag" for the musical's revival, he created a bona fide hit.
 
These script pages from the 1912 play Broadway Jones not only describe the setting at the start of Act I, but also include a diagram of scenery.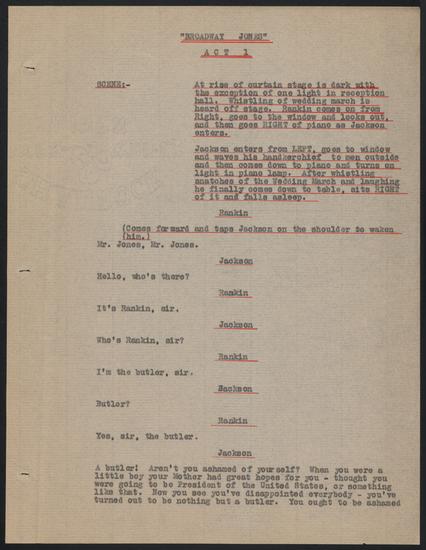 George M. (George Michael) Cohan (1878-1942). Broadway Jones – Act I. Corrected copy, February 6, 1913. Museum of the City of New York. 68.123.58A.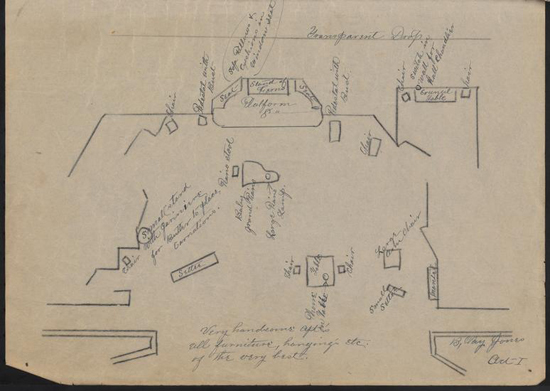 George M. (George Michael) Cohan (1878-1942). Broadway Jones – Act I, Set # 13. Ca. 1912. Museum of the City of New York. 68.123.60A.
Almost all the digitized objects are multipage, and the Collections Portal now allows users to scroll through a single document page by page.
Click on any object, and the full record pops up. On the right hand side of the object record you will see thumbnails for additional pages. Select "View All" (circled in red on the above screen shot), and you will be taken to a new screen that separates each page into an individual record.  
From this "View All" screen you can click on any page to bring up the record. Use the arrows on either side of the record (circled in red in the screen shot below) to navigate within the multipage document. Click on the magnifying glass icon found just below each image to zoom in on the picture.
Broadway Jones was Cohan's first successful straight comedy, and it was also the last production he performed with his parents (pictured below). Helen and Jerry Cohan retired from the stage at the conclusion of the show's run. Cohan kept on writing, producing, and performing for another 28 years.
 This project is ongoing so be sure to stay tuned for future updates and uploads. Discovering the Yankee Doodle Boy: Digitization of the Edward B. Marks Music Company Collection on George M. Cohan has been made possible in part by a major grant from the National Endowment for the Humanities: Exploring the human endeavor.