Building Bridges with Language and Theater
Sister Joanna Wan-Ying Chan 陳尹瑩
Friday, April 17, 2020 by
Among the almost 70 New Yorkers featured in the Museum of the City of New York's permanent exhibition, New York at Its Core, is Sister Joanna Wan-Ying Chan, 陳尹瑩. Chan (b. 1939), a multi-lingual and multi-talented artist who founded vital cultural institutions in Manhattan's Chinatown. She continues to bring social dilemmas to the stage as one of the premier Chinese playwrights and stage directors of her day. 
New York in the late 20th century, after the liberalization of immigration laws, was more international than it had been in generations. Among the millions who came in the wake of the Immigration and Nationality Act of 1965 was Chan, a Catholic missionary nun who devoted herself to bridging gaps among people, institutions, and nations, from Asia to New York.   
Joanna Chan was born in Hong Kong and grew up in Guangzhou, China. Her family joined the Catholic Church in 1955, and ten years later Joanna joined the Maryknoll nuns, an order known in South China for providing education and other social services.  
By the early 1970s, Maryknoll sisters were serving the historic Transfiguration Church, the Catholic parish in New York City's Chinatown. The church, visible in the center-right of the postcards which show Mott Street below, had seen many changes in this transforming immigrant neighborhood. Founded in 1853 to serve a largely Irish immigrant community, Italian parishioners arrived in the late 19th century, and by the early 20th century, its congregation had become mainly Chinese. Chan arrived at Transfiguration in the winter of 1969-70.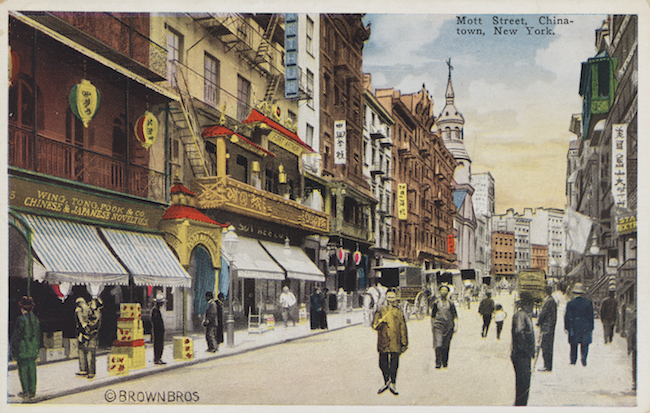 Mott Street, Chinatown, New York. ca. 1905 X2011.34.2186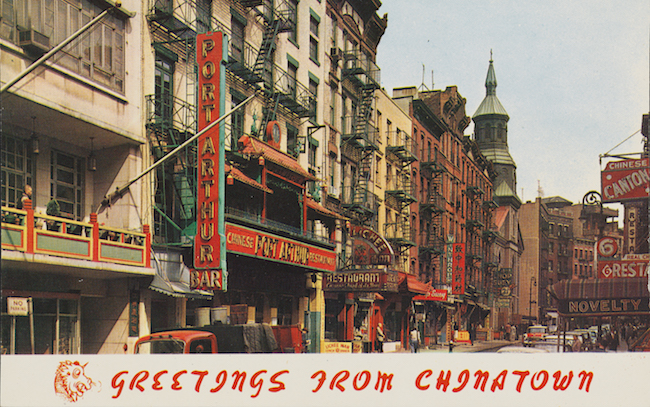 Progressive Publications Inc. Greetings from Chinatown, ca. 1935. Museum of the City of New York. F2011.33.1031
Chan found a neighborhood in transition. Since 1882, discriminatory laws had allowed only small numbers of Chinese immigrants into New York. Most of them were single young men hoping to make some money and return home. But after the Immigration and Nationality Act of 1965, the composition of the population began to shift from its early origins in Guangdong Province (whose arrivals spoke Cantonese as well as local dialects) to arrivals from places like Taiwan, where the lingua franca is Mandarin. By the 1970s they were joined by others coming from Fujian and elsewhere, many of whom also used Mandarin as the most widely known shared language. Many earlier Cantonese immigrants did not speak Mandarin, and the language barrier created a divide was keenly felt in the Transfiguration parish. 
These changes posed a challenge for the parish, but another opened an opportunity.  In the post-1965 era, Chinese women and children began arriving in New York in large numbers for the first time. When Chan arrived in New York, large numbers of young Chinese worshippers were showing up at Transfiguration Church. Chan was assigned to be the parish's first Director of Youth Services. The priest pastor, Maryknoll Father Denis Hanly, told Chan to look around the neighborhood and consider what it needed.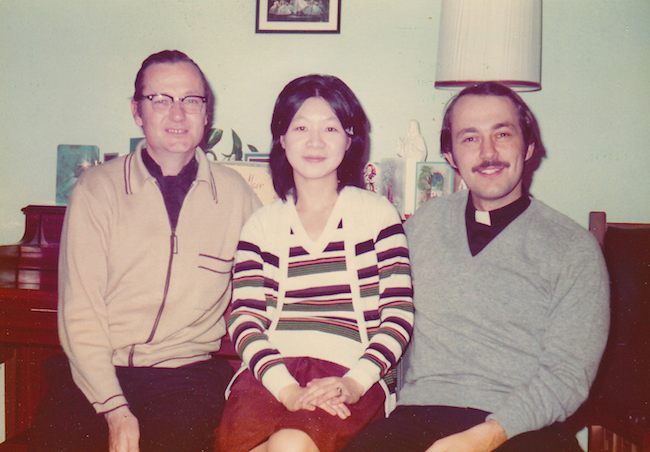 The "Three Musketeers of Transfiguration," Fathers Denis Hanly (left) Joanna Chan, and Richard Grillo (right), 1975 Image Credit: Joanna Chan Collection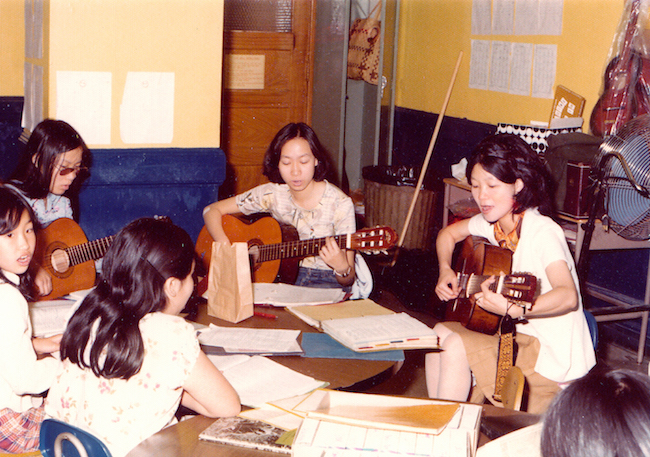 Chan Leading the Youth Choir at Transfiguration, 1974. Image Credit: Joanna Chan Collection
In exploring Chinatown, Chan found a highly traditional neighborhood whose social life was still organized around small clan and family associations, each with its own meeting hall. She quickly decided that a common project would help to bring the fragmented community together. 
Chan's solution was to put on a drama production for the Lunar New Year in the winter of 1970. She persuaded nine associations to contribute to the effort, and the performance was a great hit with audiences. However, she outshone, and so inadvertently affronted, the prestigious Chinese Consolidated Benevolent Association, which was sponsored by seven clans. 
The leaders of the Benevolent Association asked Fr. Hanly to apologize for challenging their primacy in Chinatown society. To avoid breaking the taboo against "raising an army in no one's name," Chan founded a community theater company specifically to mount more performances at Transfiguration Church. She called them the Four Seas Players, from the Chinese adage, "within the four seas, all men are brothers." 
Through the early 1970s, the Four Seas Players put on plays in Cantonese, Mandarin, and English, mainly adapted from Chinese opera and history. Their popularity gained them attention around New York and throughout the Chinese diaspora. After 1975, Chan, who was putting herself through graduate school at Teachers College, began writing her own original plays for the Players to produce, in addition to directing all the stage productions. She earned her Ed.D. in theater in 1977.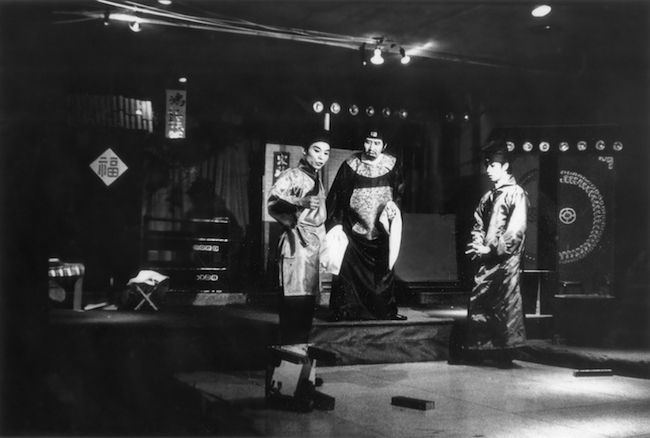 Theater still from "The Tale of the Romanic Fan," directed by Joanna Chan, performed by the Four Seas Players, 1971. Image credit: Joanna Chan Collection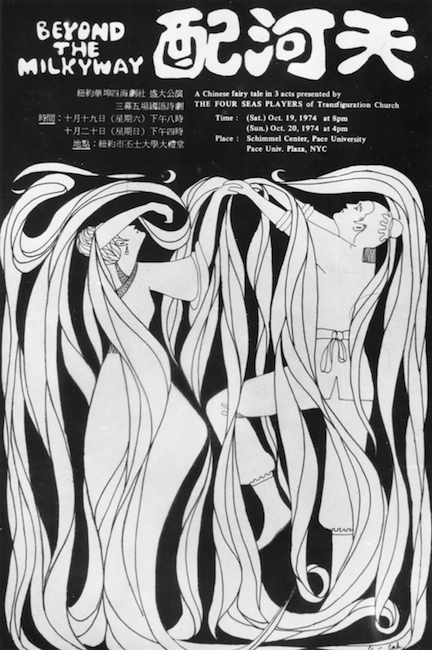 Program cover for "Beyond the Milkyway," directed by Joanna Chan, performed by the Four Seas Players, 1974. Image credit: Joanna Chan Collection
After 1980, Dr. Chan staged plays around the United States and served for several years as artistic director of Hong Kong Repertory Theater. But politics intervened: in 1992, her play The Soongs, which focused on corruption and duplicity by China's Nationalist leaders, Sun Yat-Sen and Chiang Kai-Shek, caused an uproar in New York's strongly pro-Nationalist Chinese community. Four Seas Players canceled the play amidst great turmoil. Sensing that her own presence was bringing dissension to an organization she had founded to promote unity, Chan withdrew from the company.  
After losing control of Four Seas Players, Chan formed the Yangtze Repertory Theater, where she continued to direct plays by Asian authors; it has staged her own work to great acclaim in New York, in addition to her Hong Kong Repertory Theatre productions in San Francisco, Hong Kong, Guangzhou, and elsewhere. Chan's 2011 work, Empress of China, follows the first American ship to sail from New York to China. Throughout her career, Chan, who was trained as an artist in Hong Kong, did the graphic design for all of Yantze Theatre Company's more than 100 productions.   
Remarkably, in 2003, Yangtze re-staged The Soongs in New York without controversy, demonstrating the rapidly changing social and political complexion of Chinese New York. The fiercely Nationalist loyalties of old Chinatown had faded and the new generation was more open to a diversity of views. 
Since 1992, Chan has continued to lead prayer and spiritual retreats at Transfiguration Church, but as New York's Chinese community has become more ethnically diverse, she has begun using Mandarin more frequently; when she speaks Cantonese, young parishioners tease her for being old-fashioned. One of her recent plays, The Chalk Circle, is trilingual, with parts in English, Cantonese, and Mandarin. 
The Yangtze Repertory Theater continues to serve as an artery of artistic exchange between the United States and East Asia. The company has staged dozens of Chinese-authored plays in New York. Meanwhile, Chan has also staged a number of plays abroad, including in China. She even got to direct her most controversial play, The Soongs, in Hong Kong in 2014-15. 
Today, Chan lives at Maryknoll in Ossining, in the Hudson Valley, and teaches inmates at the Sing Sing maximum-security prison. In 2006, she directed a celebrated prisoners' production of Oedipus Rex. During the production, she met an inmate, Eric Glisson, who had been wrongfully convicted and was serving a 25-years-to-life sentence for murder. He was working to prove his innocence, and Chan joined his efforts: she recruited a lawyer who helped to exonerate Glisson and secured his release in 2012. 
"For a community leader," Chan once said, "the fondest dream is perhaps not to see the final success of making it in America, but to look beyond seeing the differences that divide individuals."  
Text by research assistant Sam Biagetti, adapted by Susan Johnson from his script for the "Joanna Chan" interactive in New York at Its Core.