The Bronx Zoo's First Female Zookeeper
Tuesday, January 15, 2019 by
Cataloging of the LOOK magazine archives continues, and amidst these thousands and thousands of photographs are some remarkable stories. One that sticks out is that of Helen Martini of the Bronx Zoo. Photographs of Helen and her husband, Fred, can be found in assignment 10433, entitled "Zoo Pictures (Bronx)—Mrs. Fred Martini." These photographs, taken in August 1945 by four different LOOK photographers (Jim Hansen, Harold Rhodenbaugh, George Heyer, and Bob Sandberg), depict the Martinis feeding and working with cub and adult lions and tigers.
Helen and Fred Martini were a married couple living in the Bronx when a job position opened up as a zookeeper at the Bronx Zoo. Fred had no related experience or schooling; he was a jeweler. But the Martinis were animal lovers and pet owners who visited the zoo regularly, and so Helen encouraged her husband to apply. He got the job and was put in charge of the lion house.
Helen's direct involvement came later, when in 1942 Fred asked for her help caring for a newborn lion cub whose mother refused to care for him. She named the cub MacArthur, after the famed general, and, needing somewhere to nurse it back to health, took him home to her and Fred's apartment in the Bronx. The zoo had previously raised lions from cubs, and so Helen followed established protocol for feeding and general care—and the cub thrived. At two months MacArthur was doing well enough to be sent back to the zoo.
In 1944, a female tiger at the zoo gave birth to and then abandoned three cubs. Helen was once again asked to intervene, and so, despite the fact no one at the zoo ever successfully raised a tiger cub, she again took the cubs home and cared for them. This time she had no established method to follow, so she went off her own instincts and limited experience—supplemented with large amounts of research. In a 1947 interview to Popular Mechanics magazine, Helen detailed her trial-and-error method of caring for the cubs, eventually working out a diet of evaporated milk and water, and then chopped meat and bone meal. Again Helen was successful, and the tigers were returned to the zoo.
After her success with the tigers, Helen was officially hired on at the Bronx Zoo, making history as the zoo's first ever female zookeeper. She established a nursery at the zoo, converting a storeroom into a designated home for baby animals whose mothers wouldn't or couldn't care for them. The photographs in this Look assignment show Helen and Fred caring for younger cats at home and older—and much larger—ones on site at the zoo.
Helen became known for taking animals home and treating them in her apartment when she felt it necessary, and in 1945 she was well-known enough that Look magazine sent photographers to profile her, Fred, and the cats. The resulting photographs offer a charming glimpse of what their work looked like.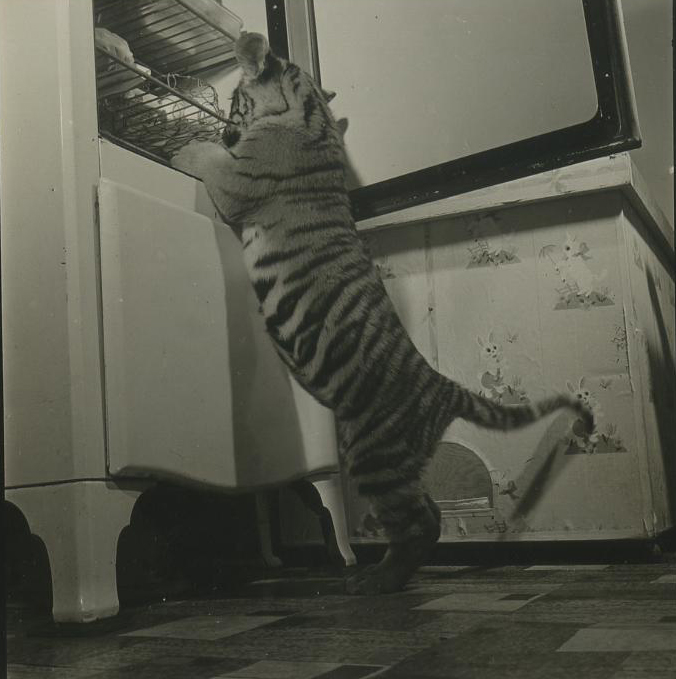 X2011.4.10433_217: Bob Sandberg. "Zoo Pictures (Bronx)—Mrs. Fred Martini." 1945.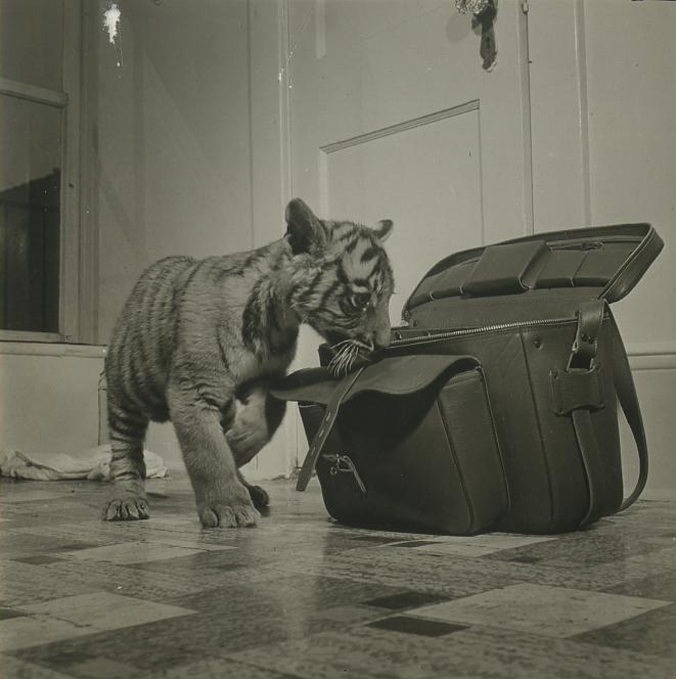 X2011.4.10433_219: Bob Sandberg. "Zoo Pictures (Bronx)—Mrs. Fred Martini." 1945.
Though she got her start with wild cats, Helen also helped raise and sometimes brought home many different kinds of animals: baby gorillas, deer, antelope, and even skunks. She had a special touch with the cats, though, and raised a total of 27 tigers at the zoo before she left in 1960.
Helen, like her husband, had no formal training with animals. She used a combination of instinct, her own personal research, and what must have been a sizeable amount of moxie to save and improve the lives of dozens of animals. The Bronx Zoo, which opened in 1899, is one of the largest wildlife conservation parks in the United States. Helen Martini's role at an important institution in this city was both valuable and groundbreaking.
These images are for reference purposes only and have not been digitized in high resolution as part of the Museum's digital project. For more information, please visit the Eyes on America: Processing and Cataloging the LOOK Collection webpage.