Valentina
American Couture and the Cult of Celebrity
February 14 - May 17, 2009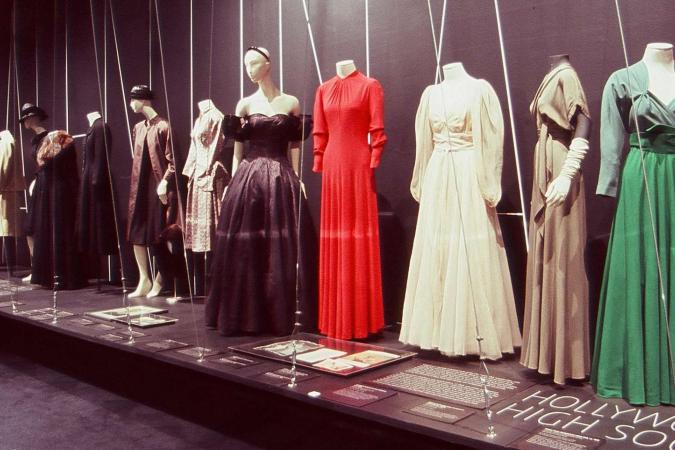 Back to Past Exhibitions
"Fit the century, forget the year." Valentina
Valentina Sanina Schlee (1899-1989) – known professionally simply as Valentina — was a fashion pioneer, clothing such luminaries as Greta Garbo, Katharine Hepburn, Katharine Cornell, and Mrs. Randolph Hearst and helping to invent American couture in the process. Hers was the quintessential New York success story: she arrived in the city as a young immigrant and reinvented herself as the epitome of style and glamour, becoming a fixture in the fashion pages and a major celebrity in her own right. Valentina: American Couture and the Cult of Celebrity is the first exhibition to trace the career of this legendary designer and features never-before-exhibited gowns, accessories, photographs, and printed matter from the collections of the Museum of the City of New York, the Valentina family, and other major collections, including the Costume Institute at the Metropolitan Museum of Art, The Museum at FIT, and the Brooklyn Museum.
Sponsors
Valentina: American Couture and the Cult of Celebrity is generously funded by the Coby Foundation.
Additional support comes from the estate of Laura S. Johnson, 1st Dibs, Dr. Charlie and Claire Shaeffer, Nina Frantzen, The Manya and Gary Drobnack Charitable Trust, The JM Foundation, Christina Porter, Susan Sheehan, Kohle Yohannan, Mrs. Michael Rockefeller, Sylvia Hemingway, Eric M. Javits, Jr., Martin J. McLaughlin, Phyllis Kossoff, Laura Lofaro-Freeman, Rizzoli New York, Tatiana and Serge Sorokko, Rebecca Lorberfeld, and a generous anonymous donor.
Gifts from the following members of the Museum's Women's Committee are gratefully acknowledged: Jacqueline T. Huff, Hilda Kraker, Kathy Epstein, Kathy Harker, Alexandra Lebenthal, E.A. McGehee & Company / Elizabeth McGehee-Grossich, Valerie Paley, Beverly M. Puris, and Rosemary Cotter.
In-kind support for the exhibition is provided by Pentagram, Steven Voll, Patina-V, Siegel & Stockman, Madame Paulette, Museum Quality North, and Mayer/Berkshire Corporation