Making Room
New Models for Housing New Yorkers
January 23 - September 2, 2013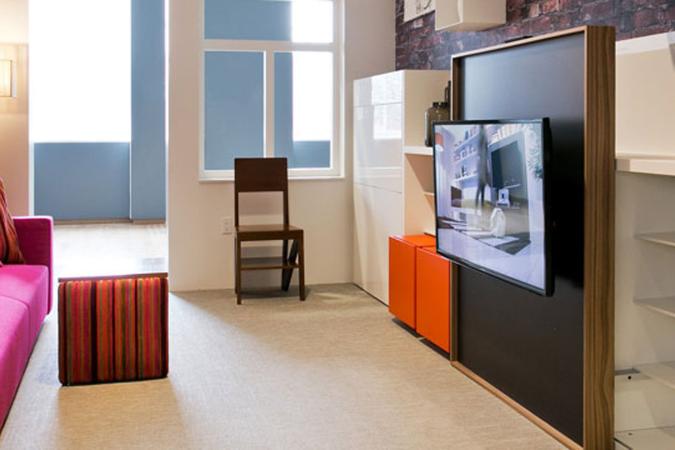 Back to Past Exhibitions
Cutting-edge design innovations offer possible solutions to New York City's housing challenges in the 21st century.
Making Room: New Models for Housing New Yorkers showcases innovative design solutions to better accommodate New York City's changing, and sometimes surprising, demographics, including a rising number of single people, and will feature a full-sized, flexibly furnished micro-studio apartment of just 325 square feet – a size prohibited in most areas of the city. Visitors to the exhibition will see models and drawings of housing designs by architectural teams commissioned in 2011 by Citizens Housing & Planning Council, in partnership with the Architectural League of New York. The exhibition also presents winning designs from the Bloomberg administration's recently launched pilot competition to test new housing models, as well as examples set by other cities in the United States and around the world, including Seattle, Providence, Montreal, San Diego, and Tokyo.
Making Room is a co-presentation of the Museum of the City of New York and the Citizens Housing & Planning Council
HONORARY CHAIRS
Honorary Exhibition Chairs
Amanda Burden
Director, New York City Department of City Planning and Chair, City Planning Commission
Mathew M. Wambua
Commissioner, New York City Department of Housing Preservation and Development
Ronay Menschel
Chairman, Phipps Houses
CITIZENS HOUSING AND PLANNING COUNCIL
Citizens Housing & Planning Council (CHPC) is a non-profit research organization dedicated to improving housing and neighborhood conditions through the co-operative efforts of the public and private sectors.
Since 1937, CHPC, through its impartial research and nonpartisan advocacy, has shaped and influenced public policy to improve the City's housing stock and the quality of life in New York City's neighborhoods. Its board includes practitioners and experts in the fields of urban planning, architecture, zoning and land use law, housing finance and development, and community development. They provide a practical perspective that enhances CHPC's high quality quantitative research and insight on issues affecting the City's future.
Sponsors
The exhibition is made possible by generous grants from:
and An Anoymous Donor
---
Additional support is provided by:
Ronay and Richard L. Menschel
Edison Properties
---
Major in-kind Sponsorship is generously provided by:
Additional in-kind support is provided by Minimal USA, Bolon, Key Cucine, 3.2.1. Contract, Duravit, Goodrich Works, and Concrete Wall.