The Greatest Grid
The Master Plan of Manhattan, 1811-2011
December 6, 2011 - July 15, 2012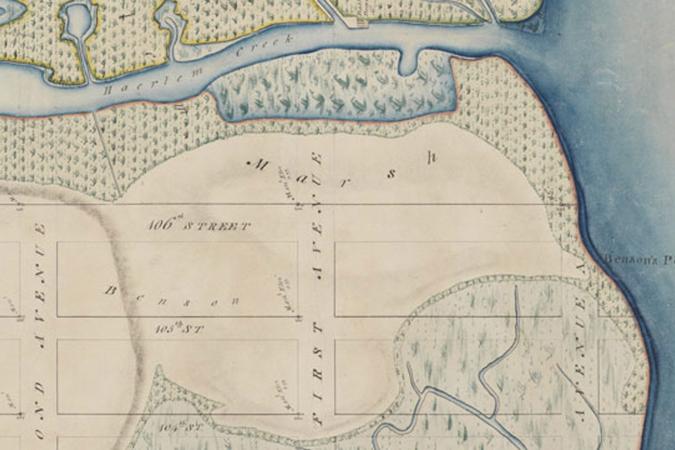 Back to Past Exhibitions
Explore Manhattan's foundational act of city planning in this blockbuster exhibition.
Looking for the Greatest Grid online exhibition? Click here.
The Greatest Grid: The Master Plan of Manhattan, 1811-2011 commemorates the 200th anniversary of the Commissioners' Plan of 1811, the design that established Manhattan's street grid. The plan, once called "the single most important document in New York City's development," is widely considered to be visionary and far-reaching. Described by the commission as a blend "beauty, order and convenience," the grid was adopted in 1811 to facilitate the sale and development of land north of 14th Street to Washington Heights. Featuring an original map of New York's planned streets and avenues prepared by the Commission in 1811, other rare maps, photographs, and prints of the city's streets, and original manuscripts and publications that document the city's physical growth, the exhibition examines the grid's initial design, implementation, and evolution as a defining feature of the city.
The Greatest Grid is a co-presentation of the Museum of the City of New York, the New York Public Library, and The Architectural League of New York and is sponsored by the Office of the Manhattan Borough President.
HONORARY CHAIRS
Amanda M. Burden
Chair, City Planning Commission and Director, New York City Department of City Planning
Scott M. Stringer
Manhattan Borough President
CO-CHAIRS
Richard T. Anderson
President, New York Building Congress
Jill Chalsty
Founder and Chairman, Community for Education Foundation
Todd DeGarmo
CEO, STUDIOS Architecture
Ronay Menschel
Chairman, Phipps Houses
Mitchell S. Steir
Chairman and CEO, Studley, Inc.
Sponsors
The exhibition is supported by generous grants from:
Con Edison
The Durst Organization
Dyson Foundation
Andrew Farkas/Island Capital Group
Lily Auchincloss Foundation
New York State Council on the Arts
The Rockefeller Foundation
Major sponsorship is also provided by:
AECOM
Jill and John Chalsty
Todd DeGarmo/STUDIOS Architecture
Peter S. Kalikow
Ronay and Richard L. Menschel
Nixon Peabody LLP
Studley, Inc.
Vornado Realty Trust
Additional support has been received from:
American Continental Group, Inc.
AvalonBay Communities, Inc.
Benchmark Builders, Inc.
Suzanne Davis and Rolf Ohlhausen
Cooper Joseph Studio
The 42nd Street Fund
Gardiner & Theobald
New York Building Foundation
The Peter Jay Sharp Foundation
Robert Derector Associates
Silverstein Properties
The Solow Art and Architecture Foundation
Structure Tone, Inc.
Taconic Charitable Foundation
VVA Project Managers & Consultants
Weidlinger Associates, Inc.
The exhibition is also made possible with funds from:
Manhattan Delegation, New York City Council
New York Council for the Humanities
The companion book is supported by Furthermore: A Program of the J.M. Kaplan Fund