People, Place, and Influence
The Collection at 100
Opens October 13, 2023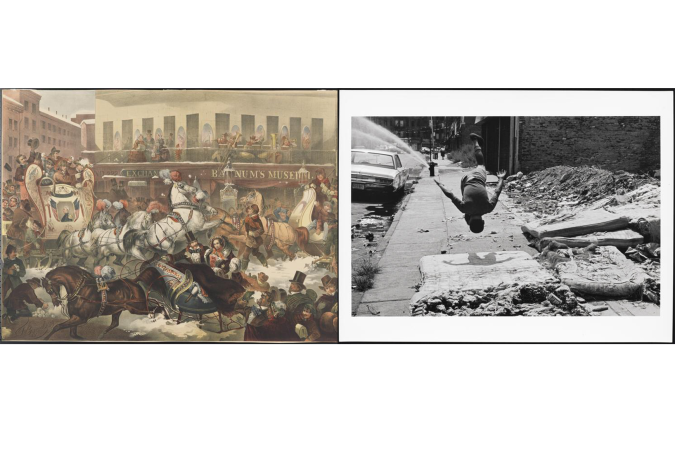 Back to Exhibitions
In 1923 the Museum of the City of New York was founded "in response to an almost universal longing among our people, for some place in which to preserve the annals and records of their own hometown." In the intervening 100 years the Museum has grown a collection that encompasses over 750,000 items: a catalog of objects as rich and eclectic as the city itself.  
As a city museum, the founding mandate was to tell the story of a place and its people. Not an art museum or an antiquarian society, the city's museum would strive to capture the looks and lives of New Yorkers and their physical city; a set of topics under scrutiny and debate in the 1920s, as Fifth Avenue mansions gave way to apartment houses and decades of record immigration transformed the demographics of the city.  
The Collection at 100 will delve into the founding mission for the Museum by highlighting key aspects of this unique collection. Through four key sections, the exhibition will center around the collection's strengths in capturing New York as a place, a population, a platform for creativity, and a center for influence. With unexpected juxtapositions of medium and time periods, the objects on view will spotlight singular moments in New York history, notable creative voices and urban icons, and the extraordinary stories embedded within the Museum's collection. Featuring objects ranging from Tiffany jewelry to a seat from Yankee Stadium; a Duncan Phyfe chair and a prop from Cats; a Christmas card from Zelda Fitzgerald; and a stickball bat—the exhibition will be a journey through the singular qualities of the city that the Museum's founders sought to capture through the collection.   
While the exhibition is an opportunity to showcase the rich, distinctive, and in some cases, previously unseen aspects of the collection, visitors will be invited to brainstorm future goals and directions for collecting, as the Museum moves into its second century.  
(Left) Thomas Benecke. Broadway (Restrike). 1855. (Right) Mel Rosenthal. A Child's Playground. Bathgate Avenue. 1976-1982