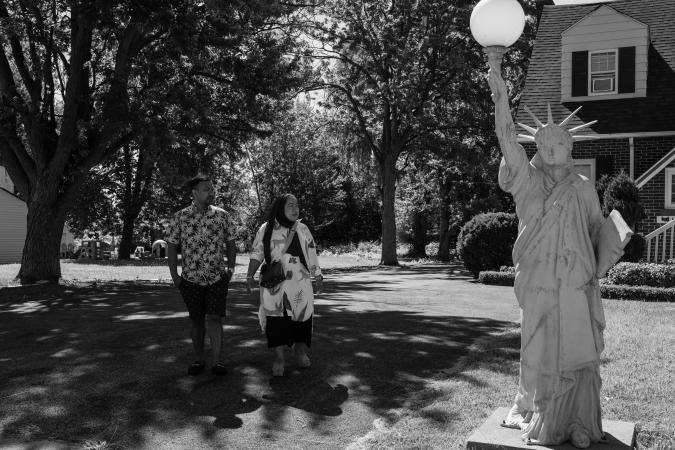 Participating Artists A-F
Xyza Cruz Bacani
Xyza Cruz Bacani is a Filipina author and photographer based in New York. She uses her work to raise awareness about under-reported stories, particularly those related to migration, climate change, and human rights. Xyza has worked as a migrant domestic worker in Hong Kong. She is a recipient of several awards, grants, and honors, including being a Magnum Foundation Photography and Social Justice Fellow in 2015, a recipient of a resolution H.R 1969 passed by the Philippines House of Representatives, an Asia 21 Young Leader in 2018, a WMA Commission grantee in 2017, a Pulitzer Center Triple grantee, and an Open Society Moving Walls grantee in 2017. Additionally, she was recognized by the BBC as one of the 100 Women of the World in 2015 and was named to Forbes' 30 Under 30 in Asia in 2016. She is also the author of the book "We Are Like Air."
Photo credit: Polaris Norton
Laylah Amatullah Barrayn
As a documentary and portrait photographer, Laylah Amatullah Barrayn focuses her inquiries on the cultures and identities within the global Black diaspora with a special interest in memory and the lived experiences of women. Her practice, spanning 20 years, includes exhibition organizing and essay writing. She is frequently on assignment for The New York Times and has been commissioned by The Guardian, Le Monde, National Geographic, NPR, Vogue and The New Yorker.
Barrayn's monograph, We Are Present: 2020 in Portraits, was published with the support of Magnum Foundation. She is also co-author of MFON: Women Photographers of the African Diaspora, the first anthology in nearly 30 years that highlights photography produced by women of African descent. Her work has been exhibited nationally and internationally and she is a recipient of numerous grants. Barrayn is currently completing a book on contemporary Black photographers. She holds a M.A. from New York University's Tisch School of the Arts.
Sara Bennett
After 18 years as a public defender, SARA BENNETT turned her attention to photographing women with life sentences, both inside and outside prison. Her work has been widely exhibited in solo shows, including at the Blue Sky Gallery in Portland, OR, Photoville 2018 and 2019 in Brooklyn, NY, and 2023 Rotterdam Photo, and in group shows, including MoMA PS1's Marking Time: Art in the Age of Mass Incarceration, The Museum of the City of New York's New York Now: Home, and the Blanton Museum of Art's Day Jobs.  Her work has been featured in such publications as The New York Times, The New Yorker Photo Booth, and Variety & Rolling Stone's American (In)Justice.
Photo credit: © Cory Rice, cory-rice.com
Cinthya Santos Briones
Cinthya Santos Briones is a visual artist, popular educator, and community organizer with indigenous Nahua roots based in New York. She studied Ethnohistory and Anthropology and for ten years Cinthya worked as a researcher at the National Institute of Anthropology and History in Mexico focused on issues on indigenous migration, codex, textiles and traditional medicine. Cinthya holds an MFA focus in creative writing and photography from Ithaca College.
As an artist, her work focuses on a multidisciplinary social practice that combines participatory art and the construction of collective narratives. Through a variety of non-linear storytelling mediums she juxtaposed photography, historical archives, writing, ethnography, drawings, collage, embroidery, and popular education. She is the recipient of fellowships and grants from the Magnum Foundation (2016/2018/2020), En Foco (2017/2022), National Geographic Research and Exploration (2018), We Woman (2019), National Fund for Culture and the Arts of México (2009/2011), Wave Hill Art Residency (2023), etc. 
Her work has been published in The New York Times, Pdn, California Sunday Magazine, Vogue, Open Society Foundations, Buzzfeed, The Intercept, New Yorker,  The Nation Magazine, La Jornada, among others. She is co-author of the book "The Indigenous Worldview and its Representations in Textiles of the Nahua community of Santa Ana Tzacuala, Hidalgo". And the documentary, The Huichapan Codex. 
Cinthya has worked at pro-immigrant organizations in New York as a community organizer on issues such as detention, education, and sanctuary. Currently she is an Adjunct Faculty at the Graduate School of Journalism at CUNY. Cinthya is part of "Colectiva Infancia" (Childhood Collective) made up of a group of anthropologists who works through ethnographic and visual research on studies around childhood in relation to migration, violence, urban studies and epistemologies of the Global South.
Amarise Carreras
Amarise Carreras is a photo based performance artist, utilizing photography for both documenting and observing while engaging in performative conversations. The results are images of quotidian moments and narratives that portal history, ancestry, altars and still lifes that are alive. The performative aspect is referential directly to a gentle and deeply personal connection to passed down knowledge from elders and traditions from the island, Puerto Rico.
There is a long history of collecting objects that symbolize and represent a greater form, lineages, and sentiments. Upon inspection and study, each item narrates a space that invites the body; trans, queer, diasporic and migrant, to enter. These altars and images document survival while serving as a means to build new worlds and possibilities.
Amarise received their BFA in Photography and Film from Virginia Commonwealth University in 2018. They are currently published in Aperture Magazine, Nueva Luz, and have shown at El Museo del Barrio, Blue Sky Gallery, and will be showing at The Museum of New York this Spring. 
Sally Davies
Sally Davies is a New York City photographer whose works are in the permanent collection at the Museum of the City of New York and the NYC 9/11 Memorial Museum. She is the author of the hit book New Yorkers  (Ammonite Press UK) and a 2nd  photo book "California Dreamers" due out summer of 2023.  Sally is also the author of the acclaimed McDonalds Happy Meal project (1.75 million online hits), and her archive now joins the Downtown Collection of Fales Library at NYU. Her photographs have been featured in the New York Times, the UK Daily Mail, Huffington Post, and many more. In 2014, Davies' Lower East Side Photographs were exhibited at the Bernarducci Meisel Gallery in New York City, with a second solo exhibit New York at Night that followed in June 2015.  The same year she received a citation from the City of New York for her ongoing commitment to photographing the Lower East Side.
She took Alan Ginsberg's old apartment when she moved from Canada to New York in 1983, and she still lives in the East Village with her dog Bun.
Photo credit:  Linda Heidinger
Maureen Drennan
 Maureen Drennan is a photographer born and based in New York City. She has been honored to have work included in exhibitions at the Museum of the City of New York, National Portrait Gallery, Tacoma Art Museum, Art Museum of South Texas, Kemper Museum of Contemporary Art, Dorsky Museum, Ackland Museum of Art, Aperture, Mrs. Gallery, Transmitter Gallery, Field Projects, Partners and Son, Centotto Gallery, Center for Photography at Woodstock, and Houston Center for Photography. Her images have been featured in The Atlantic, The New Yorker, The New York Times, California Sunday Magazine, Photograph Magazine, Huffington Post, Art 21 Magazine, UK Telegraph, Refinery 29, Narratively, and the Economic Hardship Reporting Project. She teaches photography at LaGuardia Community College in Queens, New York.