The Delaney Brothers
Tuesday, February 19, 2019 by
Painter Beauford Delaney arrived in New York City in 1929. Born in Knoxville, TN, Delaney arrived in the city after living and studying art in Boston for five years. Drawn by the creative energies of the Harlem Renaissance, the 28 year-old artist eventually settled much further downtown in Greenwich Village. Delaney made friends both uptown and downtown, including the painter Georgia O'Keefe and writers Countee Cullen, Henry Miller, and James Baldwin. Baldwin counted Delaney as a kind of "spiritual father" and the artist made several portraits of the writer both in New York and later in Paris.
Another of Delaney's friends was artist Don Freeman. A caricaturist by profession, Freeman published his own magazine, Newsstand, which included an article on Delaney in the Spring 1941 issue. Freeman describes the horrible living conditions at Delaney's residence on Downing Street, and highlights the triumph of Delaney's creative spirit under such circumstances.
"None of these adversities ever seem to daunt the persistence of him as an artist for he paints on while he sings and his pictures become songs."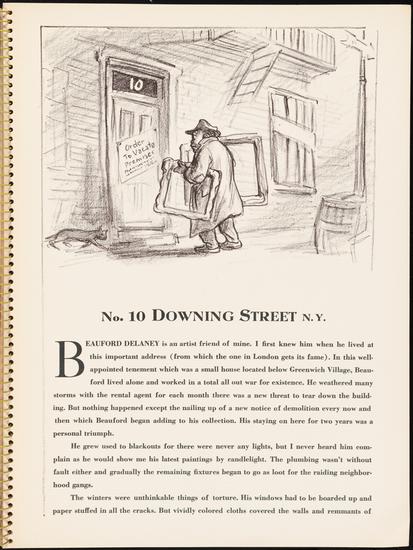 Don Freeman's Newsstand. Spring 1941. Museum of the City of New York. 2013.13.42.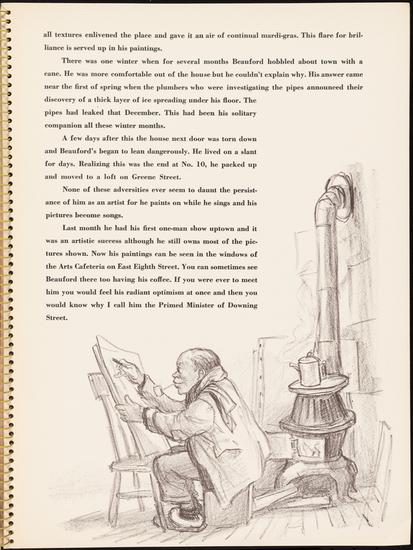 You can hear Tony Award-winning actress Renée Elise Goldsberry read Don Freeman's article as part of the free audio guide when you visit A City for Corduroy: Don Freeman's New York.
Beauford Delaney's younger brother Joseph was also an artist, and in 1930 he too moved to New York City. Joseph studied at the Arts Students League, and he would later cite the lasting influence of one of his teachers there, painter Thomas Hart Benton. The Museum is fortunate to hold one of Joseph's paintings "Harlem Parade" which features a celebration around politician Adam Clayton Powell Jr. who served in the United States House of Representatives until 1971.
Joseph Delaney moved back to Knoxville in 1986 where he served as the artist-in-residence at the University of Tennessee until his death in 1991. His older brother Beauford left New York for Paris in 1953. In Paris, Beauford found new creative freedom in his painting, but continuing mental health issues eventually led to his hospitalization. He passed away in 1979.
Learn more about the life and work of Beauford and Joseph Delaney.