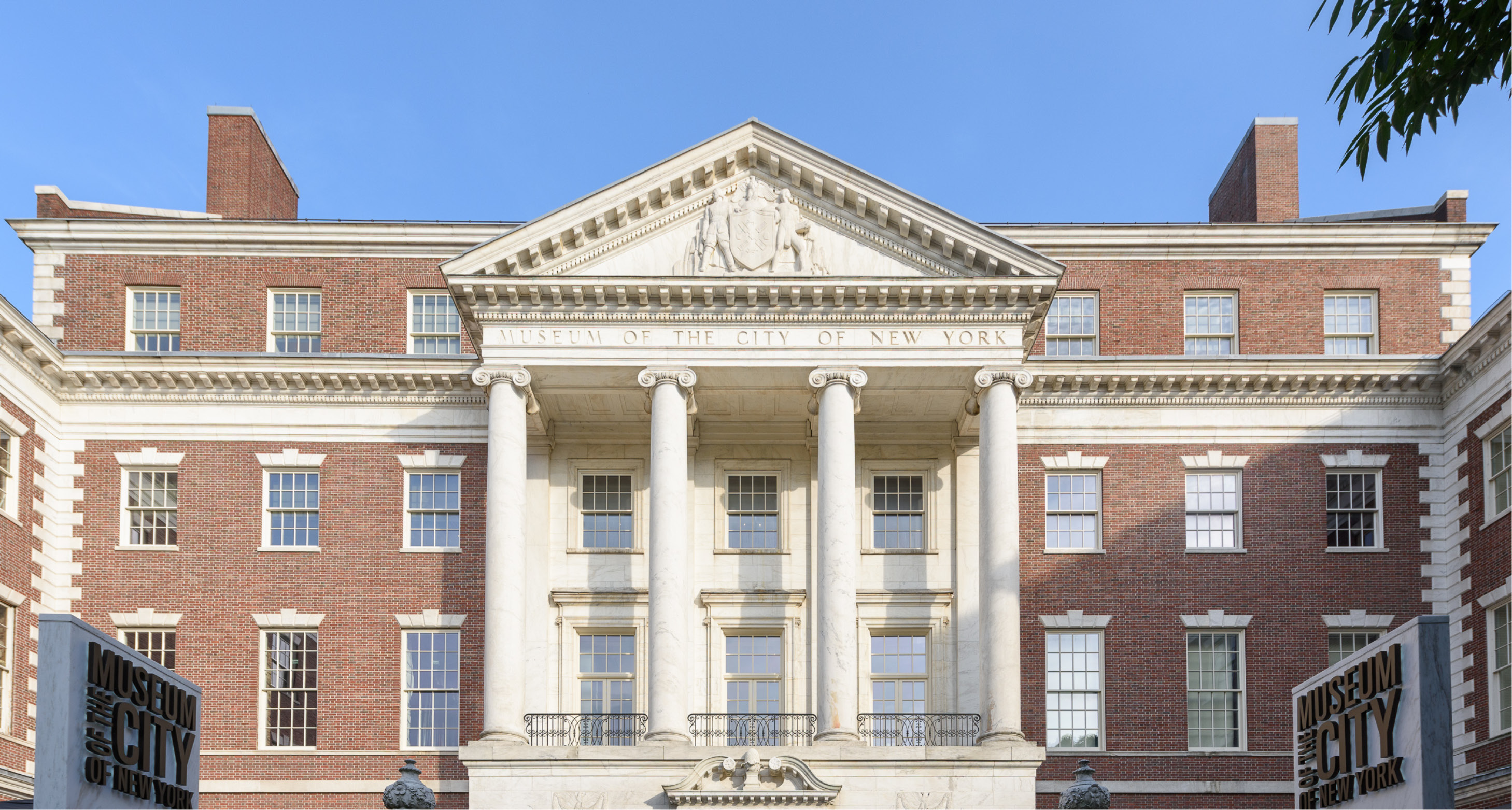 Institution and Current Exhibitions
NEW YORK RESPONDS: THE FIRST SIX MONTHS
The Museum of the City of New York announced its upcoming exhibition, New York Responds: The First Six Months, which builds upon the outdoor photography installation that opened this summer. Pulling from the more than 20,000 objects, photographs, artworks, and stories submitted to the Museum's open call, the exhibition features selections made by a community jury, reflecting the changes and challenges of life in New York City from March through August 2020.
---
Museum of the City of New York today shared details about The Stettheimer Dollhouse: Up Close, a new gallery installation celebrating one of its most popular artifacts, the Stettheimer dollhouse. Being presented in honor of the 75th anniversary of its arrival at the Museum and opening just in time for the holiday season, this special show gifts visitors with greater access to the lavish, highly detailed model – including additional rarely seen miniature 20th century modernist artworks—along with biographical information about the Stettheimer sisters and the members of their circle.

Read the full press release in English and Spanish.
---
Museum of the City of New York to honor architect Toshiko Mori with 2020 Louis Auchincloss Prize
New York, NY (October 26, 2020) - On November 19, 2020, the Museum of the City of New York will present its 2020 Louis Auchincloss Prize to architect Toshiko Mori. The evening's live virtual program will include the award presentation by Joan K. Davidson and a conversation between Mori and MoMA curator Paola Antonelli.
Read the full press release
---
Museum of the City of New York digital initiatives win awards, highlighting its leadership in innovative digital content
Three original online videos win 2020 Communicator Awards; HistoricNYC digital partnership with Urban Archive and LINK NYC win American Alliance of Museums Muse Award
Read the full press release
---
July 2020 at the Museum of the City of New York
Museum Re-Opens on July 23rd with Outdoor Installation, New York Responds
Read the full press release in English and Mandarin
---
New exhibition explores the energy, excitement and impact of the iconic pastime in the Big Apple
Read the full press release in English, Spanish, and Mandarin
---
A special exhibition featuring new collections acquisitions by Museum of the City of New York
Read the full press release in English and Spanish
---
New multimedia exhibition examines the importance and impact of the Census -- How we are counted and what's at stake.
Read the full press release in English, Spanish, and Mandarin
---
Through original imagery and objects, this exhibition tells the stories of the diverse organizations that make up New York City's Cultural Institutions Group, which help cement New York's status as the cultural capital of the world.
Read the full press release
New exhibition features contemporary art, documentary, and community memorabilia examining native experience in New York.
Read the full press release in English, Spanish, and Mandarin
---
Interactive installation devoted to the legendary New York creative collective puts the "play" back in summer
Read the full press release in English and Spanish
---
Cynthia Rowley to Receive the 2019 City of Design Award at Museum of the City of New York's Annual Spring Symposium & Luncheon on June 5
Designer Prabal Gurung will present Rowley with her award and will join her at the Symposium for a discussion about her career.
Read the full press release
---
This exhibition will examine the social, political, and economic story of the diverse workers and movements in New York through rare documents, artifacts, photographs, archival film footage, and interactive features.
Read the full press release in English, Spanish, and Mandarin
---
WNET and The Museum of the City of New York Partner to Bring Justice Ruth Bader Ginsburg In Conversation to Public Television in January.
Read the full press release
---
Cycling in the City: A 200–Year History, on view at the Museum of the City of New York from March 14, through October 6, 2019, will trace how the bicycle transformed urban transportation and leisure in New York City and will explore the extraordinary diversity of cycling cultures, past and present.
Read the full press release in English, Spanish, and Mandarin
---
In 1947 Jackie Robinson made history when he joined the Brooklyn Dodgers and became the first African-American to play Major League Baseball in the modern era. Opening on January 31—Robinson's 100th birthday— the exhibition will feature 32 photographs (most of them never published); rare home movies of the Robinson family; and memorabilia related to Robinson's career.
Read the full press release in English and Spanish
---
A City for Corduroy: Don Freeman's New York, on view at the Museum of the City of New York from November 21, 2018, through June 23, 2019, is the first major exhibition devoted to Freeman's work as a chronicler of New York City life.
Read the full press release in English and Spanish
---
Interior Lives: Contemporary Photographs of Chinese New Yorkers features the work of three photographers—Thomas Holton, Annie Ling, and An Rong Xu—who bring into focus the complex realities of Chinese-American immigrant life in the city.
Read the full press release in English, Spanish, and Mandarin
---
Germ City: Microbes and the Metropolis explores the complex story of New York City's long battle against infectious disease.
Read the full press release in English and Spanish
---
Through a Different Lens: Stanley Kubrick Photographs explores the iconic director's formative years as a photographer for Look magazine between 1945-1950 and revealing the foundations of his creative transformation from photojournalist to cinematic legend.
Read the full press release
---
Rebel Women: Defying Victorianism explores the trailblazing women who challenged Victorian social norms in 19th-century New York City.
Read the full press release
---
Elegance in the Sky: The Architecture of Rosario Candela explores the legacy of renowned architect Rosario Candela (1890–1953), who played a major role in transforming and shaping luxury living of 20th century Manhattan with the design of the distinctive "prewar" apartment buildings.
Read the full press release
---
Art in the Open: Fifty Years of Public Art in New York, chronicles, celebrates, and examines the last half century of art and innovation that has made the city the most vibrant environment for public creativity in the world.
Read the full press release
---
Activist New York examines the ways in which ordinary New Yorkers have advocated, agitated, and exercised their power to shape the city's—and the nation's—future.
Read the full press release
---
New York at Its Core is the first-ever museum show to comprehensively interpret and present the compelling story of New York's rise from a striving Dutch village to today's "Capital of the World," a preeminent global city now facing the future in a changing world.
Read the full press release in English, Spanish, and Mandarin
---
Timescapes, the museum's popular and critically-acclaimed multimedia experience, brings the sweeping narrative of New York City from the early 1600s to the present day.
Read the full press release
---
She Built NYC
De Blasio Administration Announces Four New Monuments Honoring Female Leaders As Part of She Built NYC Initiative
Read the full press release
---
LinkNYC
LinkNYC, DoITT Announce Content Partnership with the Museum of the City of New York
Read the full press release
LinkNYC and DoITT Partner with Museum of the City of New York for Women's History Month
Read the full press release
LinkNYC, DoITT, Museum of the City of New York Launch "On This Day in NYC History" Feature on Links in Spanish, Mandarin
Read the full press release
LinkNYC, DoITT, the Museum of the City of New York and Urban Archive Launch Historic NYC: Photography from NYC History Displayed on Links Across the City
Read the full press release
---
Institutional Grants
MCNY receives Collections Stewardship grant from The Institute of Museum and Library Services
Read the full press release
MCNY receives grant from The Robert David Lion Gardiner Foundation to digitize 17th, 18th, and 19th Century manuscript items
Read the full press release
MCNY receives digitization grant from The Institute of Museum and Library Services
Read the full press release
MCNY receives cataloging grant from the National Endowment for the Humanities for LOOK Collection photographs
Read the full press release
MCNY receives grant from The Robert David Lion Gardiner Foundation to digitize rare manuscripts
Read the full press release
---
Phantom Fashion 30
The Council of Fashion Designers of America, Bank of America and The Phantom of the Opera have partnered to commemorate Broadway's longest-running musical with a unique project in support of Broadway Cares/Equity Fights AIDS.
Read the full press release
---
2018 Louis Auchincloss Prize
Museum of the City of New York honors Jason Robert Brown with the 2018 Louis Auchincloss Prize, in recognition of the Tony Award winner's contributions to New York City's theater community.
Read the full press release
---
Manhattan Neighborhood Network Content Partnership
Public access cable network to air Museum's Future City Lab symposiums, featuring Matt Katz, Dan Barber, Julia Moskin, Eddie Bautista, and other prominent voices discussing the challenges of urban planning and living
Read the full press release