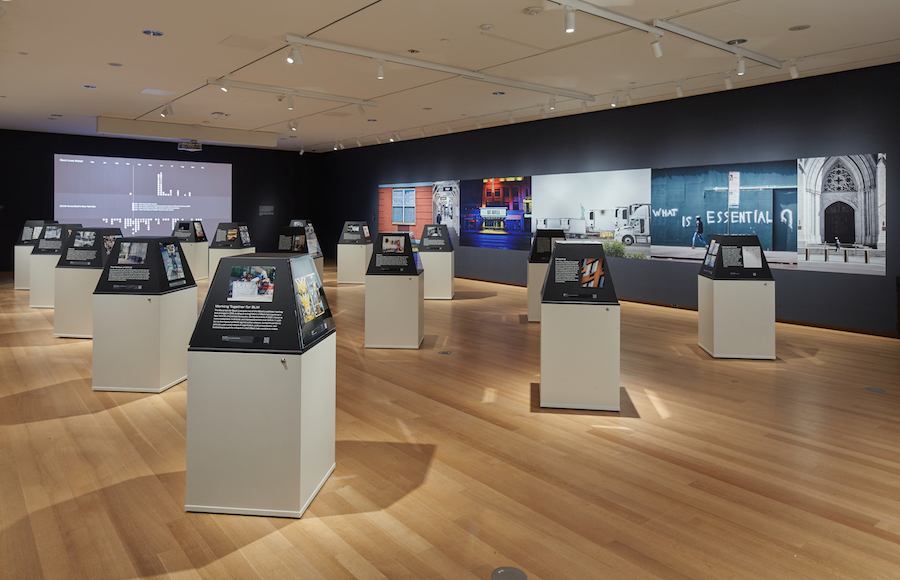 Our Team
(list in development)
Curatorial Team: Sarah M. Henry, Robert A. and Elizabeth Rohn Jeffe Chief Curator and Deputy Director; Lilly Tuttle, Curator; Angel "Monxo" López and Azra Dawood, Andrew W. Mellon Foundation Curatorial Fellows; Sean Corcoran, Curator of Prints and Photographs; Sarah Seidman, Puffin Foundation Curator of Social Activism; Tracy McFarlan, Curatorial Projects Manager; Hannah Diamond, Education Manager, Professional Learning
Exhibition Design: Marissa Martonyi, Design Director
Installation: Todd Ludlam, Director of Exhibitions Installation; Madeleine Hazelwood, Associate Registrar; Julius Erwin Quito, Director of Information Technology
Digital Projects: Sheryl Victor Levy, Vice President of Marketing and Communications; Chie Miyajima, Digital Producer; and Tara Dawson, Digital Marketing Manager; Julius Erwin Quito, Director of Information Technology; Meryl Cooper and Robin Carol, consultants

New York Responds Public Programs: Frances A. Rosenfeld, Director of Public Programs and Lillian Lesser, Manager of Public Programs
New York Responds Educational Programs: Maeve Montalvo, Director, Frederick A.O. Schwarz Education Center; Joanna Steinberg, Curator of Education Programs; Hannah Diamond and Sarah Greenbaum, Education Managers; Charlotte Blackman, FAO Schwarz Foundation Fellow; John Linstrom and William Cheung, NYU Public Humanities Fellows; Lorena Estrella and Jelissa Caldwell, Educators
Our Jury 
In collaboration with the Museum, a jury of a dozen New Yorkers helped to select the photographs, artworks, and objects included in the exhibition from among tens of thousands of submissions received from individual artists and partner institutions.
 
Rohit Aggarwala is the co-head of Urban Systems at Sidewalk Labs, Alphabet's urban technology subsidiary. He is best known as the first Director of Long-Term Planning and Sustainability for New York City, where he led the development of Mayor Bloomberg's PlaNYC. He holds a Ph.D. in American History from Columbia University. 
Kurt Boone is an author and street photographer. He has documented New York City street cultures for over 30 years. His books include Subway Beats: Celebrating New York City Buskers; Asphalt Warrior: The Story of New York City's Fastest Messenger; Aerosol Art Culture: A Day at Graffiti Hall of Fame; and forthcoming Fresh Plywood NYC: Artists Rise Up in the Age of Black Lives Matter. 
Rick Chavolla served as an Assistant Dean at Yale University, directing the Native American Cultural Center and the Latina/o Cultural Center. Following Yale, he was Associate Director for the Center for Racial and Ethnic Equity at the American Council on Education in Washington D.C. More recently, Chavolla directed NYU's Center for Multicultural Education and Programs and is now an educational consultant. He also currently serves as board chair for the American Indian Community House of New York and on the board for the NGO Committee of the U.N. on the Rights of Indigenous Peoples. 
Cheryl Cohen Effron has had a long career redeveloping vacant warehouses in New York City into vibrant manufacturing and production centers—including The Falchi Building, The Factory (Long Island City), and Chelsea Market. She has served on the board of more than 30 non-profits throughout New York and recently as a member of the NYC City Planning Commission. She is the co-founder and chair of Greater NY, chair of the Charles H. Revson Foundation, treasurer of the Brookings Institution, a senior adviser to Tishman Speyer Properties, and co-host of the Greater podcast. 
Elsie Encarnacion is Dean of Family and Community Partnerships at Innovation Charter High School in East Harlem. A lifelong East Harlem resident, Encarnacion is an educator by trade but it is also her passion. She sees herself as a connector of community and strives to engage in as many opportunities as available in order to lend her voice and perspective.  
Jonathan Giftos is a physician and activist living and working in NYC, and currently serving as the Medical Director of Addiction Medicine & Drug User Health at Project Renewal. He trained at Mt. Sinai and Montefiore, and then served as a medical director on Rikers Island, overseeing the clinical care of incarcerated patients. He enjoys bike commuting and photography. He lives in Brooklyn with his wife and two sons. 
Amanda Johnson is a South Bronx-based artist and photographer. She is a member of the JustOne Collective, Editor-In-Chief of Copper Magazine, and co-founder of The Pandemic Archive. Johnson obtained an MFA in Photography from Parsons School of Design. Her work has been exhibited at Ghost Gallery, El Rincon Social in participation with Photofest Houston, and Photoville in New York City. Internationally, she's shown at the Pingyao International Photography Festival in China and Platform L in Korea.  
Juanita Lanzo is a visual artist, arts consultant, independent curator, and teaching artist. In the last 20 years, she has worked as an arts administrator at The Bronx Museum of the Arts, Bronx Council on the Arts' Longwood Arts Project, En Foco, and Bronx River Arts Center, closely collaborating with artists, curators, and activists from the Caribbean, African Diaspora, and Latinos. Her art practice sources natural world imagery to address body politics, desire, memory, and the imagination. Her works have been exhibited in NYC and Puerto Rico. 
Sarah Thankam Mathews is a writer and activist who grew up in India and Oman and is now based in Brooklyn. She has been awarded fellowships by the Iowa Writers Workshop and the Asian American Writers Workshop. She has work forthcoming in Best American Short Stories 2020, edited by Curtis Sittenfeld. She has organized around climate change, immigration, and mutual aid, and is the founder of the Bed-Stuy Strong mutual aid network.   
Alicia Parker retired from the New York City Police Department in 1995 after 22 years of service. She was the third African American woman to be promoted to the rank of lieutenant in the NYPD. She commanded the Personal Security Unit at the NYPD Intelligence Division where she worked with Mayor David Dinkins. After her retirement, she became a Director of Security for the NBA. In 2002, she left the NBA to become the first Senior Director of Security for ESPN. She is the Vice-Chair of the Advisory Board for the High School for Enterprise, Business, and Technology.  
Lucas Sin, Eater Young Guns Class of 2019 and Forbes 30 under 30, opened his first restaurant when he was 16 in an abandoned newspaper factory in his hometown of Hong Kong. Now, he's the chef of Junzi, where beyond the daily menu, he curates a collaborative tasting menu exploring the narrative of Chinese culinary history in relation to other cultures of the world, which is known as Distance Dining. Amidst the pandemic and the decline of Chinese restaurants in the U.S., Lucas and the team also recently opened Nice Day Chinese Takeout, a restaurant built to extend and evolve the legacy of American-Chinese cooking. 
Kei Francis Williams is a queer transmasculine identified organizer, artist, and historian. A founding member and former organizer with Black Lives Matter Global Network, the aims of Kei's work is to transform the global culture from the individual into a systemic analysis of structural racism. As lead-organizer on campaigns such as No New Jails NYC, Safety Beyond Policing, and Swipe It Forward, Kei uses their platform to bring in the lived experience of those who are Black, transgender, queer, and gender non-conforming. Currently, Kei is the National Organizer with the Marsha P. Johnson Institute and organizer with Peoples Climate Movement – NY. 
Supporters
New York Responds is made possible in part by a major grant from the National Endowment for the Humanities: Exploring the human endeavor. Additional support provided by M&T Bank and the Honorable Diana Ayala - New York City Council District 8.