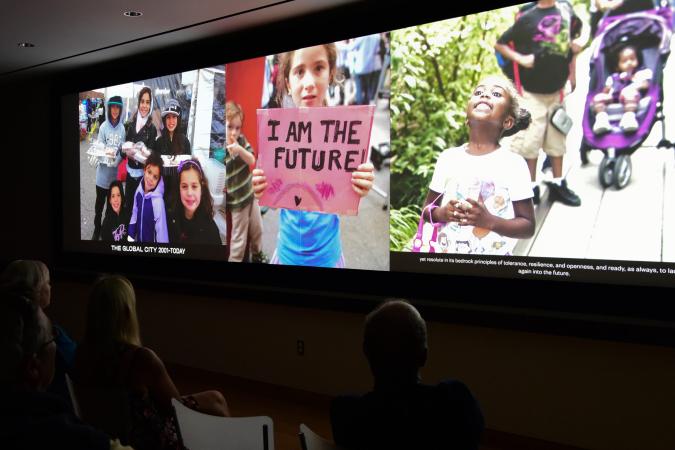 Back to Exhibitions
Watch the history of New York City unfold in this 28-minute film, with showtimes every 40 minutes starting at 10:20 am.
How do you fit the Big Apple onto the small screen? Timescapes, the Museum's award-winning short documentary, explores how New York City grew from a settlement of a few hundred Europeans, Africans, and Native Americans into the metropolis we know today and features animated maps and archival photographs, prints, and paintings from the Museum's collections. Now expanded and updated, the film's final chapter captures the astonishing – if sometimes challenging – transformations the city has experienced in the first decades of the 21st century.
Created by Jake Barton of Local Projects and James Sanders, an architect and writer who co-authored the PBS series New York: A Documentary History, and narrated by actor Stanley Tucci, Timescapes is a feat of multimedia historical storytelling, bringing viewers along on a 28-minute journey through 400 years of history.
Headsets with translations of Timescapes in Spanish, French, and Mandarin are available at the front desk.
SHOWTIMES
Friday, Saturday, Sunday, Monday, Thursday Showtimes: 10:20am, 11:00am, 11:40am, 12:20pm, 1:00pm, 1:40pm, 2:20pm, 3:00pm, 3:40pm, 4:20pm
Additional Thursday Showtimes: 5:00pm, 5:40pm, 6:20pm, 7:00pm, 7:40pm, 8:20pm