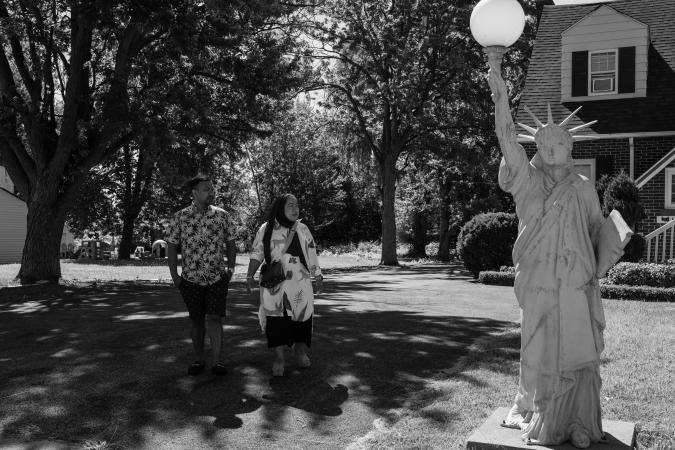 Participating Artists A-F
Dean Majd
Dean Majd (b. 1990) is a self-taught fine-art photographer and lens-based artist from Queens, New York. Born of Palestinian and Jordanian immigrants, he studied International Relations with a focus on the Middle East at City College of New York. Through his deeply intimate visual language, his work explores modern masculinity, the complexities of the Arab-American dichotomy, the Palestinian diaspora, human connection, and the overall human condition, touching on addiction, self-destruction, and collective and personal grief. He is passionate about cinema, immensely devoted to his friends, and a proud New Yorker. He believes that love, above all else, is the driving force behind everything he does.
Alan Michelson
Alan Michelson is an internationally recognized New York-based artist, curator, writer, lecturer and Mohawk member of the Six Nations of the Grand River. For over thirty years, he has been a leading practitioner of a socially engaged, critically aware, site-specific art grounded in local context and informed by the retrieval of suppressed histories. 
Recent exhibitions include Enmeshed at the Tate Modern and Greater New York 2021 at MoMA/PS1, and he will participate in the 14th Gwangju Biennale opening April 7.  His solo exhibition Alan Michelson: Wolf Nation was presented at the Whitney Museum of American Art in 2019-2020.  
His essays have appeared in Aperture, Frieze, and October, and he was featured in a recent profile in the New York Times.
Michelson's work is represented in several collections, including the Whitney Museum of American Art, the Smithsonian National Museum of the American Indian, the National Gallery of Canada, and the Art Gallery of Ontario.
Michelson was co-founder and co-curator of the groundbreaking Indigenous New York series with the Vera List Center, where he currently serves on the board.
Paul Moakley
Paul Moakley's art practice stems from a passion for photography and storytelling and takes shape in collaborative documentary projects using his skills as a photo editor, producer, director, and writer. 
 In his work as a journalist formerly at TIME and now The New Yorker, he's earned numerous awards, including an Emmy for the interactive project and HBO film Beyond 9/11, an ASME award for the short film Life after addiction, first place in World Press Photo for the short film Behind the Video of Eric Garner's Deadly Confrontation With New York Police among many others.
Moakley works in his community on Staten Island as the caretaker and curator of the Alice Austen House museum.
Photo credit: Jody Rogac
Cheryl Mukherji
Cheryl Mukherji (b. 1995) is an Indian visual artist and writer based in Brooklyn, New York. In her work, Cheryl explores the idea of origin and inheritance, which is embedded in the figure of her mother and the family album, using photography, text, video, and printmaking. She is a finalist and the subsequent winner of the 97th Annual at the Print Center, Philadelphia, 2023 and a finalist at the Outwin Boochever Portrait Competition, 2022 at the National Portrait Gallery, Smithsonian. She has been an Artist-in-Residence at the Center for Photography at Woodstock, 2022 and a Workspace Resident at Baxter Street at Camera Club of New York, 2021. Her work has been shown in solo and group exhibitions at the Museum of the City of New York (US), The Print Center (US), National Portrait Gallery, Smithsonian (US), Baxter St. at Camera Club of New York (US), Capture Photography Festival (CA), Minnesota Museum of American Art (US), Huxley-Parlour Gallery (UK), Format Photo Festival (UK), Brooklyn Museum (US), Museum of Moving Image (US), International Center of Photography (US), Serendipity Arts Festival (IN), among others. Cheryl holds an MFA in Advanced Photographic Studies from ICP-Bard College, New York, 2020.